Reflection: Glittery Grout
Posted on January 2, 2014 by Malika
Grout has come a long way from what it once was. It used to be that the difficult part of a redesign would be choosing tile, but now we are faced with a myriad of choices for grout too. Besides the normal grout we've all come to know, there's also a premixed grout that is stain and crack resistant, plus a glittery grout called Reflection. This fancy grout contains glass to give it a shimmery appearance.
Reflection contains micro glass beads and a translucent, urethane binder that both reflect light as well as allow it to pass through. But that's not to say that it is all look and no substance. It is UV resistant and stainproof. No mixing is necessary. Just stir and you are ready for use. With nearly 10 colors to choose from, there's a match for any tile.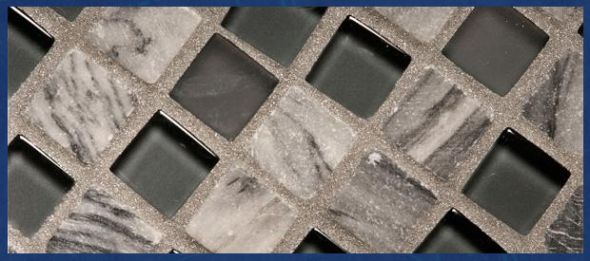 Reflection grout benefits:
• No color fading, streaking or shading - even when wet!
• Crack-resistant flexibility
• Pre-mixed and ready to use
• Fast, easy installation - installs up to 50% faster than other grouts
• UV stable - colors will not yellow or darken
• Bostik's antimicrobial protection
• Easy water clean-up
• Non-sag formula ideal for vertical surfaces
If you are planning a tile project in the coming year, Reflection is a super choice for something a little bit more snazzy than your run of the mill grout. Another thing is that is works with any tile - Glass, Marble, Metal, Porcelain, Stone - you name it. I especially love the idea of using it with glass, or the mixed mosaic glass and stone tile because it reflects the natural light in the glass. Some of my favorite colors are Moonstone, Opal and Aquamarine. Check out the whole list of Reflection grout and pick your favorite.