How to Remove Tile Flooring
Posted on March 12, 2014 by Malika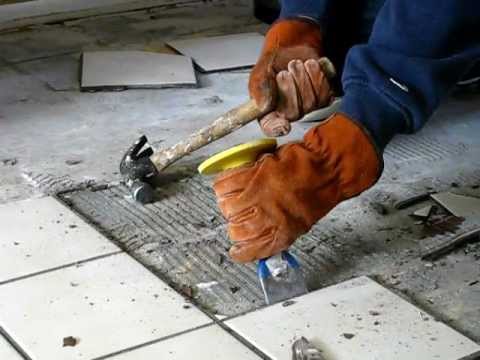 I'm somewhat of a newish homeowner when it comes to renovations. You see, I've done lots of upgrades from what was originally installed in my home: tile flooring in bathrooms, kitchen backsplash and appliance upgrades, hardwood flooring replacing carpeting, etc. But I've never done a replacement of a replacement. You know what I mean? However, I think it might be time to do just that in my kitchen.

The tile in the kitchen floor was a nice upgrade from what I saw in many houses 10 years ago. It looked modern, wasn't garish in any way, but neutral to complement many colors. Fast forward several years and I'm ready to replace my kitchen tile. There are cracks in several places. While the cracks are somewhat the result of dropping heavy items on the tile (yes, I'm a klutz sometimes), they are also because the homeowners before me let the contractors use nails instead of screws in the subflooring. The expansion and contracting of the floors not only leads to squeaking floors but can also cause the tile to crack after years.

So, is this you? Are you thinking about replacing old tile flooring? It is more complex than just tiling over linoleum or ripping up carpet. I've outlined the steps involved to make sure the process goes smoothly.

1.) Remove all the baseboards around the room. Be gentle, as this will need to be re-installed once the new tile is in place. Cover vents with plastic to ensure that dust doesn't enter your ventilation system.
2.) Work out some aggression - Bust up a tile (just one) using a hammer. Once you get the first one out you can simply use the chisel against the surrounding tiles to pull them up. A little pressure and they should easily come out.
3.) Remove the underlayment. Unless you've installed the underlayment and know that it is in good condition, I recommend replacing it. This way you can be sure to use screws instead of nails. You'll need to remove the screws first and then use a shovel to pull it up.
4.) Make sure to remove any extra debris. Make sure to sweep / vacuum up any extra adhesive. The space should be completely smooth before installing a new subfloor.