Wood Plank Hardwoods
Posted on April 3, 2014 by Malika
Remember last week when I talked about my visit to a high end resort and their use of porcelain hardwoods throughout? I wanted to continue the discussion this week as this tile is H-O-T! Not only is the look trendy, but quite durable. Wood Plank Porcelain is versatile enough to work in a variety of rooms.

Over the weekend, I visited with a friend who is thinking about redoing her flooring. She has a ranch home that is built for entertaining friends and family. But she also has three dogs. She's looking for flooring that can hold up to high traffic but also take the constant running and scratching of the three dogs. I told her wood plank porcelain is her best bet

Here are some things to consider when trying to get the look of hardwood:
You'll want to try and get small grout lines to make the tile look as close to real wood as possible. This kind of porcelain tile is designed just for that.
Speaking of grout lines, matching the color of the tile as close to the grout is rather important too.
If you are installing this the wood plank porcelain tiles in a bathroom (somewhere where you will be barefoot a decent amount of time) you might want to consider heated floors.
One of the things I really like about the wood plank porcelain is the fact that it comes in so many color choices and styles. You aren't limited to just a handful. They come in all kinds of looks from modern, traditional, rustic and more.
Though hardwood flooring enthusiasts would never go for anything other than the original, the wood plank porcelain is a terrific choice for those who are concerned about water or pet damage, or just want the ease of maintenance that comes with tile. What about you? What is your flooring of choice?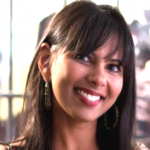 Author Bio: Malika Bowling is a foodie with a passion for travel and DIY. She's a published author, and online marketing consultant. She has been a featured panelist for the Public Relations Society of America as well as having been interviewed by Inc, Magazine and the Huffington Post about business blogging.