Add a Splash of Color with a New Backsplash
Posted on May 15, 2014 by Malika
When it comes to our kitchens and bathrooms there are so many choices to make: flooring, wall color, counter tops, appliances, backsplashes. But say you want to make a bold statement without completely going overboard. Where should that be? If you ask me, the backsplash is the area to add some pizzazz to your room.
Since the backsplash is not a large area, the splash of color will add a striking feature, rather than taking away from the other parts of the room. And if you've got pretty neutral colors throughout the rest of the room, the backsplash is the perfect way to break it up and add a pop of color.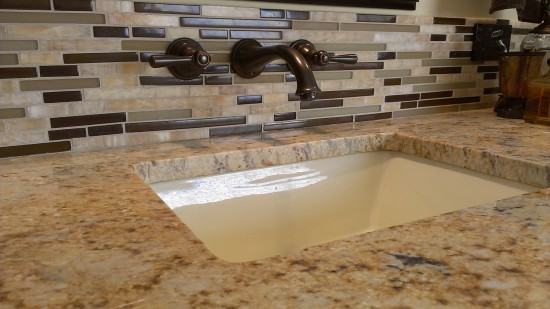 Glass and Stone Mixed Tile
One of my favorite options is the Glass and Stone mix. For one thing, it shows off different color elements and is the perfect way to pull together a wall color and countertops. I love the mixture of the shiny, modern glass with detailed stone pieces. And what's more -they come in the meshmount backing which makes them super easy to cut and install.
Saltillo Wall Tile
If you've got somewhat of a busy pattern in your counters, or perhaps you just prefer a minimalist look, a solid color backsplash might be your first choice. But that doesn't mean it has to be boring. Floor & Decor has a line of Saltillo tiles in bold hues of blue, green and Terra Cotta.
Stone Tile
If you like the classic, more traditional look, then you'll love the selection of stone tiles available from Floor & Decor. These are natural stone tiles that are specifically made for walls. Because these stones are lighter (they don't have to support weight) it means they cost less too! Marble comes in everything from white to brown hues with lots of veining. For me, it was the Slate tile in Peacock that stole my heart when I was redoing my powder room.
A couple of pointers about color matching:
It is tempting to have a lot going on in terms of flooring, counters and a backsplash, but keep in mind there is a fine line between keeping it flattering and color / design overboard.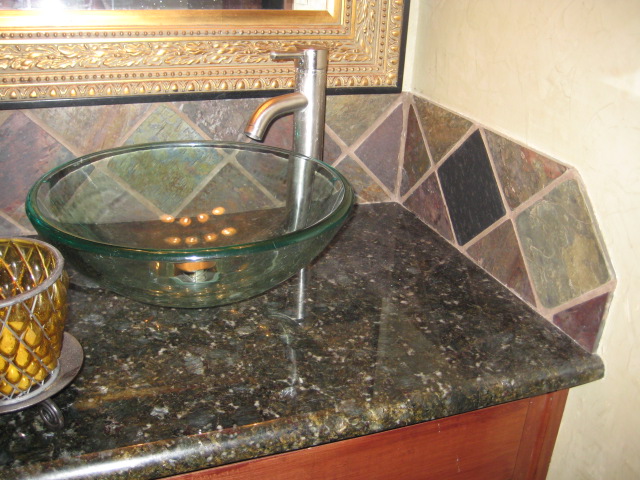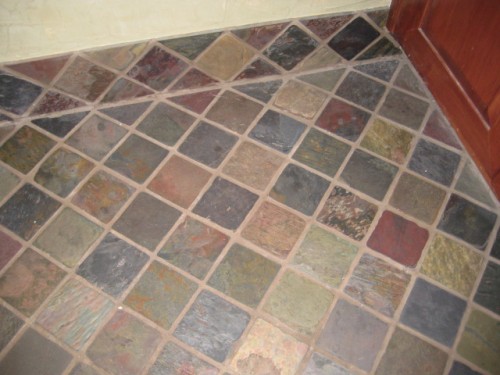 Too much light or dark isn't a good thing. Try and mix it up. For example, in the powder room I mentioned above, we had chosen a dark granite counter and paired that with the peacock (dark tile.) So, we knew the wall color should be light and we went with a pale green.
Floor & Decor carries matching pieces in different sizes, which can really make a room look fantastically coordinated. For example, while the 4x4 pieces of peacock tile were terrific on my small bathroom floor, the slightly larger 6x6 coordinating pieces made for a great backsplash (see above picture).
What about your next bathroom or kitchen remodel? What kind of tile do you plan on incorporating into your room's backsplash?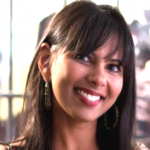 Author Bio: Malika Bowling is a foodie with a passion for travel and DIY. She's a published author, and online marketing consultant. She has been a featured panelist for the Public Relations Society of America as well as having been interviewed by Inc, Magazine and the Huffington Post about business blogging.