How to Install Wall Stone in 7 Steps
Posted on July 2, 2014 by Malika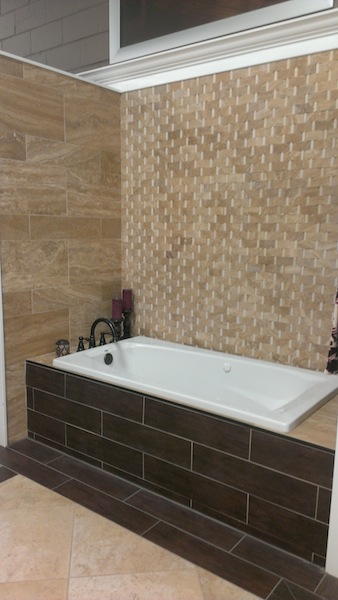 Want to give your walls a modern and more luxurious look? Then consider installing stone. Before you get intimidated by this idea, I'll let you in on a secret: this is not heavy, back breaking stone. Stone used in ledger panels from Floor & Decor is lightweight enough for two people to easily install these panels. These instructions apply for any stone wall tile.

Step 1: Install a tile backer such as weather resistant building paper or cement board over the surface where you intend to install the stone

Step 2: If the tiles are a different size, you may want to outline on your wall where each tile will go.

Step 3: Apply mortar to the wall using a notched trowel and allow to set (follow directions on package).

Step 4: While the mortar is setting, get your stones out. If you buy the ledger panels from Floor & Decor, they are already put together on mesh, so you don't have to worry about the individual pieces (making the installation process much easier).

Step 5: Put some mortar on the back of the stones or stone panel before installing, about ½ inch thick. Install starting at the bottom and working your way up. As you start to install tile, it is a good idea to use spacers to ensure the tile spacing is uniform.

Step 6: Fill the joints with grout. Make sure to fill any holes or cavities to create a seal. This will help to prevent any cracking.

Step 7: Brushing / Cleaning – brush off any excess grout that is on top of the tile, then take a damp sponge and wipe away any grout that has become stuck on the stone.

There you have it – the easy installation of stone. And remember many stone wall tiles from Floor & Decor are already mounted on mesh, securing many stones together. This makes installation that much simpler. Ledger panels even come with corner panels so you don't have to concern yourself with even more cuts than necessary. So, where will you install these stone tiles?