Slate Uses: Backsplashes, Bathrooms, Built-Ins and More!
Posted on June 27, 2014 by Malika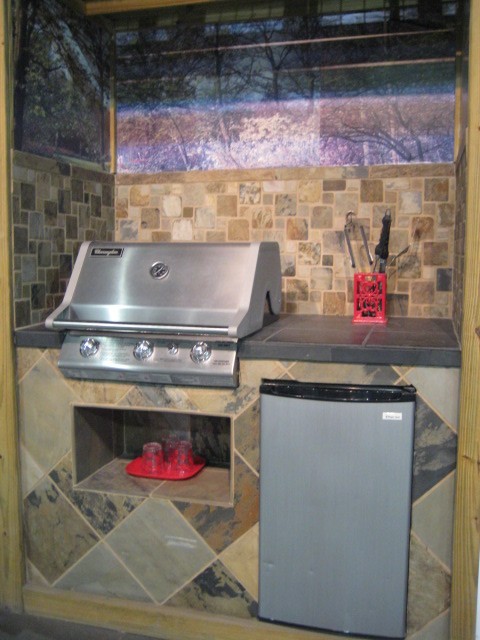 Stones such as slate are well suited for outdoor installation. The slate provides a beautiful variation in color and still holds up the to the outdoor elements through the cold winter and hot summer days. However, slate tiles, with their rich color palettes, add a bold and extravagant look to interiors as well.

An additional benefit of stone tiles is that they are low maintenance. Despite common misconceptions, stone is very easy to clean and maintain. Just make sure to seal it when it is installed and caring for your stone tile will be a breeze. Here are some uses you should consider installing slate tile.

Porches

We just had the summer solstice last weekend. Summer is in full effect. If you want to enjoy your porch or patio, you'll want to create a space that is comfortable and welcoming. What better way to do that than with slate tile?

Here are just three types of tile from Floor & Decor I think are perfect for patios or porches:
Alicante Rojo Ceramic Tile? At only $0.79 per square foot they are both beautiful and affordable.

Mountain Slate Iron Porcelain. This tile has a very modern look, perfect to add a more dramatic look to your porch floor.

Backsplashes

Slate has natural crevices that give it a unique look and feel. For this reason, they make a gorgeous backsplash. I'd use them in both kitchens and bathrooms for a dramatic effect.

Bathrooms
I feel like I've mentioned this ad nauseam, but I truly LOVE the slate tile I've put in my powder room. It's been about four years and I still get wonderful compliments from guests. The beautiful tiles were so varied in color; they were perfect in the small space. And the fact they come in the small size (4x4) for the floor and the slightly larger (6x6) size for the backsplash was beautiful. It was a small change with big effect.
Built-Ins
You're no doubt aware of the trend to extend a home to include the patio. One of the ways many homeowners do this is by creating built-ins with grills and other kitchen tools. Just like bathrooms, this area can benefit from slate with the mix of small and large tiles.
Are you ready to incorporate some slate tile into your remodel? Where are you most looking forward to adding some decorative slate tile in your home?