Make the Most of Your Yard
Posted on July 2, 2014 by Malika
Fireworks! It's almost time to see those beautiful works of art that light up the sky and I can't wait! We usually have a huge gathering in our cul-de-sac where all the neighbors contribute fireworks and a dish to share. It's quite a spectacular display for a neighborhood. Of course, I love spending time outdoors in just about every season (except winter). I've pulled together some of the highlights from past posts that cover unique ways to enjoy your yard.
1. Get Creative with Home Address Numbers
Last year, I attended a seminar with John Gidding, a celebrity designer. He talked about various design trends, but one example that was especially unique was using glass and mosaic tile to highlight your house number. Depending on what kind of home you have, this could be a pretty interesting look.
2. Outdoor Water Features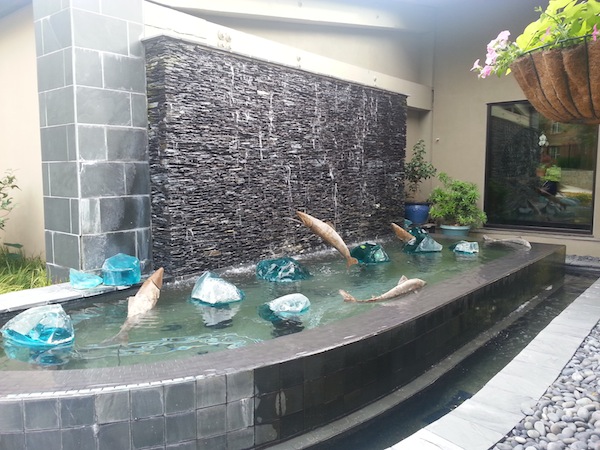 Ponds, fountains and waterfalls - with all the tools and kits available now, they are easier than ever to install. And don't forget all the different types of stone and tile available to make your water feature even more attractive. You can have a nicely looking water feature added to your yard in no time. Fountains are a terrific choice as they can be large or small, fitting most any size yard. Waterfalls are excellent because they help to create a sound barrier for any noisy neighbors.
3. Man / Woman Cave
Man cave, woman cave, whatever you want to call it - we all need our own personal space to getaway and recharge. Who says these have to be tucked away in the basement or garage? You can make this a special spot in your yard or even a shed where you grow herbs and plants or take up a hobby like painting. This can and should be your place of solitude to relax.
Keep the colors neutral and design minimal. You don't want another space to constantly straighten up. If your yard isn't huge, your "cave" could simply be a small area where you have a comfy chair for sipping on lemonade and reading. This would be perfect for some pebble stones from Floor & Decor - just sayin'.
4. Movie Night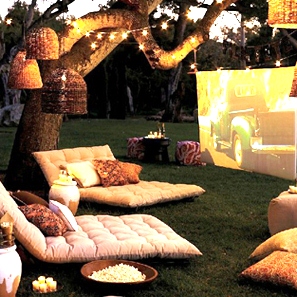 I checked out Floor & Decor's Pinterest page and saw the image above - a backyard transformed into a cozy seating area for movie viewing. How cool is that? All you need is some cushions, inexpensive lighting, a screen and projector. Sounds like a fun way to pass an evening by to me.