Digital Fever: Inkjet Tiles
Posted on Aug 5, 2014 by Malika
The flooring industry has come a long way in the last decade. There have been vast improvements in laminate, vinyl and even inkjet printed ceramic tiles. So, if now is the time you are weighing your options on tile flooring, you should re-examine inkjet ceramic tile. The options and durability of this product might surprise you.

Without getting too technical, a brief synopsis of the process is this: The print style is called Drop on Demand. This allows the printer to take an identical picture of what it wants and imprint it to the tile using drops of ink. If you've heard of the CMYK color pattern, this is what is used to produce the colors and patterns on tile.

There is no stopping of the machine to lay each print on the tile as with inkjet's predecessor: screen print technology. This improves efficiency, which allows the production cost to be much lower. Also, inkjet technology allows for a long span of a pattern. In simpler terms, about 30 12 X 12 tiles can be imprinted before the design has to be repeated. And a larger pattern can be achieved by adding more memory.

Probably the best part of the inkjet vs. the antiquated screen print method is that the image goes to the very edge of each tile. This, combined with the variance of design from one tile to another means that manufacturers are able to produce tile that is remarkably similar to natural stone.

I'll be honest – when I was looking to replace my linoleum tile in my spare bathroom, price was definitely a consideration. I had a house payment that I made all by myself with no roommates and I was in a starter neighborhood. I found a lovely inkjet ceramic tile at Floor & Decor that easily fit my budget and looked like natural stone. The hues of greens, browns and beiges were exactly the look I was going for.

It is kind of interesting to think that, perhaps one day, in the not too distant future, we may all be creating our own patterns. But for now, we can find a vast array of different colors and designs utilizing inkjet technology.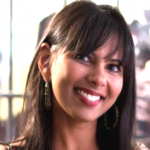 Author Bio: Malika Bowling is a foodie with a passion for travel and DIY. She's a published author, and online marketing consultant. She has been a featured panelist for the Public Relations Society of America as well as having been interviewed by Inc, Magazine and the Huffington Post about business blogging.