Flamed and Brushed Tile
Posted on Aug 19, 2014 by Malika
Remember several years ago, when the textured finish was all the rage on walls? Oh yeah, I jumped on that bandwagon and did a faux finish on my walls. It brings an aged appearance to the walls and adds a new depth of color. Now, those same sorts of options are available on many kinds of stone. Two of these new looks are called flamed and brushed.

As far as textured tile, many of us are familiar with slate as one of the most common forms. This tile has a textured finish that occurs naturally when it is split. Another common finish is the polished look, which is highly glossy, most commonly seen in marble. I've also seen the leather effect on granite and marble, which gives a slightly less glossy appearance than normal. But the new options of flamed and brushed are quite interesting as well.

A flamed finish occurs when an intense flame is fired at the stone and causes the stone to burst. The result is that the stone bursts and the exterior becomes rough. This is beneficial for areas where slip resistance is important. Not all stone can withstand this treatment. Most are strong materials such as granite or limestone.

Brushed tile is created when, as the name suggests, metal brushes are used to scrape the top of the tile. It removes the softer part of the stone, wearing it out. In essence, it gives it more of an antique look.

Lastly, there is flamed and brushed tile. This process uses a blowpipe that sends out a flame over the tile surface. This blows out the crystals from the stone. This results in a surface that is rough with a faded color. Because of oxidation, yellow materials transform to a pretty orange or red.

It is all very exciting what is going on with flamed and brushed tile. The texture is an extremely appealing look, not to mention a rough, slip resistant surface safer for walking on.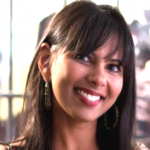 Author Bio: Malika Bowling is a foodie with a passion for travel and DIY. She's a published author, and online marketing consultant. She has been a featured panelist for the Public Relations Society of America as well as having been interviewed by Inc, Magazine and the Huffington Post about business blogging.