Stranded Bamboo - A Strong Flooring Option
Posted on Aug 28, 2014 by Malika
Have you been contemplating new wood flooring in your home but not sure which one specifically? Instead of hardwoods, you might want to consider bamboo flooring. Bamboo isn't a wood at all but a grass. Don't be deterred by that, as bamboo is actually pretty strong. Stranded bamboo flooring is much harder than red oak and Brazilian cherry.
Although bamboo is fairly new to the U.S., a new phenomenon over the last decade, it is used throughout Asia and the South Pacific. There it is used to build homes, furniture and even scaffolding.
Besides being strong, bamboo is a green product. A bamboo pole only takes about six months to regenerate to its full mass, whereas trees used in hardwoods can take about 80 years. Bamboo does all of this with no water, fertilizer or pesticides necessary. It also produces about 30 percent more oxygen than a forest of the same the size. Bamboo traps about five tons of carbon dioxide per acre, refreshing the air and lowering greenhouse gas emissions.
So what exactly is "stranded" bamboo? Because bamboo is made out of grass and not wood, it is highly fibrous. The normal process of manufacturing hardwoods involves laminated fibers being placed on top of each other. With stranded bamboo, the fibers are weaved into an adhesive base. This results in a material that is even more strong and durable.
If you've looked at bamboo flooring in the past and not found a lot of color differentiation, rest assured there's a good variety to choose from these days. There's light and dark to match many types of colors and décor.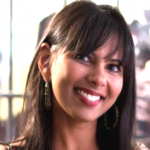 Author Bio: Malika Bowling is a foodie with a passion for travel and DIY. She's a published author, and online marketing consultant. She has been a featured panelist for the Public Relations Society of America as well as having been interviewed by Inc, Magazine and the Huffington Post about business blogging.