Polished Porcelain – A Marble-Like Look
Posted on Sept 3, 2014 by Malika
Marble is quite a beautiful piece of stone, wouldn't you agree? The polished look is so posh, but also can be very pricey. Is there a room in your home, perhaps your master bath, you've wanted to make extra special with the likes of a marble stone? If you have, but the price of marble was a bit much, you'll be happy to know about polished porcelain.
I always liked the look of polished marble. There's just something so regal and elegant about it and I long since dreamed of putting it in my master bath floor.
So what held me back? Well, for one thing, cost. The product can be about $6 a square foot, not to mention that it is harder to cut. But polished porcelain has the look of marble without the price. I found some at Floor & Decor for as low as $1.50 a square foot. A quarter of the price of marble? Not bad.
Polished porcelain is also shiny like marble and is designed for very small grout lines just like polished marble. Rectified tiles are usually razor or diamond cut so that they can be installed with minimal or no grout lines and give a very clean look.
Did I mention I love my stilettos? My closet is full of them. Marble floors however, may not love my stilettos as much as I do. I'd heard that heels can scratch marble flooring pretty easily. Who wants to spend all that money and have the floors get mucked up? Nice to know that most types of polished porcelain are scratch resistant too.
Recently, there have been even more colors and tile sizes of polished porcelain added to the selection at Floor & Decor. There are hues of gray, beige and pink. They also have the veining effect just like marble. Not to mention all the different sizes that polished porcelain comes in. There are rectangular pieces in sizes like 6 x 24 or 12 x 24, and square pieces like 12 x 12 and 24 x 24. Where will you install polished porcelain?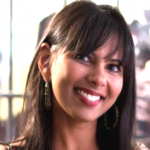 Author Bio: Malika Bowling is a foodie with a passion for travel and DIY. She's a published author, and online marketing consultant. She has been a featured panelist for the Public Relations Society of America as well as having been interviewed by Inc, Magazine and the Huffington Post about business blogging.