April Showers
Explore Real People, Real Projects® inspiration for fresh shower style.
Make your daily routine more adventurous with a shower design refresh. We're soaking up Real People, Real Projects® ideas for the best and brightest inspiration. Which April shower will bring your bath May flowers?=
Floored & Fabulous
We love how @jessicakoltunhome carried her bathroom floor pattern into her open shower for a seamless look. The continuous pattern makes the bathroom appear larger too — a clean and clever design.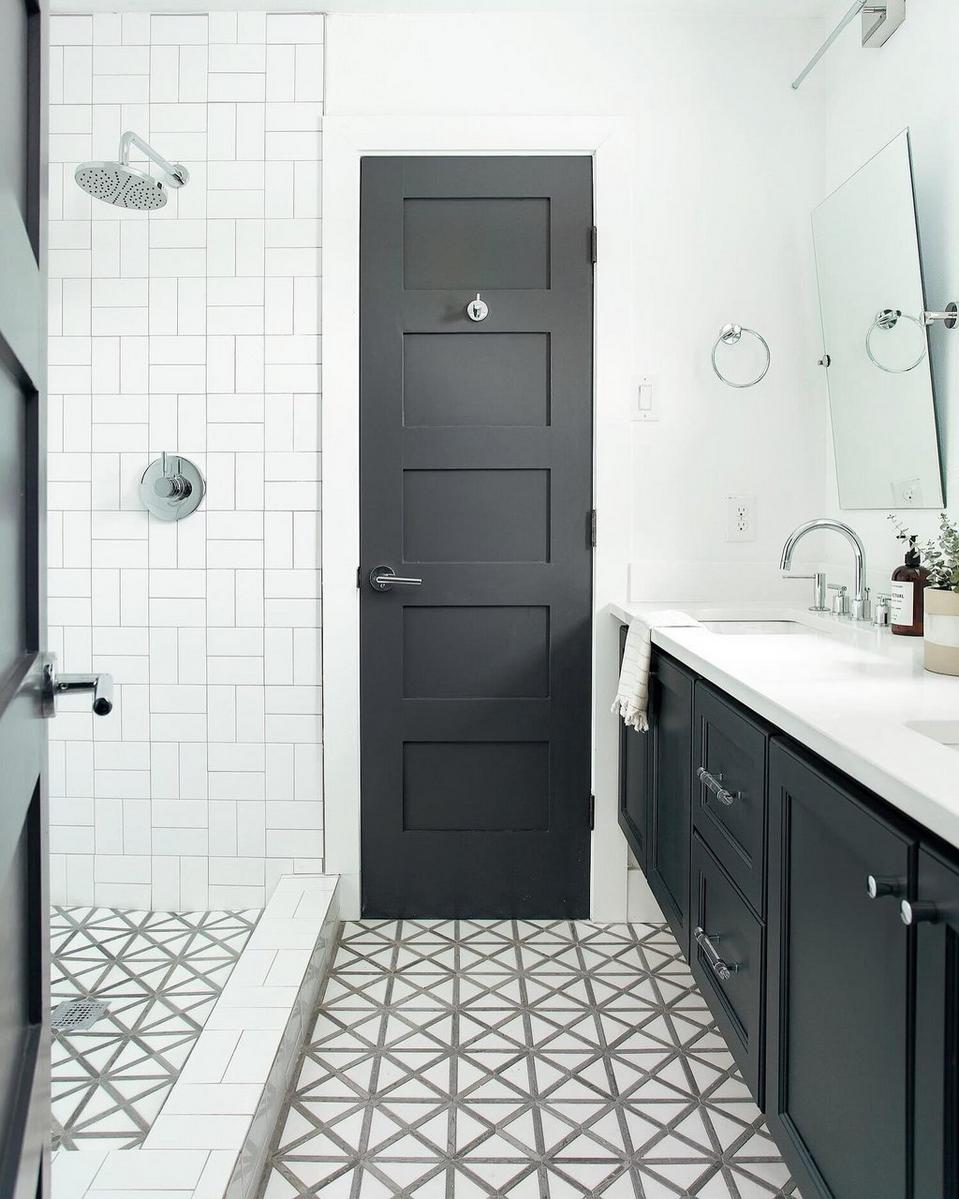 @jessicakoltunhome
Maravilla Thassos Valentino Azul Axis Marble Mosaic
Festival Bright White Ice Subway Ceramic Wall Tile
Whimsical Waterjet-Setting
Waterjet is a popular decorative accent for the shower. It is artfully crafted with (you guessed it) waterjet precision cutting to create incredible curves, shapes and angles with marble, metallic and mother of pearl inlays. The luxury selection is ideal for shower wall and niche details. Check out three different takes on waterjet!
Look 1
The @therushcollection opted for a half wall accent. This gives the appearance of art deco wallpaper in the shower. How clever! The brass accent lamp also makes the tile feel like a work of art. We love how the black, glossy tub ties it all together.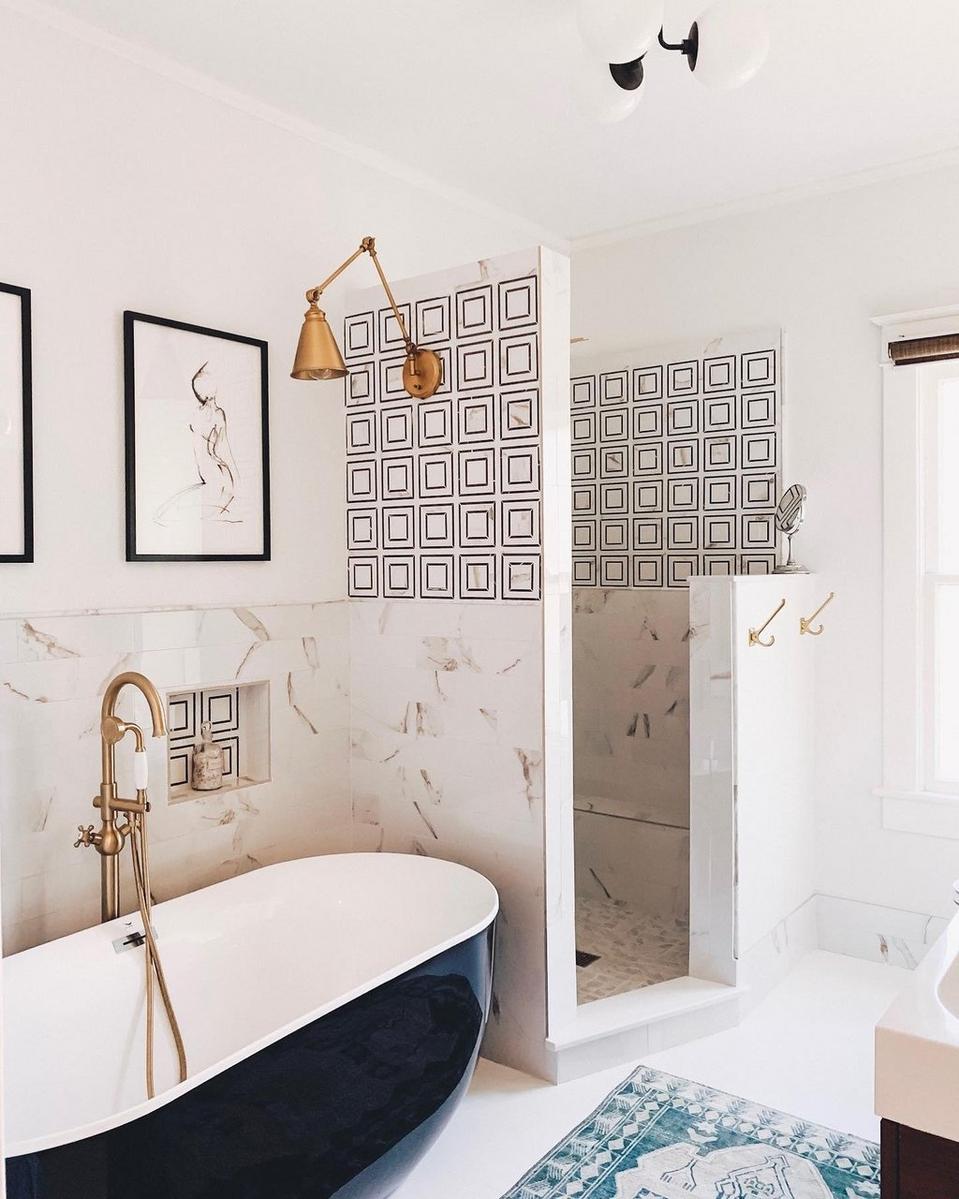 @therushcollection
Calacatta Labrinto Porcelain Mosaic
Get a similar marble look with San Giorgio Prestige Calacatta Polished Ceramic Tile
Look 2
@meghanbenson balanced cost-effective white subway tile with a specialty marble waterjet for a budget-friendly design. The look is soothing and traditional. We also like the attention to detail with waterjet niches and corner shower bench.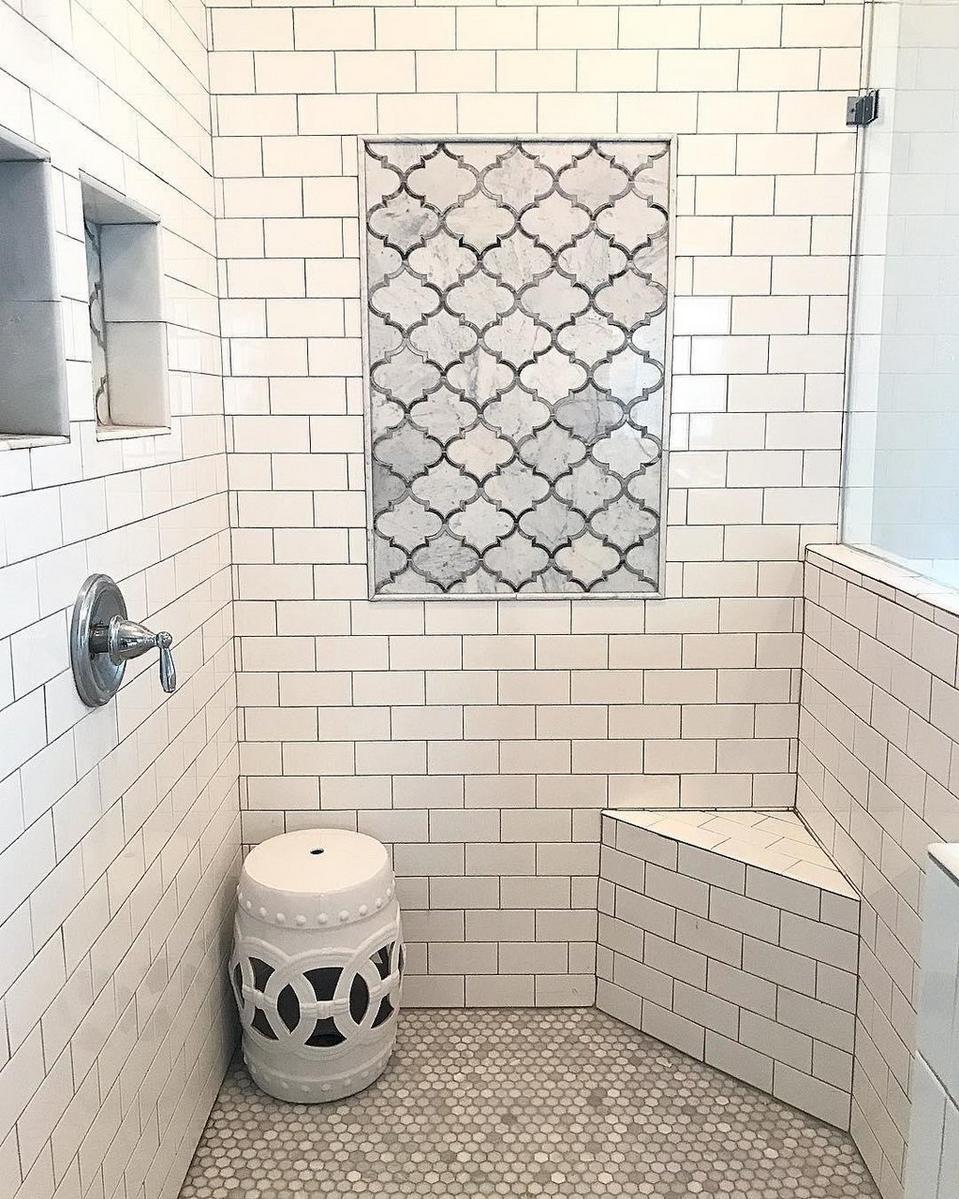 @meghanbenson
Viviano Marmo Provence Carrara Waterjet Marble Mosaic
Festival Bright White Ice Subway Ceramic Wall Tile
Complete the look with a similar mosaic on the floor like Viviano Marmo Blue Celeste Bianco Carrara and Thassos Mosaic!
Look 3
The contrast of light and dark is a winner in this shower. @indigo_in_love bridged the gap between the dark floor and marble-look tile with an earth tone mosaic inlay. The gold bathroom hardware was a good choice for this antiqued yet modern shower.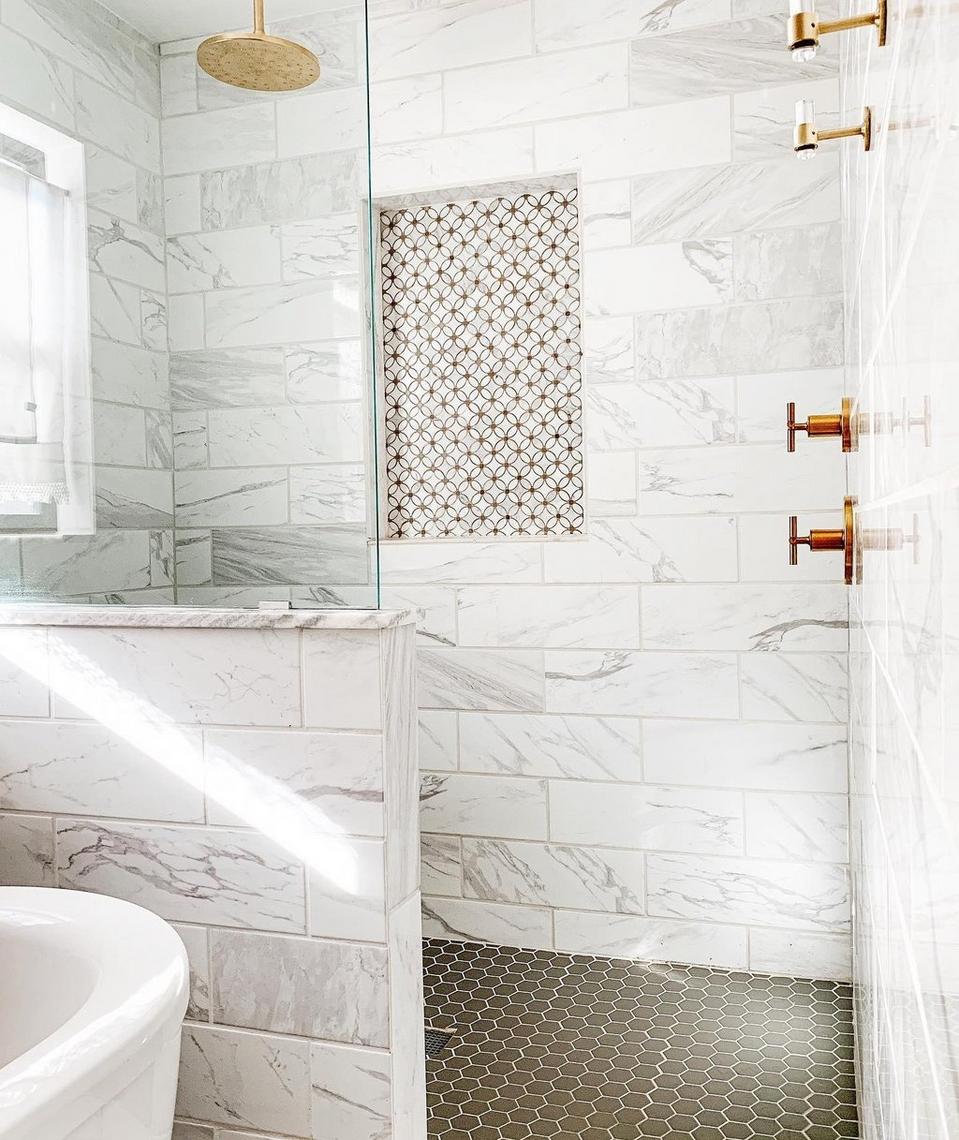 @indigo_in_love
Avillano Crema Royal Flower Polished Marble Mosaic
Uptown Antracite Hexagon Porcelain Mosaic
Mix & Match Motivation
Check out this unique bathroom architecture! For a shower this unconventional, @nixsi_design chose three distinct tiles to balance the bath. The shower floor mosaic is a natural complement for the sandy shower wall tile.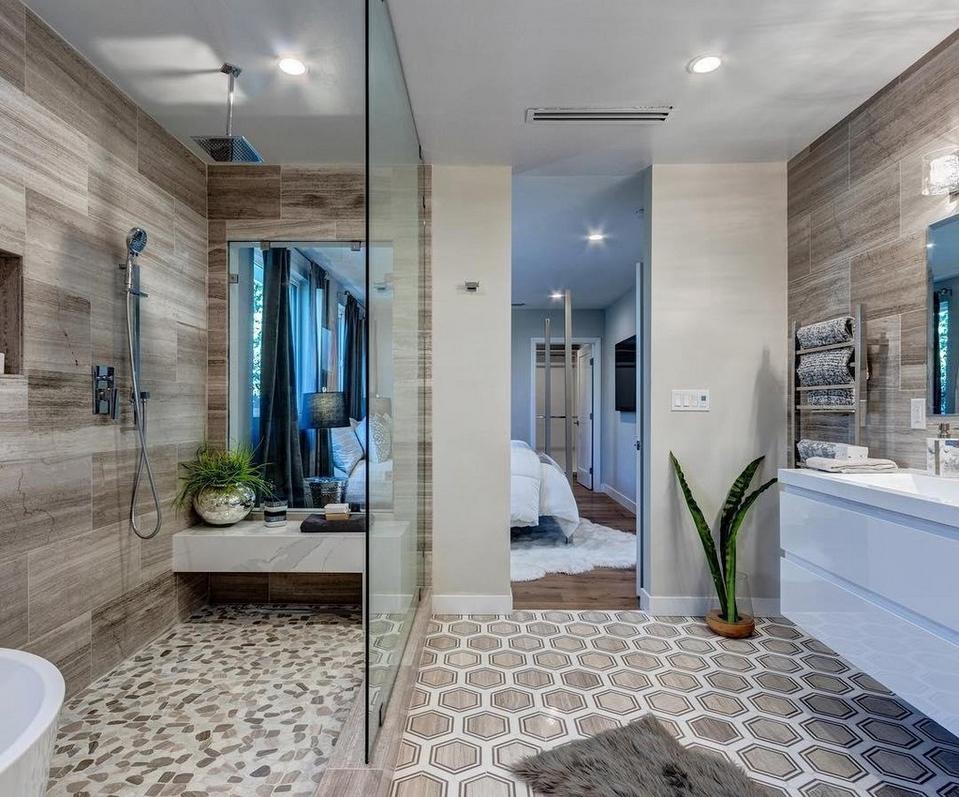 @nixsi_design
Viviano Marmo Thassos Valentino Framed Hexagon Marble Mosaic
Maravilla Gubbio Honed Pebblestone Marble Mosaic
Border Brilliance
It doesn't take much to customize a shower. Bring in a border to add a touch of texture or tie-in another element you've included in the space. Keeping the accent in the same color family as the rest of your shower makes for a more subtle look, while a high-contrast detail accentuates angles, height and architecture.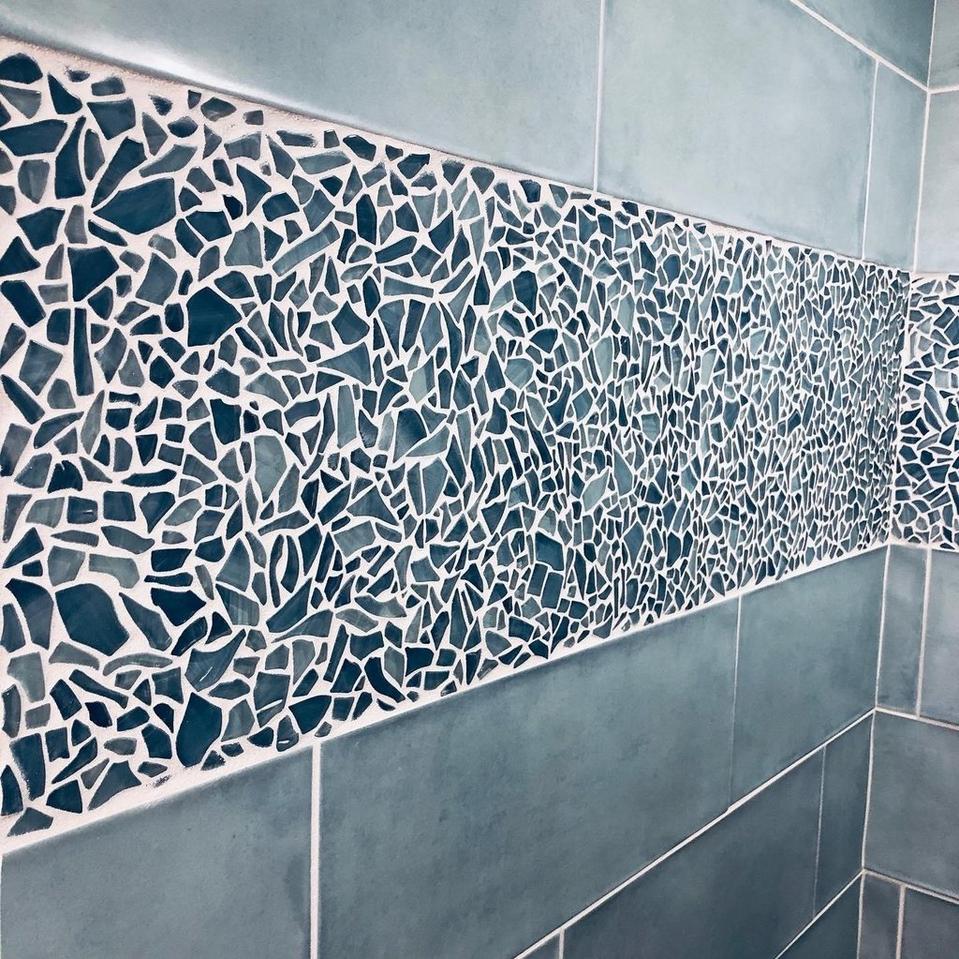 @houseofhistoryllc
Montage Paradise Bay Pebble Glass Mosaic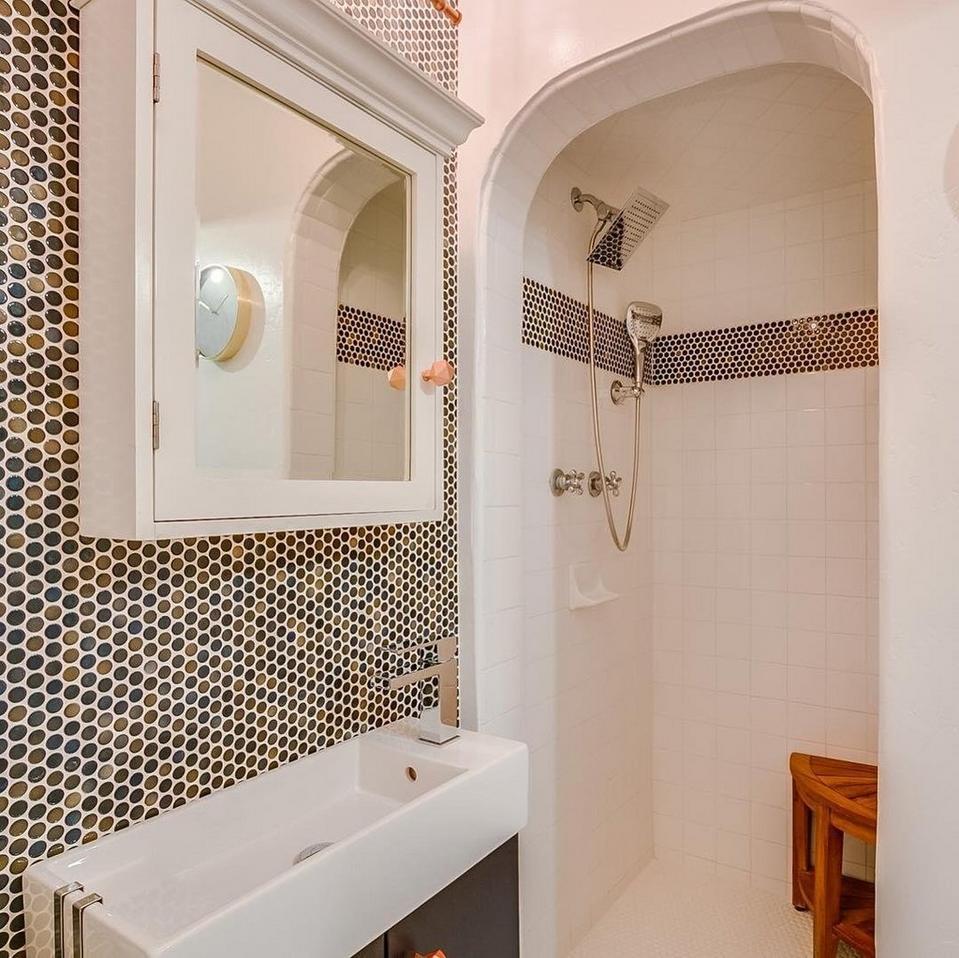 @thehousejudge
Festival Dark Blue Multi Penny Porcelain Mosaic
Festival Bright White Ice Ceramic Wall Tile
With inspiration at your fingertips, spring into an upgraded bathroom. The shower is a natural focal point, so give it the style it deserves. For more out-of-the-box ideas, schedule a free Design Services appointment and compare bathroom tiles with the Visualize It! tool.