Dec 20, 2018
DESIGNER SPOTLIGHT: Corinne
The design experts at your local Floor & Decor are always thinking outside of the box to bring you the designs that you've been dreaming of for your home.
Corrine had a strong eye for design well before she came to Floor & Decor to work full-time as a designer. For her spotlight, she shared her sources of inspiration, the design solutions she's helped create, and some of what she's seen trending at her store in New York.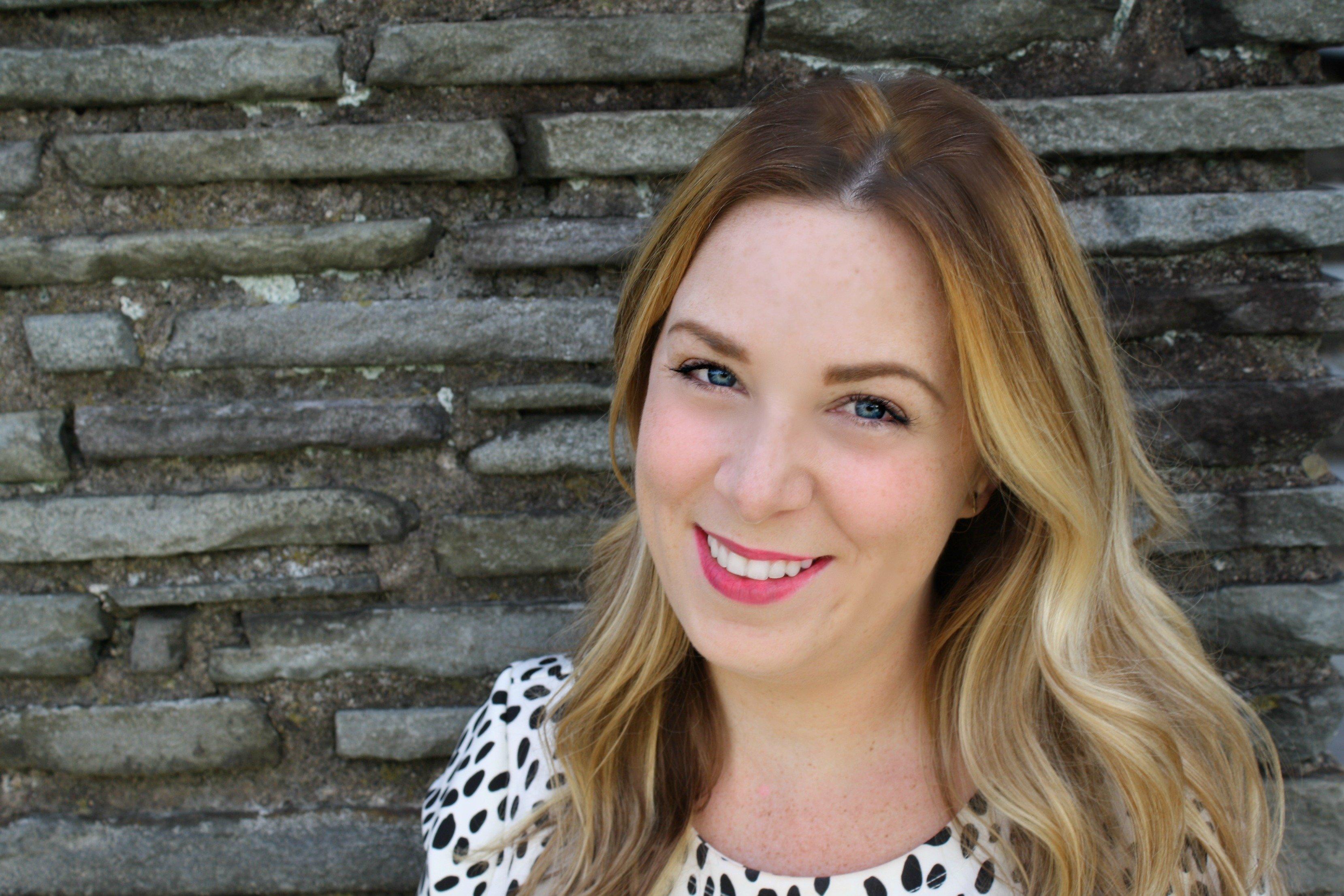 How long have you worked in interior design?
I've worked in design for three years. Before that, I spent a decade working at a leading trade book publisher, where I developed my eye for aesthetics and visuals by eyeing cover design, font design, page layout, and photography.
In 2015, I decided to switch gears and pursue my longtime interest in homes and design. I completed coursework to become an Accredited Staging Professional and started my own staging and design business. Now, I'm a designer with Floor & Decor!
How do you stay on top of trends?
Here in New York, we're lucky to always be surrounded by emerging trends, so all I have to do to stay on top of trends is be observant! I'm always snapping photos of elements from restaurants, stores, even subway stations and street fashion that catch my eye as I go about my daily life.
Is there a go-to product that you're really excited about right now? What is it, and why do you like it?
Subway has been updated with elongated shapes, on-trend color, and varying textures. And it's incredibly versatile. For example, I can use Bianco Carrara subway in more traditional designs or our new matte black Raven 3×12 subway in more modern designs.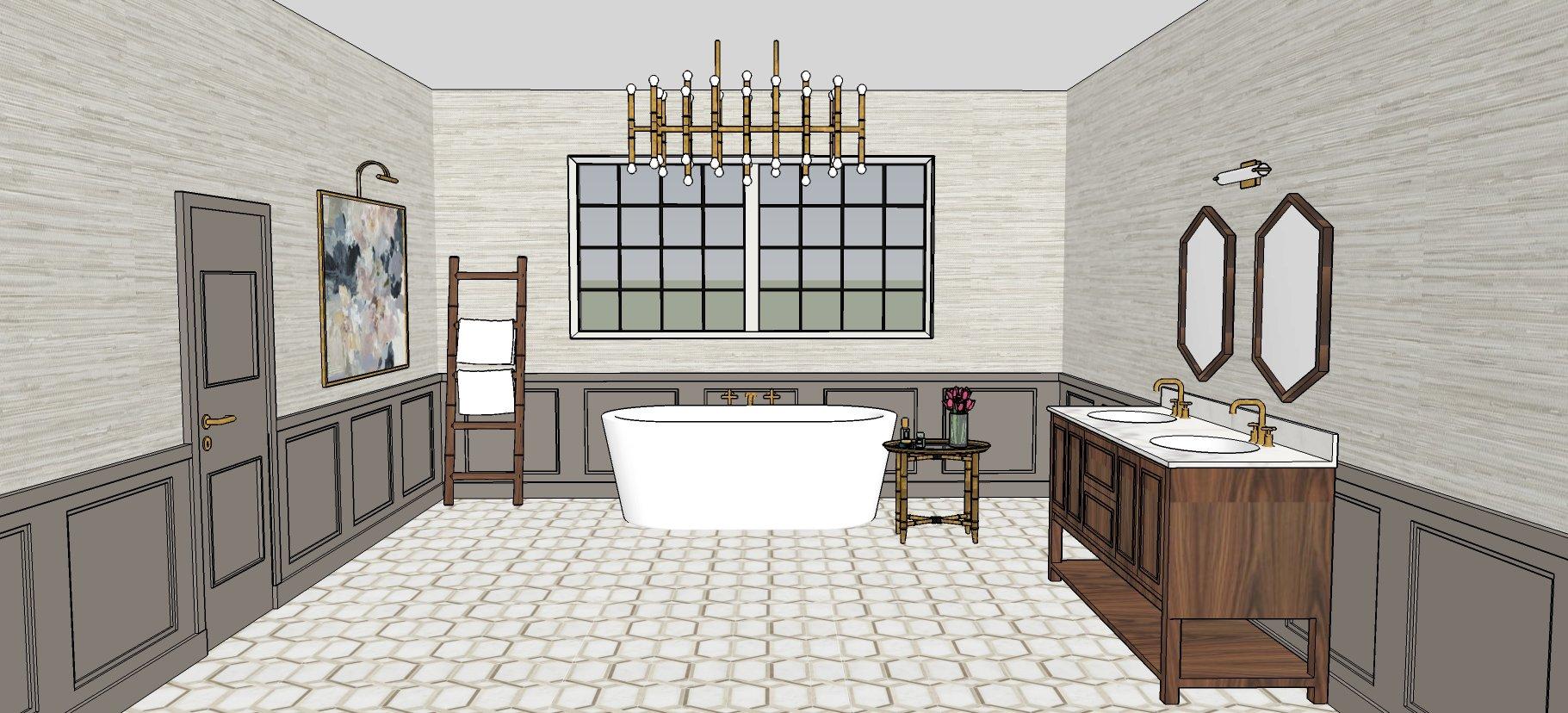 Is there a room or type of space that you most enjoy designing?
I enjoy designing all rooms but as a Design Consultant, I particularly enjoy working on bathrooms. I think it's because from the shower floor to the wall tile and even to the faucet and shower head, I can help my client pull together the entire space right here in the store.
Take us through the design process. What does this journey look like?
My process starts with a simple conversation. In addition to the basics (size, budget, color family, etc), I need to learn the details about my client. How does their family use the space? What do they want to change about the space now? How long are they staying in the home?
Once I have the bigger picture, I use a very collaborative and organic approach. I encourage my clients to show me what they naturally gravitate towards. Together we pull product samples (usually quite a few!) and then use our Inspiration Station tables to lay out various options.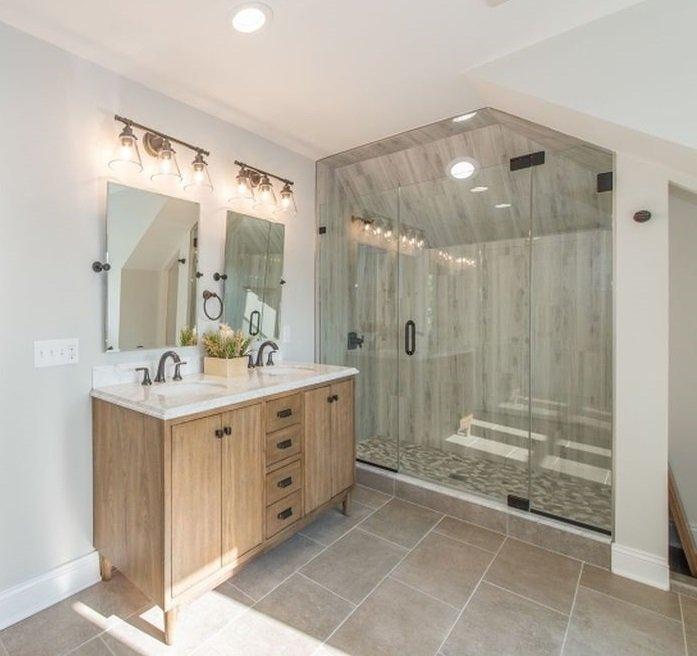 What recent project have you been most excited about designing?
I just completed a project for a realtor who was renovating a high-end rental property. He wanted designs that were unique but had a broad appeal at the same time. One bathroom presented a particular challenge as it was an attic space with sloped ceilings. We ended up using a polished ceramic wood-look plank in light gray in the shower since it fit well running right up onto the sloped ceiling. The wood pattern gave the industrial vibe that the realtor wanted while the polish kept it sophisticated and reflected light in a tight space.
What trends are you most excited to see? What trends are your clients bringing to you?
I'm most excited about the move away from the all-gray look. I'm partial to blue so I'm thrilled that it's trending right now! We have a lot of gorgeous blue mosaics that I incorporate into my designs, including my favorite, our Moody Blues Glass Mosaic.
I'm hearing from more and more clients that they're craving warmer tones in their homes. So we're still using a gray but as part of a warmer color palette. These clients are often drawn to our Valentino marble which gives a gorgeous warmth to any space.
What's the best part about being a Floor & Decor Design Consultant?
Variety! No day is the same as they day before because no two projects are exactly the same. I get to work with clients with a broad range of styles. Rather than design in my own comfort zone, I design in theirs – which makes me a better designer every day.
Any tips and pointers for those working on projects of their own?
Plan ahead! There are a lot of factors that go into good design, but often making one decision leads to other tasks and challengers. Give yourself the time to thoughtfully consider the little details as you tackle the big picture.
All Floor & Decor locations offer free Design Services with expert designers that are there for you and all your project needs. Learn more about design services and schedule your free appointment today.