Nov 1, 2018
Elegant Tile Made with Waterjet
If you've been paying attention to popular tile trends, you'll have noticed that there are more exciting design choices. These designs are made by Waterjet technology, an innovative cutting power that can cut precise details into decorative tile.
How Is Waterjet Tile Made?
Just as the name suggests, Waterjet tile is made with a high-powered stream of water that cuts through hard-surface materials like glass, metal, and stone. Previously, only saws could cut through stone or metal, and glass had to be hand-crafted into each shape to prevent breakage. Now, it can be easily and delicately cut in beautiful shapes and patterns at a more affordable price.
What Can I Do With Waterjet Tile?
The possibilities for Waterjet tile are endless. It can be used on walls in the foyer, bathroom, living room, kitchen, shower, or more. Let it cover the whole wall, or use it in one small space by itself to create an accent piece.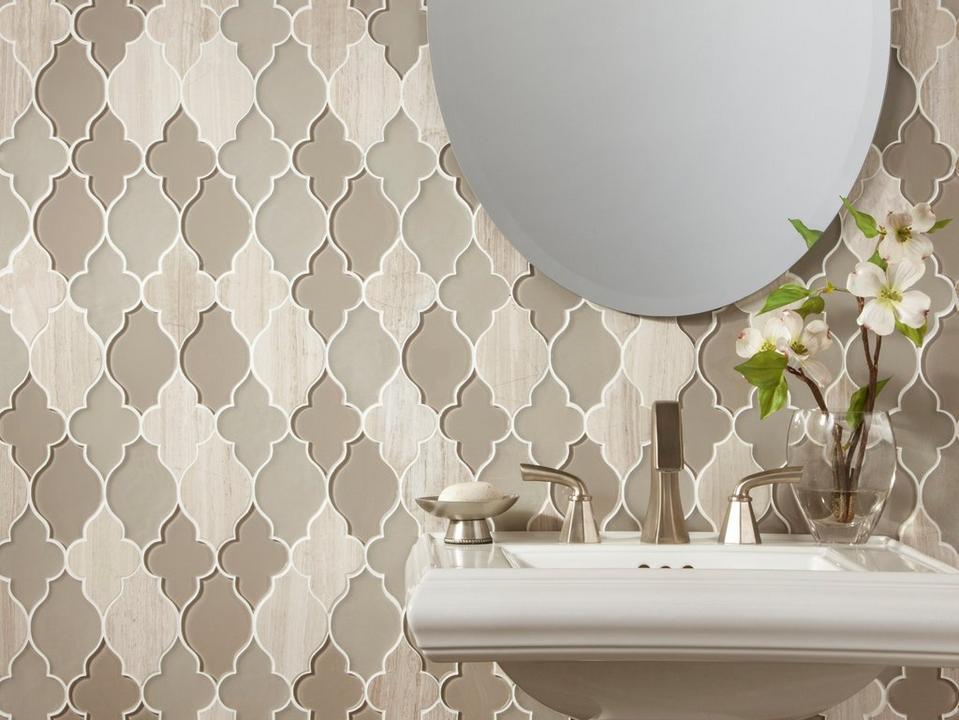 One of the most surprising things cut with Waterjet technology is glass. The multiple styles of glass and different shades of beige in this arabesque tile mosaic for a look that's sophisticated, yet warm and inviting. In this classic-style bathroom, the mosaic is set off with the brushed nickel elements and floral pieces to bring out the balance and rhythm of the design.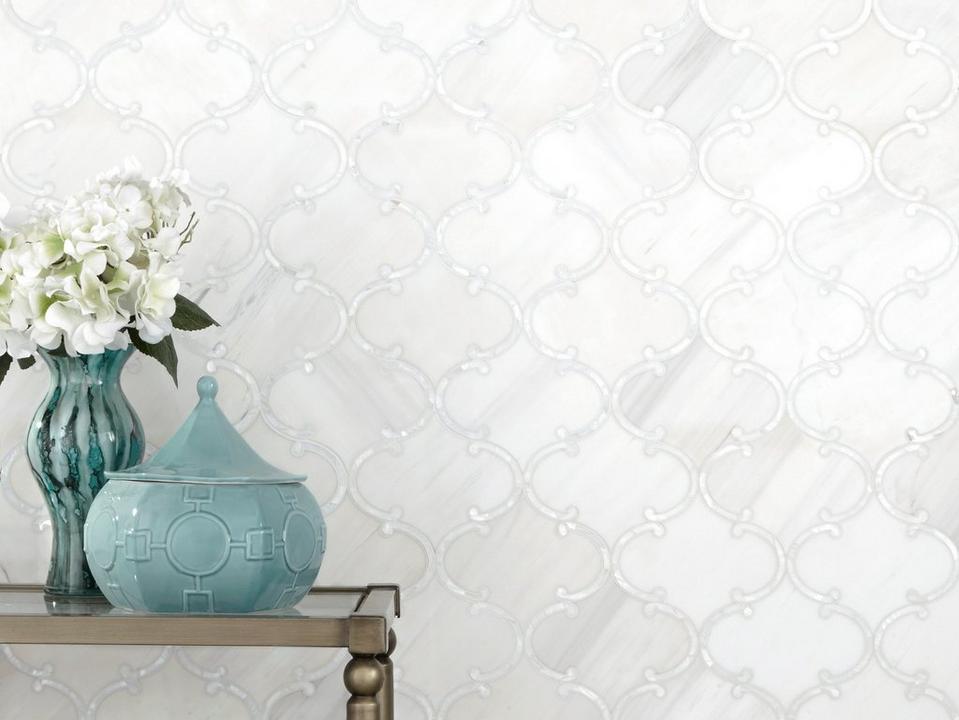 This stunning waterjet mosaic has combined delicate mother of pearl filigree with beautifully cut marble. It's been put here in a hallway that is naturally bright, where light can bring out the sheen of mother of pearl without glinting too brightly or causing a glare.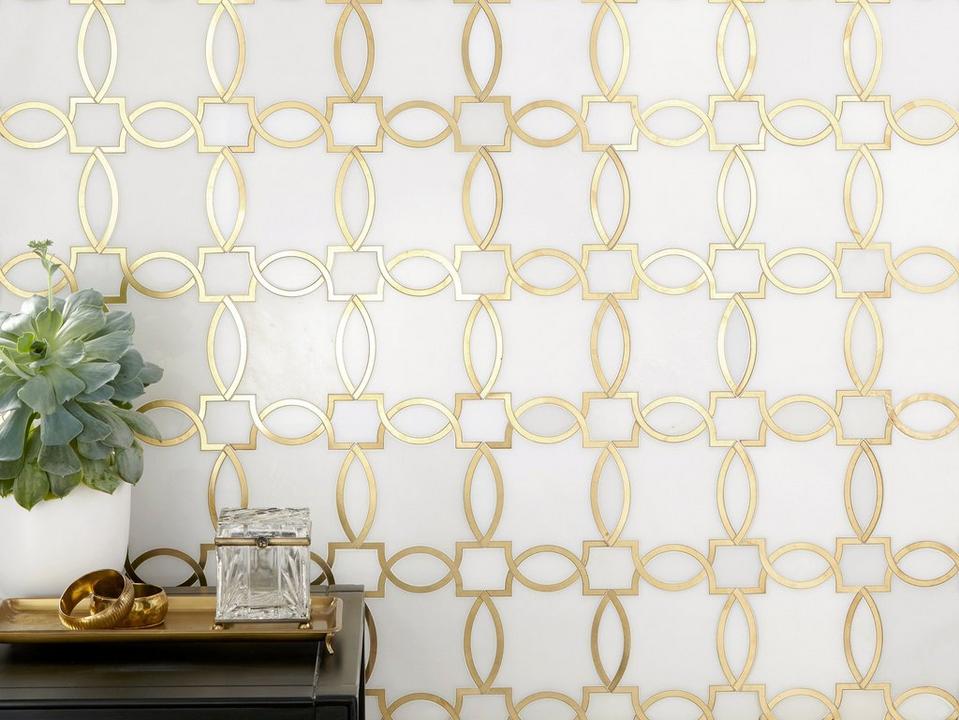 Metallic mosaics can make a statement in your space. For example, this gold-toned polished brass here has been paired with royal white marble to create a high-contrast look that commands attention. Install it on an entire wall for a dramatic statement, or put it in a modern-styled room to brighten it up.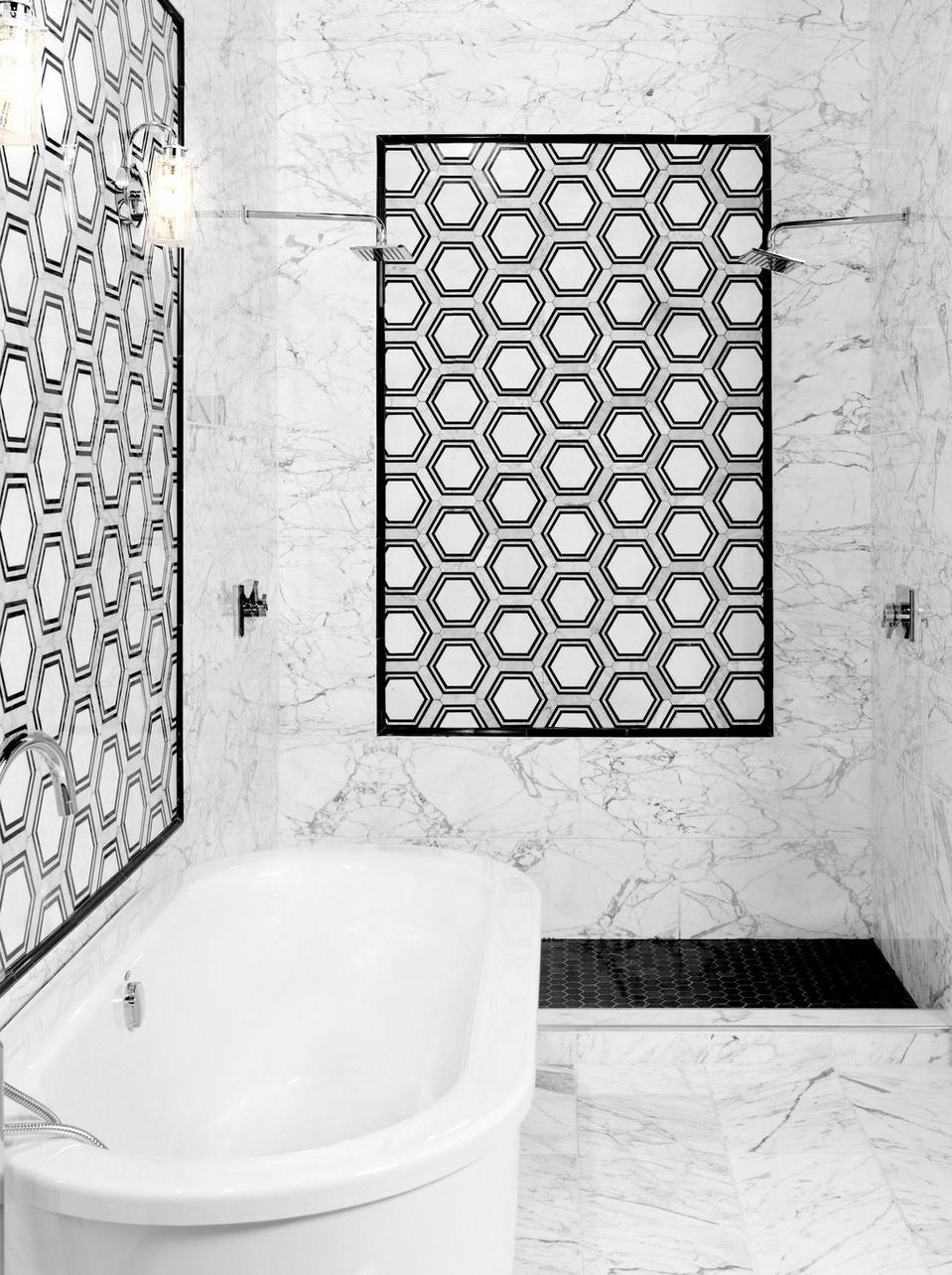 Don't think you're limited to using Waterjet tile in place of wallpaper. You can also use it to make an accent piece in a room. Here, this geometric tile was used as an accent piece in this modern marble bathroom. You can also use this black and white hexagon mosaic on the floor!
Explore our full selection of Waterjet Tile and Stone at amazing prices.
If you want to learn about all the other ways you can use Waterjet tile in your home, schedule a free design appointment at your local Floor & Decor. Get more news on trends and more inspiration on our online Inspiration Center.