Apr 7, 2020
How to Plan Your Kitchen Renovation Step-by-Step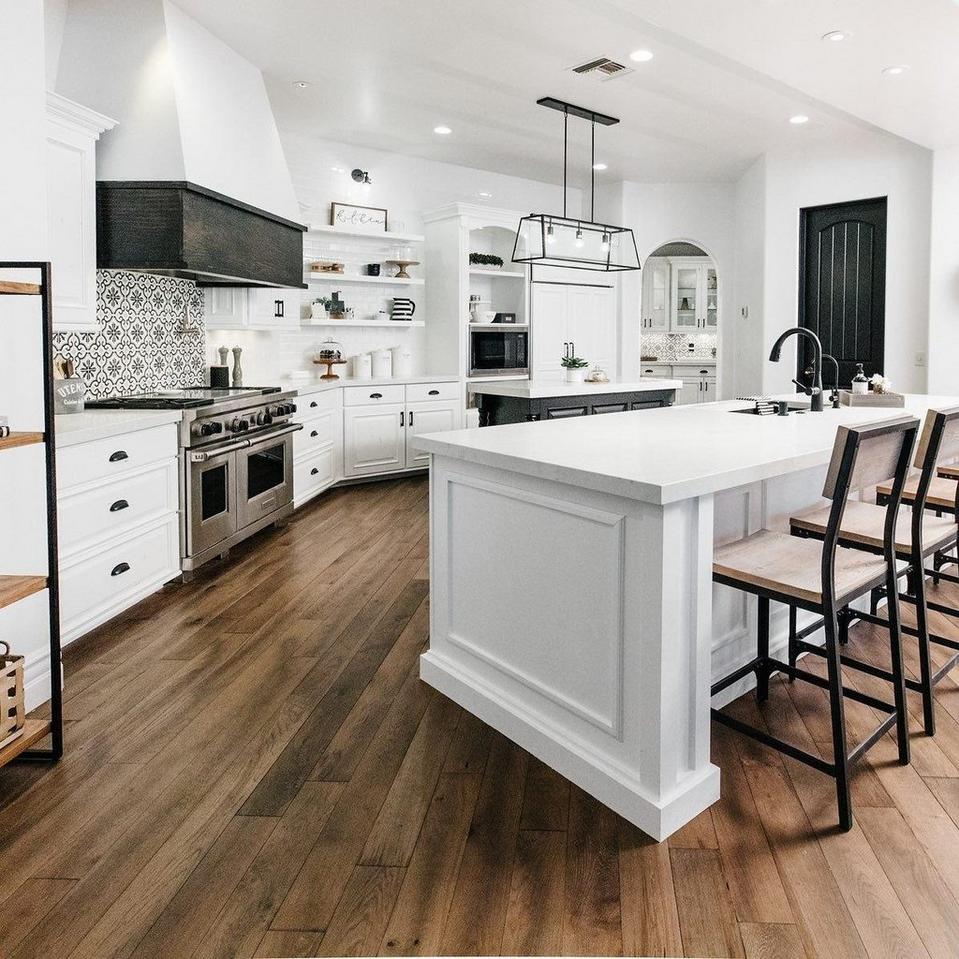 Real People, Real Projects @tomkatstudio
Equilibrio Black IV Encaustic Cement Tile
Alder Pecan Tan Water-Resistant Laminate
Ever heard the phrase "don't put the cart before the horse"? One misstep in the order of your kitchen renovation, and it could lead to time and money lost. Here's the Floor & Decor guide to prioritizing your kitchen updates for efficiency from beginning to end.
Step 1: Demolition
Remove all old materials and debris from the kitchen space. Completing demolition on the upfront will prevent potential damage to new products or appliances you're installing. Clear out the mess and start with a clean slate for the safety of your family and investments. Pro tip! Order new appliances now, so they'll arrive before your cabinetry and countertops are measured.
Step 2: Professional Inspection
Just after demolition, electrical wiring and pipes are most accessible to experts. Ensure the unseen mechanics are in tip-top shape, so you don't face surprises like unexpected water damage to your new flooring. Pro tip! Remove outlets from your backsplash and undermount them to your kitchen cabinetry. This creates a seamless backsplash design and eliminates the need to cut tile around outlet covers.
Step 3: Paint Walls & Cabinetry
Next, paint your kitchen walls and existing cabinetry, so you don't have to navigate around appliances, tile and trim work. No drop cloth is needed if your floor hasn't been installed. Remember, you can spare yourself the time and paint for your backsplash area. It will be covered by mortar and the finished product.
Step 4: Install Flooring
Give careful time and attention to your flooring underlayment installation before placing the finished pieces. Shop all installation materials, laminate, vinyl, hardwood, stone and tile options under one roof or online at Floor & Decor.
Step 5: New Cabinetry
It's important to install new cabinetry after the floor installation to ensure the cabinetry is level. If you're simply refinishing existing cabinets, complete this project when you paint your walls. Note, you'll need your new appliances onsite at this time for proper cabinet and countertop measurements.
Step 6: Install Countertops
Once the foundation of your project is complete, add the pièce de résistance, your countertops. At this point in the renovation, the structure of your cabinetry is well-fitted and can uphold the beauty and weight of the natural stone or stone-look material you've chosen. Refer to the Floor & Decor Custom Countertops page to learn more about preparing for the custom countertop installation.
Step 7: Install Backsplash
Assess your new countertops in the space and make sure your backsplash samples are still the perfect complement. Installing the backsplash after the countertops gives you flexibility to make design adjustments if need be. You'll also be able to precisely apply grout and sealer where the tile meets the countertop.
Step 8: Add Appliances & Hardware
If you chose to keep your existing appliances, you may now carefully put them back into place or bring in your shiny new purchases. The final touches include adding hardware like cabinetry handles and kitchen hardware. Installing these elements as a last step ensures they'll be protected from accidental damage, dust or paint.
Of course, the most difficult step of any project is simply getting started. Floor & Decor is here to help make your kitchen renovation a little easier. Schedule a free Design Services appointment for expert help in pairing countertop, backsplash and flooring products with your paint swatches and style. Let's cook up a design you'll love year after year!