Mar 17, 2020
How to Decorate with Green
Are you seeing green today? St. Patrick's Day is a holiday synonymous with luck, gold, of course, lots of green. With sea and earth tones designated as two of the year 2020's most popular hues, shades of green are also taking focus in interior design. We're here to break down how to extend this color trend beyond today's festivities and into your space.
Accent Walls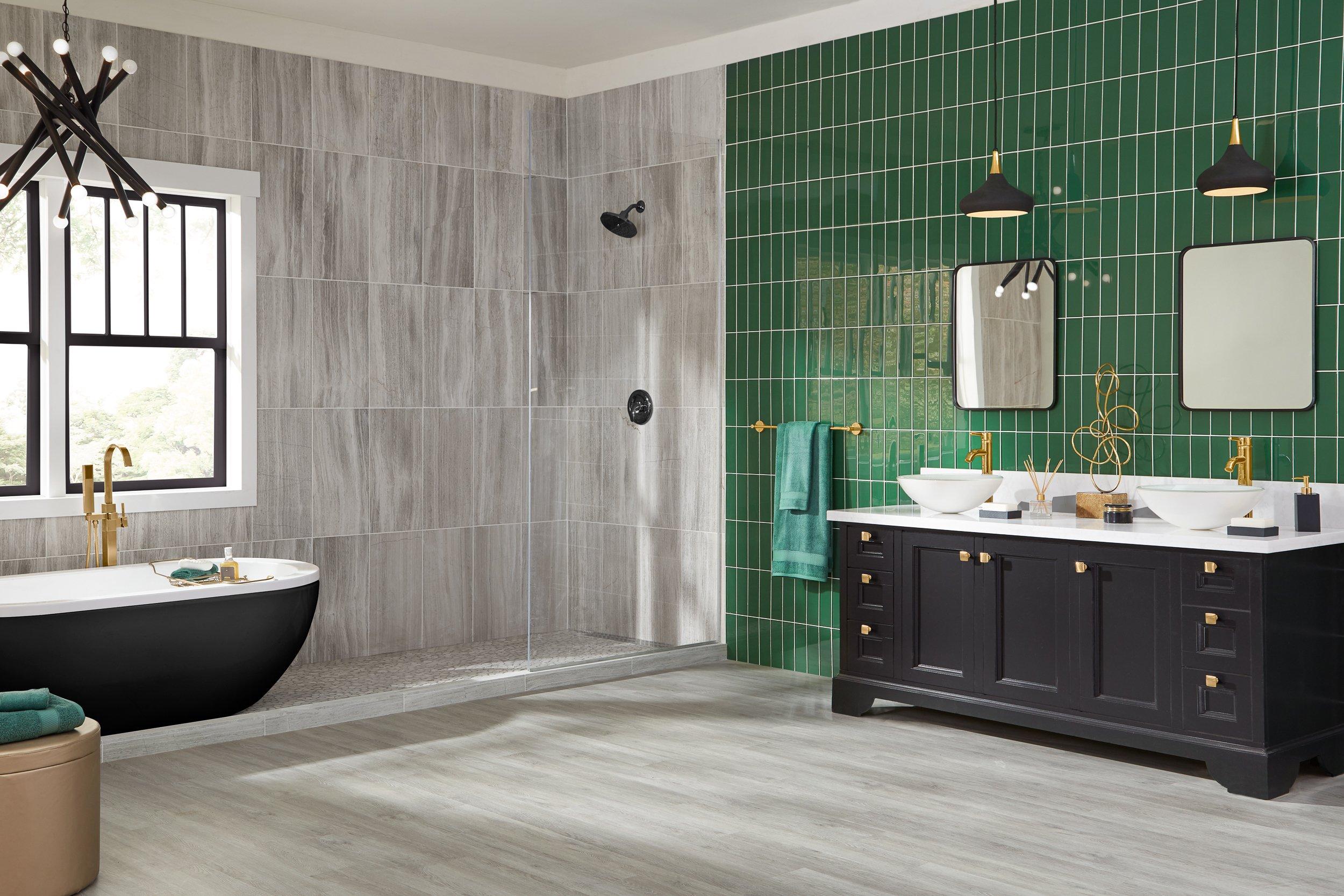 Pictured: Fern Glass Tile, DuraLux Vail Greige Rigid Core Luxury Vinyl, Valentino White Flat Pebble Mosaic, Valentino White Marble Tile
According to color theory, green represents balance and harmony. What better area to bring a relaxing vibe into than a bathroom? An emerald subway tile makes for a strong accent wall, but when offset with neutral floors and fixtures, the room still feels calm.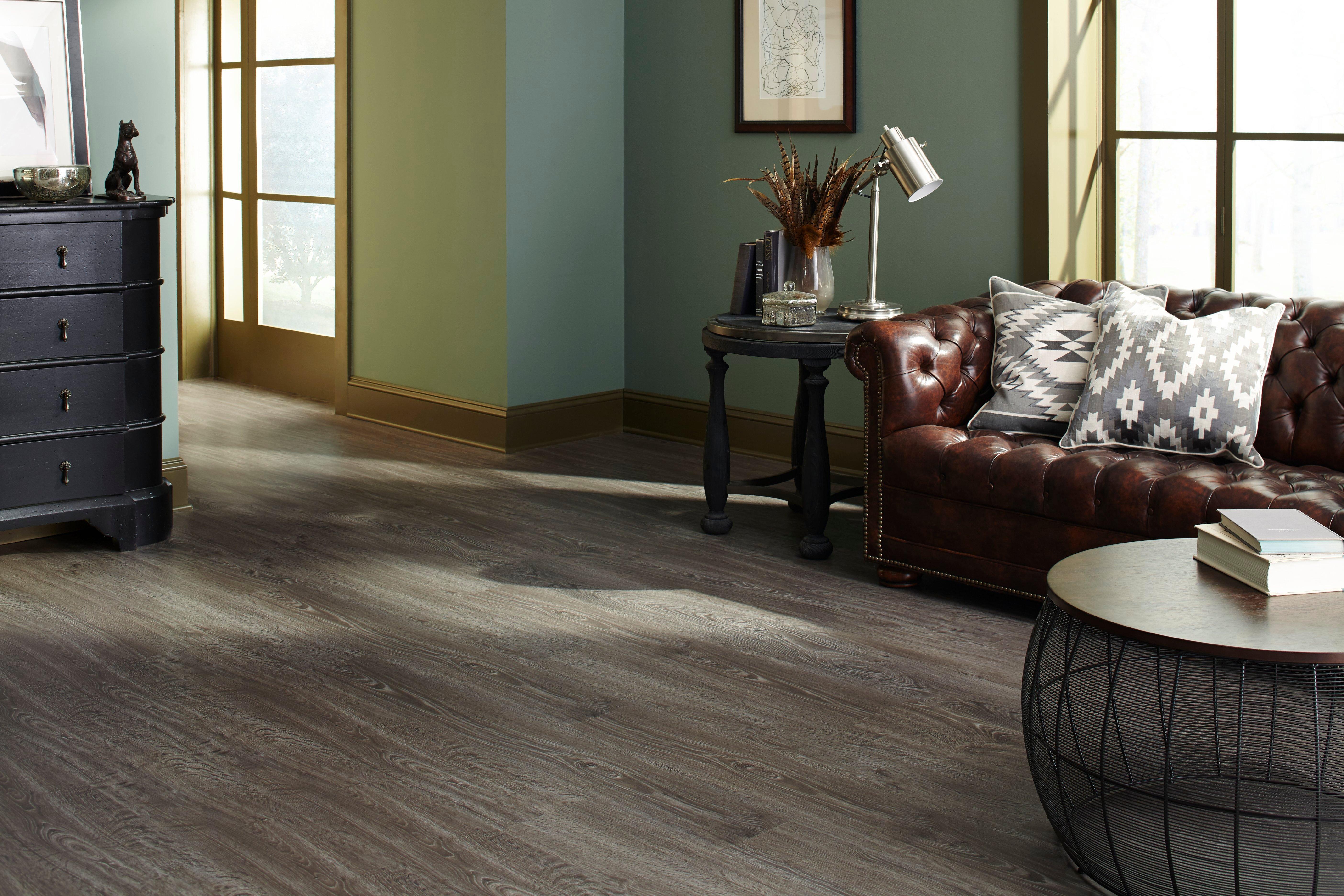 Pictured: Century Oak Laminate
If you're not ready to commit to a green-tiled accent wall, try painting your walls. Behr has declared sage green as the paint hue to focus on this year.
Kitchen Cabinets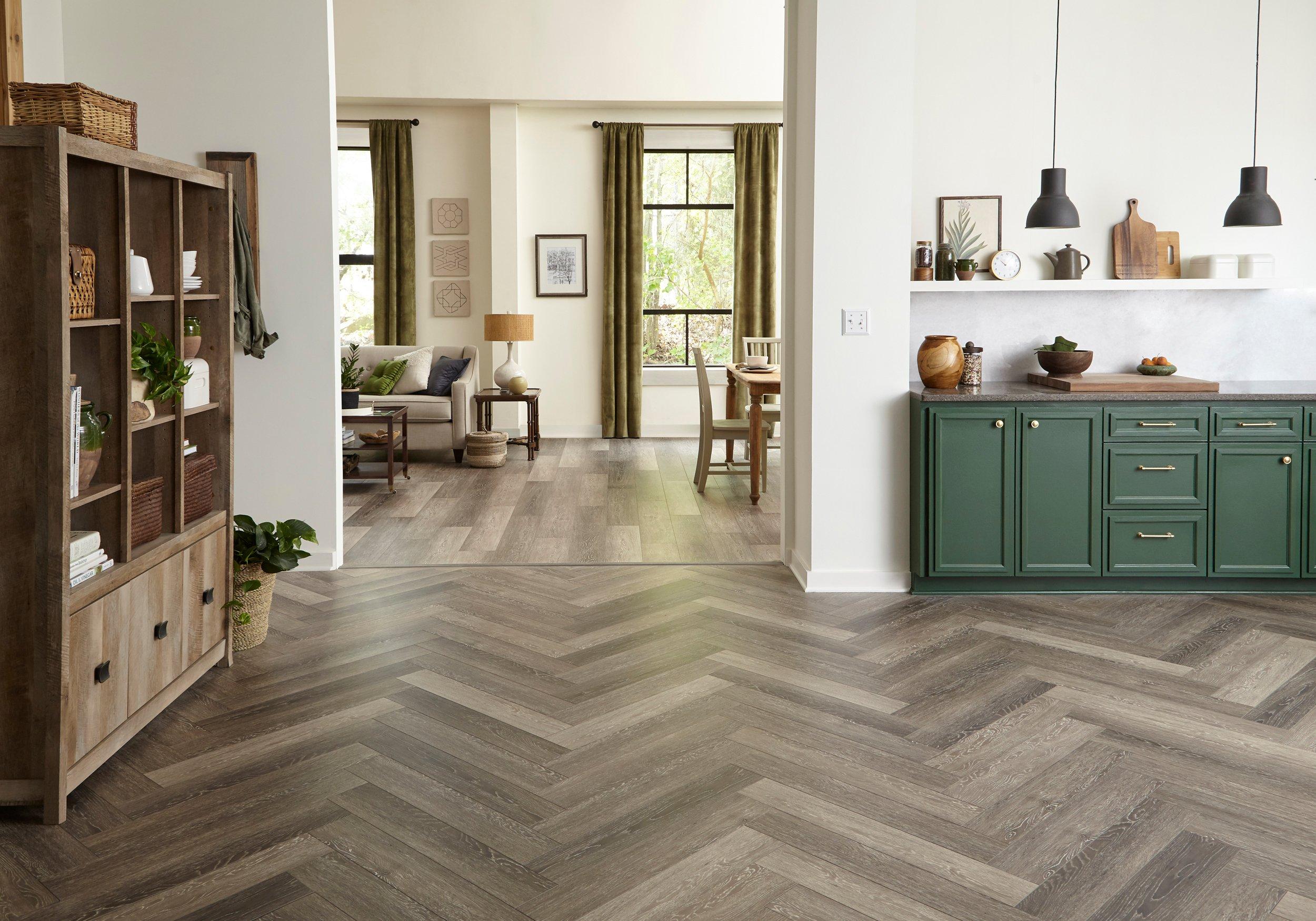 Pictured: AquaGuard Greige Water-Resistant Laminate, AquaGuard Greige Herringbone Water-Resistant Laminate, Bianco Premium Polished Marble Tile
Liven up your room with adventurous cabinetry. What we love about these forest green kitchen cabinets is the global feel they evoke in this otherwise tone-on-tone kitchen.
Decor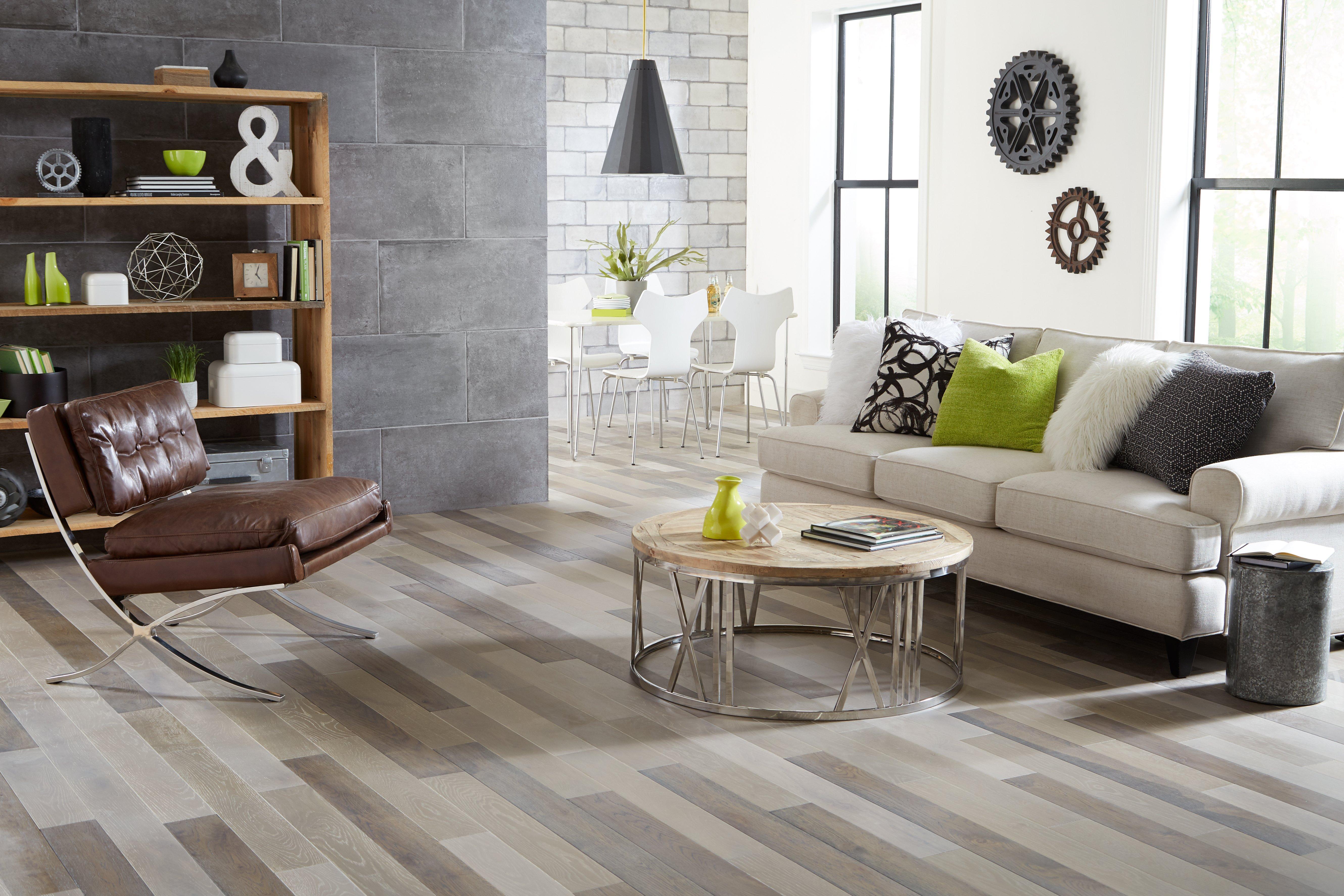 Pictured: Mixed Gray Oak Solid Hardwood, Esenzia Perla Ceramic Tile, Riabita Industrial Porcelain Tile
Use decorative pieces like pillows, vases, books, and picture frames to tastefully incorporate livelier colors, like lime green, without fully committing. The accessories in this industrial living room are just enough to catch your eye without being an eye-sore.
Plants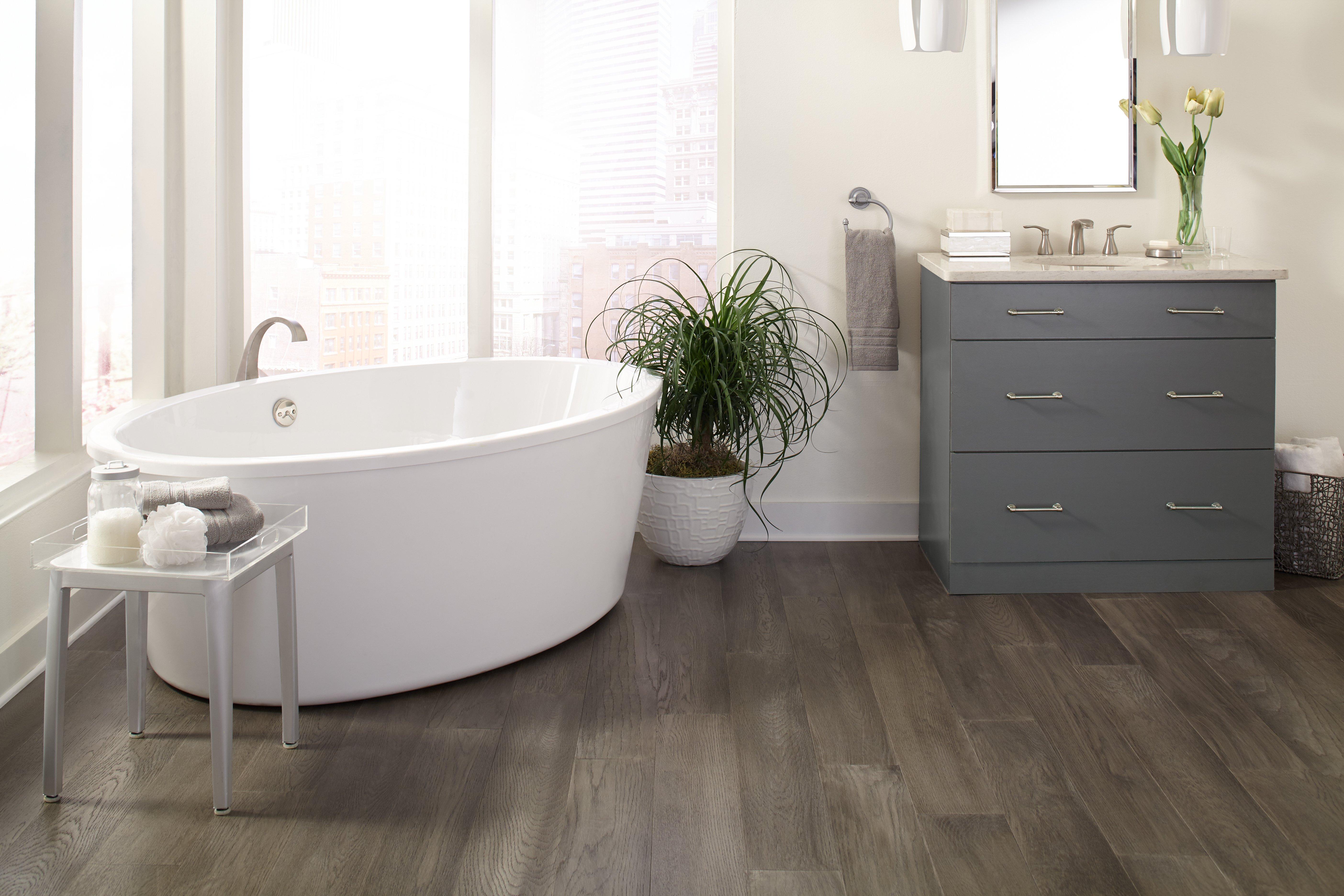 Pictured: Medium Gray Oak Water-Resistant Engineered Hardwood
Plants are a fresh way to add character, texture, and a hint of green. If you don't want the maintenance of a real indoor plant, artificial can still be fashionable. A faux floor plant and vase of tulips help tie together this simple, yet sophisticated bathroom.
Invigorate your room with green, whether it's through a bold design or subtle accent. If you're still debating exactly how to use green in your style, let one of our expert designers help. Schedule a FREE design services appointment today to get started.