Mar 10, 2020
Art Deco in a New Decade
We're back in the roaring 20s. The glamour and detail of the era has entered a new generation of style. Art Deco combines the best of classic materials, like stone, marble and gold, with the excitement of modern shapes and designs. The look offers tradition with a twist and touch of luxury. Discover what's new with age-old inspiration.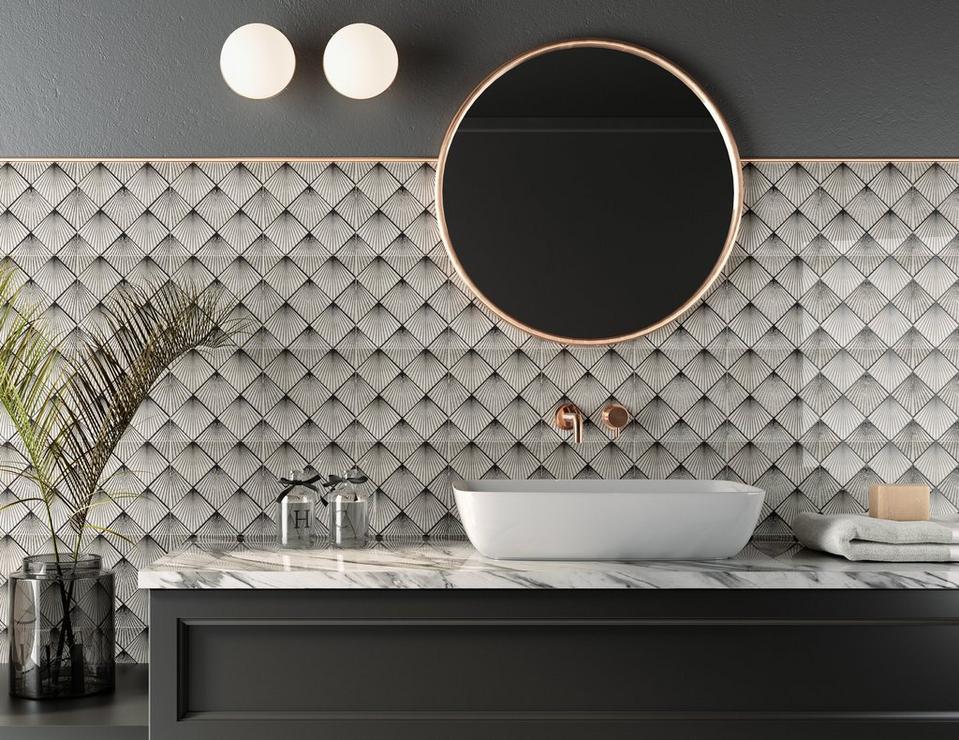 Moda Del Mar Gatsby Ceramic Tile
Geometric Shapes
Art Deco is French-inspired and expertly balances whimsical shape and structure with its symmetrical designs. Elegant curves work in contrast with clean edges. Repeating these shapes in a bold pattern makes speakeasy style even easier. Style tip! You may think small spaces can't handle pattern, but bold patterns actually add depth to a room.
Viviano Marmo Carrara Thassos Hexagon Waterjet Marble Mosaic 
Silver Starburst Encaustic Cement Tile
Viviano Marmo Vector II Royal White Waterjet Marble Mosaic 
Metallic Shine
It wouldn't be Deco without a little decoration. Metallic accents are the jewelry of a space. It doesn't take much to polish a look, so incorporating touches of gold and silver add glamour to backsplashes. Style tip! For even more budget-friendly style, use metallic liners between tiles to create a custom look or consider golden grout.

Viviano Marmo Bravos II Thassos Carrara Brass Waterjet Mosaic 
Viviano Marmo Gatsby II Black Jade and Brass Waterjet Marble Mosaic 
Viviano Marmo Pegasus Bianco Carrara Waterjet Marble Mosaic 
Mirror & Mother of Pearl Accents
Mirrors don't just belong above your vanity. Reflective accents in the right place will highlight unique details of the home and make rooms appear larger. Style tip! Choose a more antique finish for a subtle approach. Also, explore mother of pearl to add iridescence without the reflection of mirror.

Viviano Mosaici Vintage Reflection Glass Mosaic 
Bellas Artes Antique Mirror Glass Mosaic 
Viviano Marmo Calla Tahitian II Mother of Pearl Waterjet Mosaic 
Get the Look! 
When it comes to Art Deco, the style is sophisticated yet playful. Do your space a favor and update with the timeless look of 1920's detail. For expert advice on bringing an Art Deco look to life, schedule a free Design Services appointment.