Videos
Tile Videos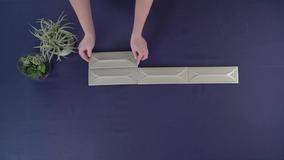 Texture You Can Touch, Structure With Style
Beyond paint there is a special place for unique shapes, levels, and textures, and it lives on your walls. Whether you prefer a monochromatic color palette or like to dabble in saturated shades, texture and structure are crucial design elements for any home.
---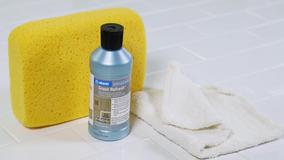 Quick & Easy Projects: How To Refresh Grout
Learn how to refresh the grout in your home in five easy steps. Change grout to a trendy shade of gray or brown, or make stained grout look new with little supplies and in a matter of moments.
---


Make Way For Gray – Fall/Winter 2016 Trend
Depending on the shade, gray can be warm, cool, or darkly sophisticated. Today's gray can be shiny or matte, modern or classic, and used in a variety of patterns and textures. Use gray as your canvas to enhance accent colors or create a daring contrast by mixing hues. Learn more about all the ways you can use gray in your space.
---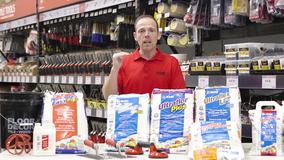 Must-Have Accessories - Large Format Tile Installation
Large format tile is a trend that continues to bring unique looks and visual enhancement from floor to wall. Our accessories expert gives you everything you need to know about the must-use installation materials.
---


Black & White – Fall/Winter 2016 Trend
A simple palette of black and white is quietly bold, characterized by a mix of modern and classic materials. Each room can be thoughtfully designed as subtle, chic, or downright stunning.
---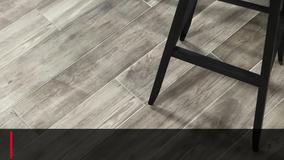 Greige - The New Age of Neutral
This HOT color is sweeping the nation with its warm neutral appeal. Greige pairs beautifully with white and grey tones to help you complete the look.
---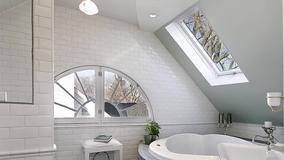 All About WHITE.
Say goodbye to boring and hello to today's hottest, versatile trend: white. White gives the illusion of space, coordinates beautifully with everything from grey to pops of color, and is timeless. You'll find hints of white throughout the entire home - in countertops, tile, wood-look tile, marble, decorative accents and so much more.
---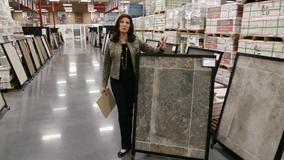 Shape up! New Tile Trends.
Break out of the box with the newest shapes in tile. Using interesting shapes on the wall and floor instantly creates a custom, designer look. A penny round mosaic is a great alternative to dull wallpaper while a small area of an hourglass mosaic can double as artwork. Even the traditional square floor tile is being stretched into larger, rectangular forms. Whether the desired look is subtle or bold, great tile shapes can help achieve it.
---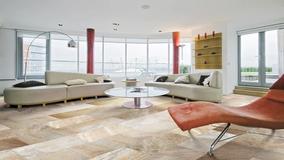 Go Big! Large Format Tile Trends.
When it comes to today's tile, bigger is definitely best. Large format tile, or LFT, is one of the hottest flooring trends. The traditional 12in. x12in. size has been doubled and even tripled in tons of materials and finishes. From polished porcelain to sleek, modern glass, the best looks have been expanded to stunning proportions. Because each tile covers more square feet, fewer grout lines are required during installation resulting in a more streamlined design.
---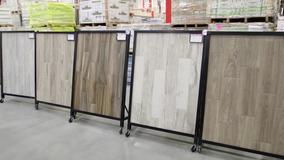 Valley Ridge – Beautiful & Affordable Wood-look Tile
Finally the richness of wood meets the durability of tile with Valley Ridge, exclusive to Floor & Decor. We travel all over the world to handpick custom designs. Cuttin edge inkjet technology offers realistic design options. Your friends and family won't believe it isn't wood!
---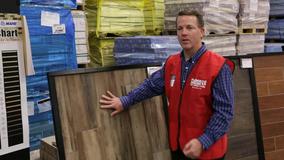 You've Got the Look: The Beauty of Wood-Look Tile
Wood-look tiles offer the beauty of hardwood combined with the durability and easy maintenance of porcelain and ceramic. Today's ink jet technology means these tiles look like the real deal. Plus, they can handle the demands of real life even in wet areas like a bathroom or laundry room. With styles ranging from distressed and rustic to smooth and traditional, there's a wood-look tile for every decor taste.
---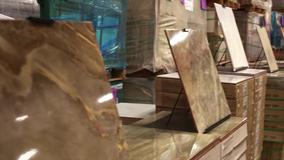 Ink Jet Flooring – High Technology. High Definition. High Style.
Tell grandma's tile to move over; today's tile technology offers beauty and authenticity unmatched by older flooring. Ink jet tiles are like a high definition television for floors. Set an ink jet porcelain or ceramic tile next to a natural stone, and they're nearly indistinguishable. Tile colors and patterns appear crisp and bold. Whether the desired look is natural stone or hardwood, ink jet tiles offer a hyper-realistic, maintenance-free option.
---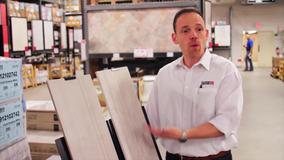 Ceramic And Porcelain – Great Tile Choices
Ceramic and porcelain tiles offer a combination of durability, versatility and convenience and are available in hundreds of different styles, shapes and colors. Both ceramic and porcelain tiles can add an attractive touch to floors and walls throughout the home. Enhance the look of your rooms with these affordable options.
Stone Videos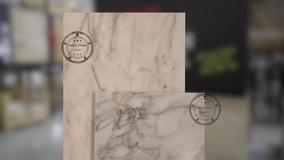 The Marvel of Marble
We source our marble from all over the world, bringing you the latest trends at some of the lowest prices. Watch now to see where our most popular marble comes from.
---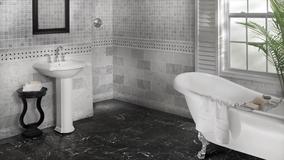 Marble – Timeless And Elegant Appeal
See how marble brings a refined elegance to your rooms and creates endless design possibilities. It is easy to clean, making it a practical and attractive addition to almost any room. Plus, it's hard to beat the durability of marble.
Wood Videos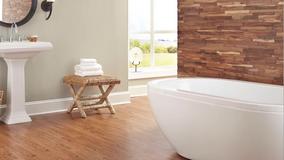 Wood on Walls
The emerging trend of wood on walls is a good way to balance refined and rustic looks. Whether you're looking to create an interesting accent wall or define a whole new space, putting wood on walls gives you the chance to add depth and character to your home. Wood on walls is a perfect accent to any home.
---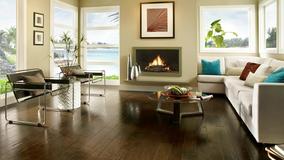 Exotic Hardwood
Design outside of the box with new exotic wood floor choices. You can't miss the unique graining and rich, natural color of Brazilian Cherry, Santos Mahogany and other exotic wood species. Go premium with rare, hardy woods like Amazon Rosewood and African Blackwood.
---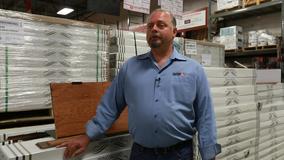 Solid and Engineered Hardwoods - Timeless Appeal. Lasting Value.
Hardwoods add warmth and value to any room. Find the perfect look by exploring different finishes, colors, and species. Not sure what the difference is between engineered or solid? Engineered floors have all the character and beauty of solid hardwood but can be safely installed in basements and on concrete slabs. Once the wood floor is installed, it's impossible to tell the difference between solid and engineered.
---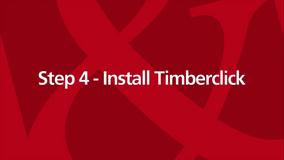 How To Install Timberclick®
Timberclick is a revolutionary solid hardwood product exclusively from Floor & Decor that looks fantastic and installs in a snap.
This locking flooring installs three times faster than traditional tongue and groove hardwood, and can be done in five easy steps.
There is no glue, no nails and no mess.
---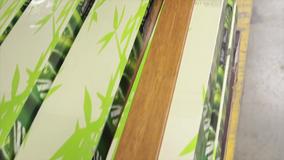 Bamboo – Attractive, Affordable, Eco-friendly
Bamboo flooring is a hardwood option that is stylish and durable. Choose from a huge selection of styles and you're sure to find one that will withstand wear and tear, is easy to maintain and will look terrific in your home. It's harvested responsibly, so it makes for a great sustainable flooring product.
Laminate & Vinyl Videos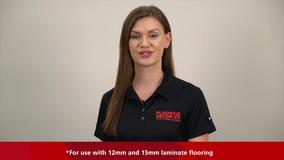 How To Install Laminate On Your Walls
In this short but thorough how-to video you will learn how easy it is to install laminate on your walls. With a few tools and a free weekend you can turn a drab wall into a beautiful focal wall.
---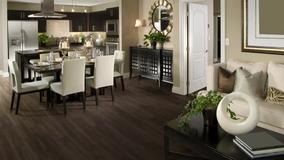 NuCore™: 100% Waterproof Flooring
Now you can get the look of wood in every room with Floor and Decor's new and exclusive NuCore™ 100% waterproof flooring. NuCore looks and feels like real hardwood and can be installed over almost any existing flooring in any room of your home. NuCore is durable, easy to maintain and always beautiful.
---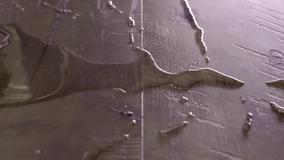 AquaGuard™: The Next Generation of Laminate Flooring!
AquaGuard™ is a water resistant laminate that looks and feels like real hardwood. It's perfect for any room in the home, including kitchens, mudrooms, and even full bathrooms. Learn more about how simple installing AquaGuard in your home can be! AquaGuard, the next generation of laminate flooring, is exclusively found at Floor & Decor.
---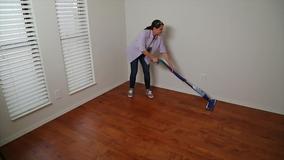 Locking Flooring
Installing beautiful wood or laminate floors doesn't have to be a messy and difficult project, with glue, nails and … frustration. Locking flooring is simple and quick to install.
---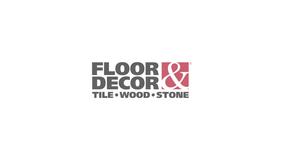 Laminate Quick Tip
See how to create unique patterns and add visual appeal to your laminate flooring. Laminate is a durable, environmentally friendly flooring material that can work well in rooms throughout your home. It offers unlimited potential on a limited budget.
Decorative Videos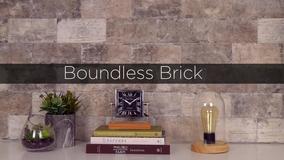 Build Your Style with Brick
Dreaming of industrial lighting and exposed beams? Make industrial chic your own and fashion the perfect brick design. Capture city living and add a vintage touch to a room by creating a brick accent wall or by using brick tile on your floors.
---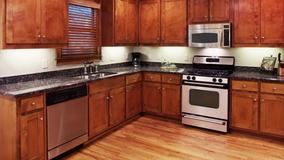 Backsplashes: A Look For Every Style
A new backsplash is a quick and easy way to update your space or add a crowning touch to your full kitchen makeover. With a variety of shapes, sizes and materials available, backsplashes are a great way to add personality to your space.
---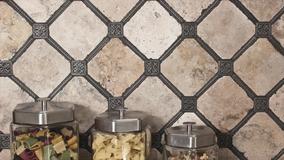 Make a Splash with Backsplashes
Upgrading a backsplash is a great way to quickly update a kitchen or bath. Today's hottest trends represent all design styles from eclectic to rustic. Some of the newest looks include elaborate glass mosaics and even reclaimed wood. Because it's generally a small area, a backsplash is the perfect place to explore new trends and bold ideas.
---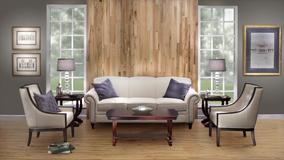 Walls That Wow
Tile, wood and stone products look great on floors, so why not also get that great look on your walls? With so many great varieties to choose from, you won't have to settle for tired paint and wallpaper options any more. Get creative, and let your walls make a stylish statement.
---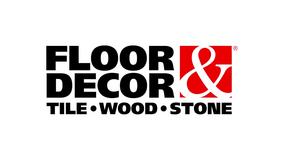 Mosaics
See how you can use mosaics to enhance the style of your home. Mosaics are timeless design elements that will never go out of style. Today's popular mosaic looks borrow elements from the past while incorporating the present.
---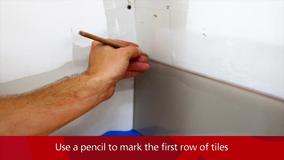 Quick and Easy Backsplash
You can turn up the appeal of your kitchen or bathroom by installing a new backsplash. Choose from backsplashes that are made of tile, glass or wood, and create a distinctive look.
Installation Material Videos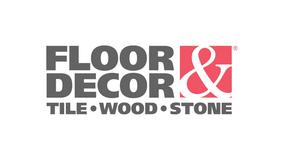 Backsplash & Grout
With a few boxes of tile and a free weekend, you can really turn up the appeal of your kitchen with a beautiful backsplash. This great DIY project is easy and will make a lasting impact on your home's appearance without costing a fortune.
---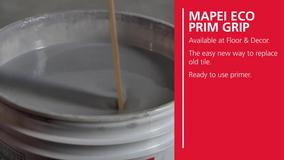 Install Tile Over Tile with Eco Prim Grip
If you have old ceramic or porcelain tile that you would like to replace, you can save yourself some hassle by laying new tile right over the old. This easy project can add new life to a room.
Commercials & More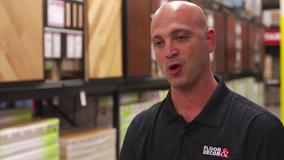 In The Aisle
See Floor & Decor Regional Vice President Rob Baumaister explain how delivering value directly from the source allows Floor & Decor to offer such unbelievable prices. Finding the best products from around the globe lets Floor & Decor be your destination for top quality floors at rock bottom prices.