Wood, Laminate, & Vinyl Floor Moldings & Trim
The Best Moldings and Baseboards Trim from Floor & Decor

Baseboards trim and baseboard moldings can provide the perfect finishing touches to your flooring projects, and you can find the finest wood moldings and floor trim products right here at Floor & Decor. Choose from a varied selection of baseboards trim and moldings in many styles and colors.

High-Quality Baseboards Trim and Baseboard Molding at Fair Prices

No matter whether you're looking for affordable and attractive vinyl baseboards or some elegant wood moldings to finish off your project, you'll find all the baseboards trim products you need in our vast and varied selection.

Choose from dozens of prefinished moldings and in various shades and colors, or opt for unfinished baseboard molding and trim molding that you can style and adapt in your own ways. Whatever your choice of floor molding, you'll get the best quality products at the fairest prices with Floor & Decor.


Prefinished Moldings & Trim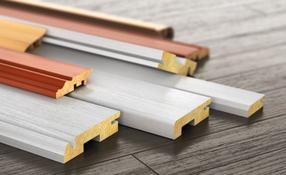 Prefinished moldings make it
easy to finish your project faster.
They have been painted or
stained in varying shades to
coordinate with any flooring
selection.
Shop Prefinished
Unfinished Moldings & Trim (Baseboards)
Customize your space with
unfinished moldings. Paint them
or stain them to personalize your
space and suit your style.
Shop Unfinished
Order Your Baseboard Molding Products Today

As a leader in the flooring industry, Floor & Decor offers one of the best selections when it comes to baseboards trim products and floor moldings. As well as offering a lot of top quality products, we can also provide these brilliant benefits to all shoppers:
A wide, varied selection of moldings, including vinyl trim and wood baseboards too
Choose from many colors and styles to suit the precise needs of your project
The best prices on every product
Superior standards of customer service
Order online or visit one of our stores to buy in person
Floor & Decor can meet all of your needs for baseboards, trim, and moldings. Order today to put the finishing touch on your floors.