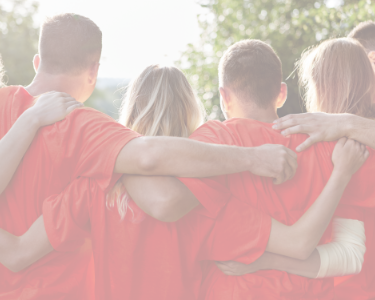 Demonstrating care for our communities by making contributions to positively impact lives.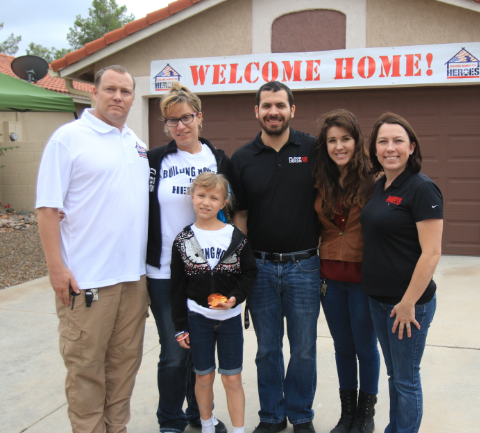 Our Focus:
While there are countless worthy charitable initiatives, Floor & Decor places special focus on causes that benefit veterans, military service members, and military spouses and families. This support can be in the form of partnering with established local, regional, or national nonprofit organizations, or through active volunteer participation and/or in-kind donations. There are additional regional priorities, considered on a case-by-case basis.
Floor & Decor associates in Tucson with the recipient of a new home from Building Homes for Heroes, Inc.
This organization provides mortgage-free homes to disabled veterans, and has gifted 150 homes in 30 states. Several F&D store teams in Arizona, Nevada, and Texas have collaborated on projects to benefit these deserving veterans and their families, by providing flooring and countertops, as well as volunteer participation.
In the Community:
Floor & Decor Cares is focused on charitable community efforts, and is driven in large part by our stores.
Our associates take pride in their communities, and often team up with fellow associates at neighboring stores to tackle larger service projects.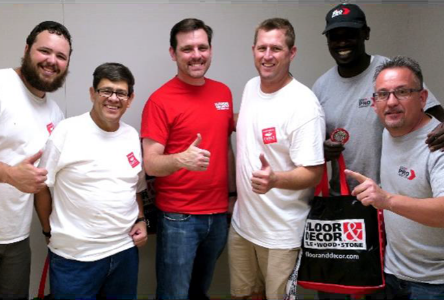 F&D Cares teams in Tampa, FL are all smiles after completing a volunteer service project benefitting ServiceSource's Warrior Bridge facilities for wounded and disabled veterans
Frank De Lucia, Vice President of Program Development, Strategy, and Innovation of ServiceSource Florida Regional Office had this to say about our F&D Cares projects with his organization: "This brings to five the number of renovation projects [Floor & Decor store manager Brian] Brooks and fellow volunteers have completed on behalf of military veterans with disabilities. What a marvelous form of community engagement and statement of respect and admiration for veterans who served our country with honor and distinction….we look forward with great enthusiasm to our future endeavors with Floor & Decor."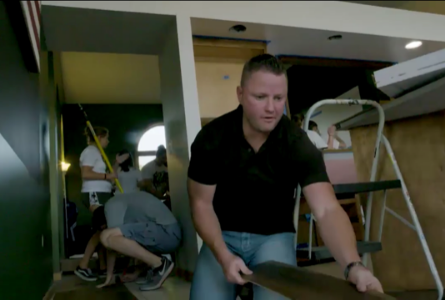 Josh James, Countryside Floor & Decor Chief Executive Merchant (General Manager), works to complete a renovation project for the Oscar Mike Foundation's adaptive sports compound in Rockford, Illinois.
The Oscar Mike Foundation's mission is to keep injured veterans "On-the-Move" in all aspects of life. Recently, their headquarters and adaptive sports compound was in need of a little TLC. After learning that one of those needs was new flooring in the kitchen and bathroom areas, Floor & Decor and F&D Cares stepped up, replacing their old tile with wheelchair-and pet-friendly NuCore® waterproof flooring and more. The entire project was chronicled by Lifetime Television's Designing Spaces. WATCH NOW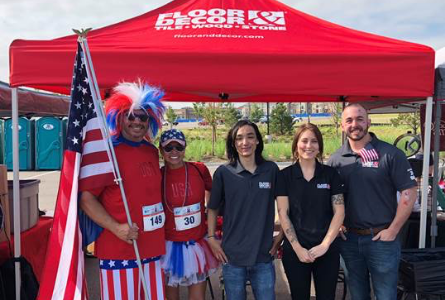 Stapleton (Denver-area) Floor & Decor Chief Executive Merchant (General Manager), Bryan Bouskill, and team at the Freedom 4-Miler, benefitting the Colorado Veterans Project.
The Colorado Veterans Project hosts special events to raise awareness and funds for local veterans and veteran organizations. Their mission is to enhance pride and patriotism in all Coloradans by building a stronger, more supportive community around our veterans. Floor & Decor Stapleton Chief Executive Merchant/General Manager Brian Bouskill and his team were excited to be a sponsor of the inaugural Freedom 4-Miler, from which 100% of proceeds of all registrations and donations went to benefit this worthy organization.
Donation Guidelines:
To be considered for support, organizations must serve a community in which Floor & Decor operates stores, distribution centers, and/or corporate offices. Preference is given to organizations with an emphasis on veterans, active duty service members, and military spouses and families. Organizations must be a 501(c)3 public nonprofit charity, as sanctioned by the Internal Revenue Service. Due to the volume of applications received, not all requests will be accommodated. Floor & Decor may, but is not obligated to, make donations to the applicant organization.
Floor & Decor does not currently accept proposals for the following:
Individuals
For-profit organizations
Religious organizations for religious purposes
Political organizations, candidates, gatherings, or activities
Fundraising dinners and galas
Organizations that discriminate against people based on age, race, creed, ethnicity, sex, sexual orientation, gender identity, disability, national origin or ancestry, or political affiliation
All requests must be submitted online, with an application completed in full. By submitting the request and application information, you represent that you have the authority to provide the personal information of others you include in the application. Requests via email or telephone are no longer accepted. If your request meets the criteria, we welcome you to complete the form below. Please allow 60-90 days for your request to be evaluated. If the requested donation is for product, Applicant acknowledges that Floor & Decor does not provide installation and will not be responsible for installation. All products are donated "as is," without any warranties, express or implied, as to the condition or performance of such products.
Charitable Donation Request
Interested in applying for charitable support? Please email community@flooranddecor.com to submit an in-kind (product) donation request.
Named after our founder, the West Fund was established to provide financial relief to team members during an unexpected and unavoidable emergency.