The 5 Best Dog-Friendly Flooring Options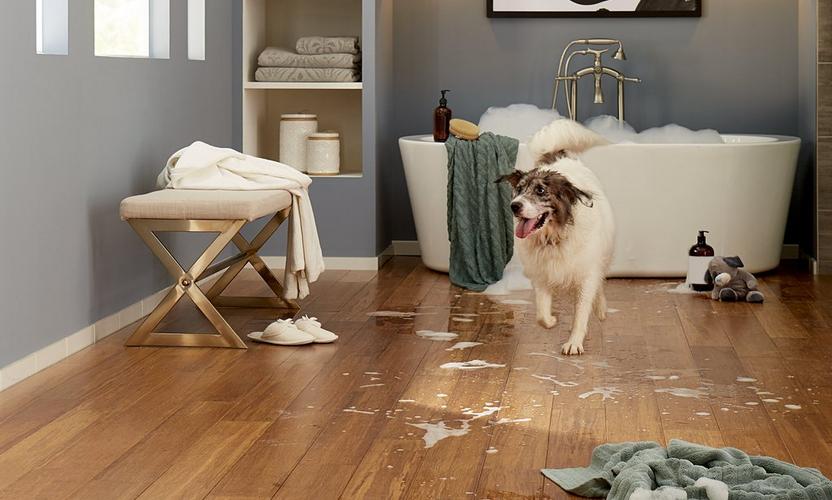 We love our pups but don't love their messes. Now, there's no need to worry with Floor & Decor's own dog-friendly flooring options that stand up to the challenge. Find out what makes each pet-approved floor the best option for your household.
1. Luxury Vinyl
Vinyl is one of the hardiest wood-like flooring materials available. This top-quality floor offers great style and durability to make you and your pet happy. At Floor & Decor, we provide premium brands of both luxury vinyl plank and luxury vinyl tile in a variety of shades, styles and designs, so you can get a look you love with protection you can trust.
Best in Class
Exclusive to Floor & Decor, NuCore Performance® is 100% waterproof vinyl and protected by Techtanium Plus for extreme protection against stains and scratches. DuraLux® Performance is another one of our favorite 100% waterproof vinyl brands that's also protected against scratches, stains and dents. OptiMax™ eco resilient flooring is the perfect option for households looking for durability that's eco conscious. OptiMax™ eco resilient flooring is 100% waterproof, PVC free and enforced by Techtanium Plus for protection against stains, scratches and dents.
Shop Pet Friendly Vinyl
2. Water-Resistant Laminate
Wood-based laminate is more than meets the eye with an authentic wood look and water-resistant protection. Innovative coatings work hard to stop dirt, water and scratches in their tracks. Bring playtime inside!
Best in Class
AquaGaurd® Performance laminate is waterproof and coated with a layer of aluminum oxide for protection against dents and scratches. HydroShield® water-resistant laminate offers up to 24 hours of protection from water damage as well as a protective top coating that prevents dents and scratches.
Shop Laminate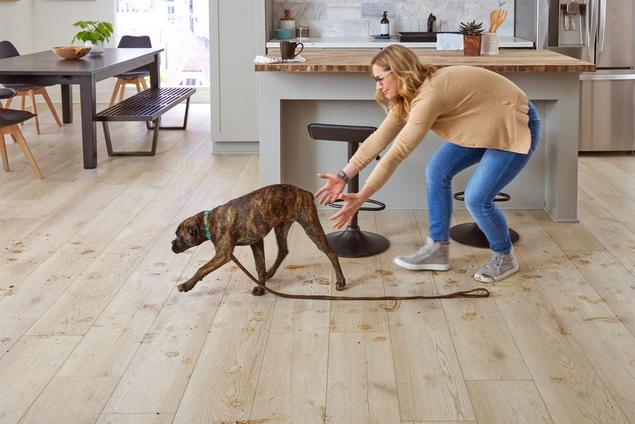 3. Engineered Hardwood
Don't overlook hardwood if you have pets. At Floor & Decor, we offer engineered hardwood that's reinforced to make it water and scratch resistant. You don't have to compromise style for spills.
Best in Class
Dogwood™ engineered hardwood is dent, scratch, and water resistant with an antimicrobial finish to stop bacteria in its tracks and keep the whole family happy. AquaGuard® engineered hardwood offer 24 hours of protection against water absorption and has a UV-cured top coating reinforced with quartz to protect the real wood layer from the biggest, muddiest paws and water bowls.
Shop Engineered Hardwood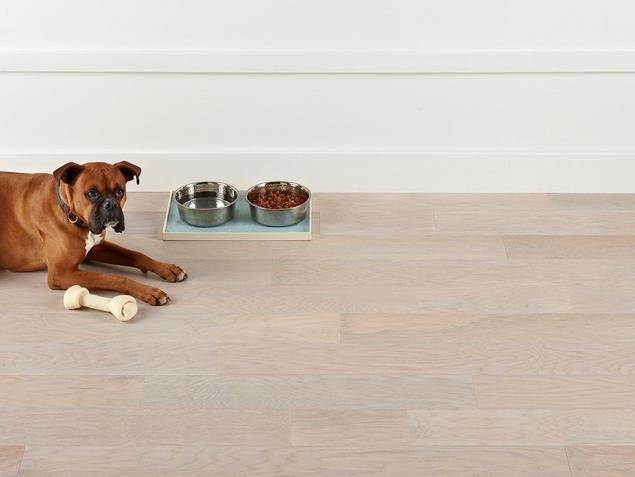 4. Bamboo
Top-quality bamboo floors are a great alternative to traditional hardwood. Bamboo has superior strength, making it naturally resistant to scratches and stains. At Floor & Decor, we offer AquaGuard® water-resistant bamboo, which provides all the natural benefits of bamboo plus 30 hours of protection against water damage.
Shop AquaGuard Bamboo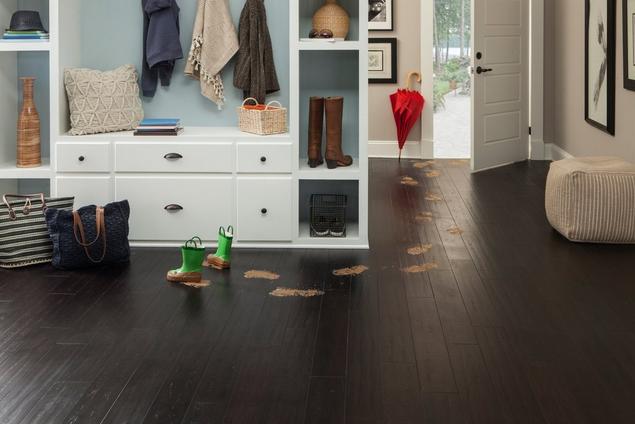 5. Tile
Tile is naturally durable, waterproof and scratchproof, and glazed porcelain and ceramic tile are virtually impenetrable by stains. Tile makes it a breeze to clean up messes no matter when they happen. Whether you want to steam, spin mop, sweep, or vacuum, you'll be able to get your floors sparkling clean and sanitized.
Shop Tile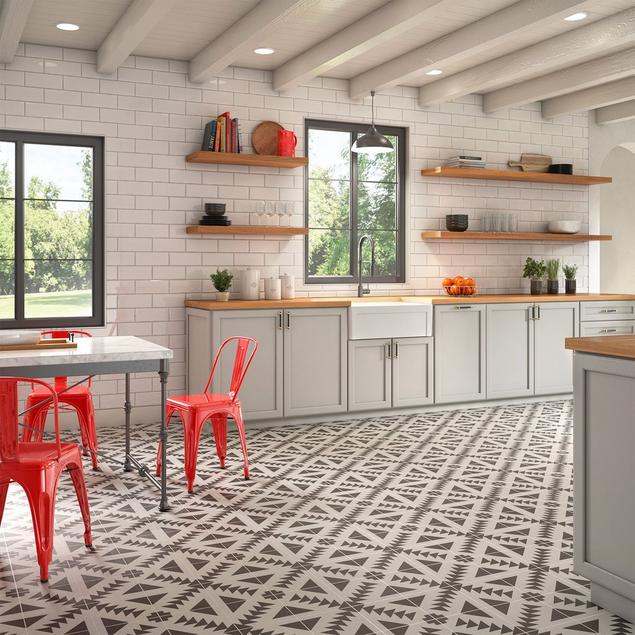 Choosing the best flooring for your dog can get overwhelming, but at Floor & Decor, we're here to help. Schedule a free Design Services appointment today to work with a design expert. Make choosing the best flooring for your dog and household easy.
Schedule Now