How to Upgrade Your Kitchen on a Budget
A kitchen remodel is one of the leading ways to boost your home's value, appeal, and livability. Minor kitchen remodels yield an average return of 98.5% when it comes time to sell - and in the meantime, you'll get plenty of daily joy from a sparkling new kitchen.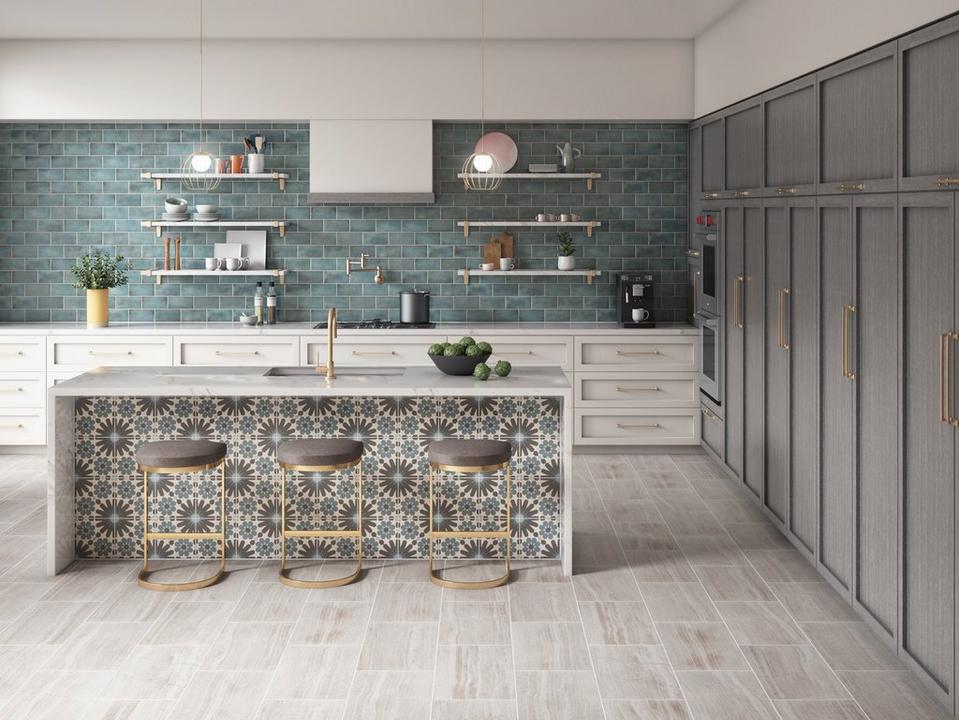 Pictured: Be In Greensea Ceramic Tile, Valentino White Marble Tile, Fiorella Matte Ceramic Tile, Cloud River Quartz Slab
However, sticker shock sets in pretty quickly - the average homeowner spends $21,751 on a kitchen remodel.
Luckily, we have some suggestions on how to enjoy a luxurious kitchen upgrade on a budget. Try the following tips to maximize the effect of your remodel without breaking the bank:
1. If Your Floorplan Works, Stick with It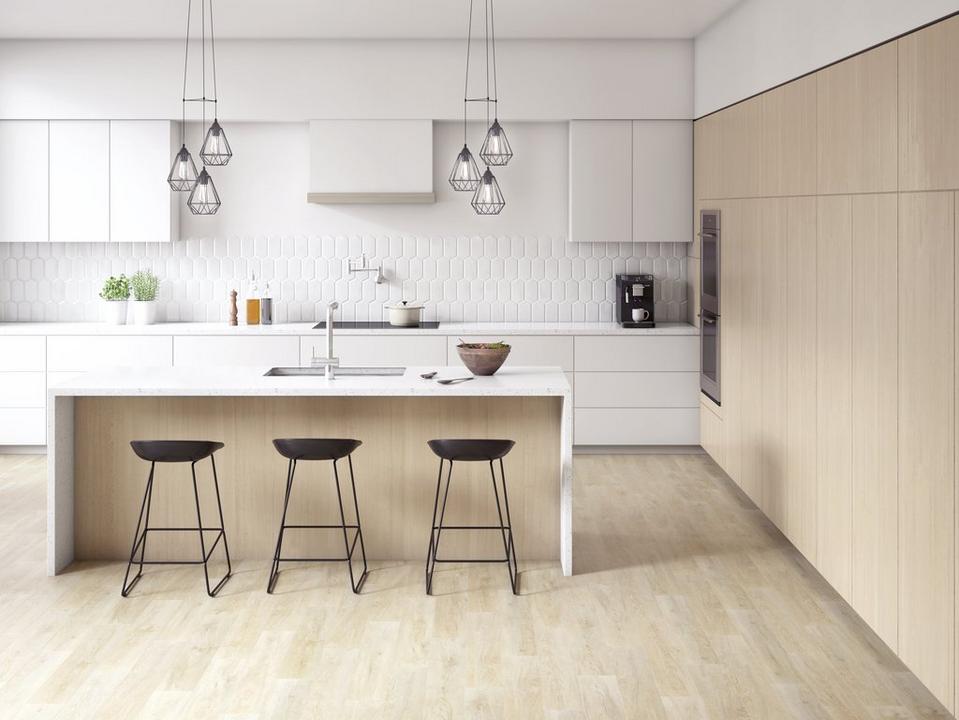 Pictured: Crystal Creek Rigid Core Luxury Vinyl, Dolomite Facet Polished Marble Mosaic, Ice White Quartz Slab
Rerouting plumbing and electricity can take large bites out of your budget. It's easier to install new flooring around existing fixtures, so consider keeping your current layout if it is functional.
2. Choose Laminate Flooring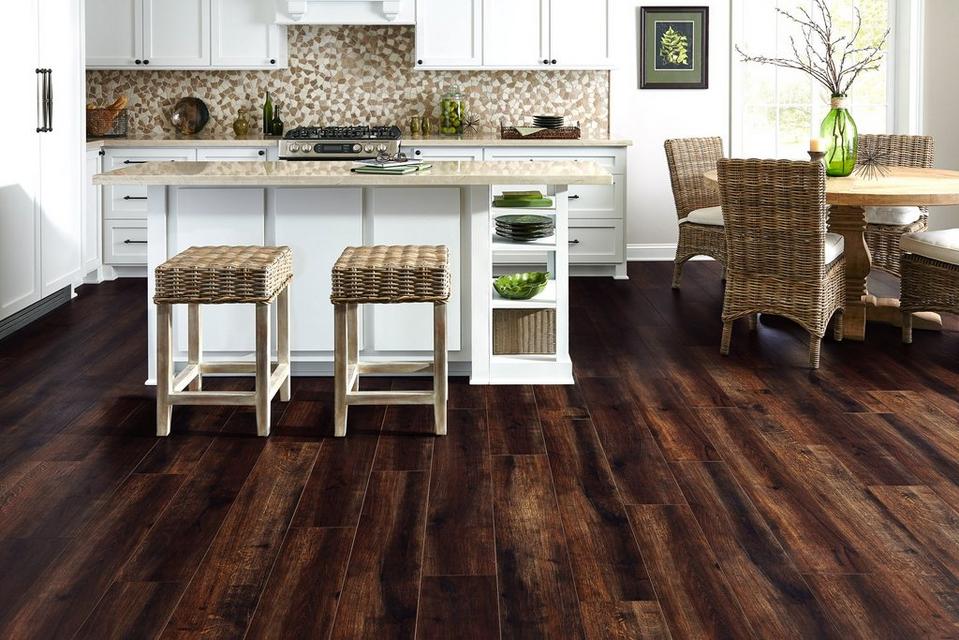 Pictured: Coco Water-Resistant Laminate, Solo River Pebble Mosaic
Laminate flooring is highly affordable and can be found in a variety of water-resistant options. It's easy to clean and comes in a range of wood-look styles, which makes it the perfect choice when you want the warmth of hardwood without the cost. It also feels great underfoot due to its wood-grain texture and high-density wood core.
3. Install Floating Shelves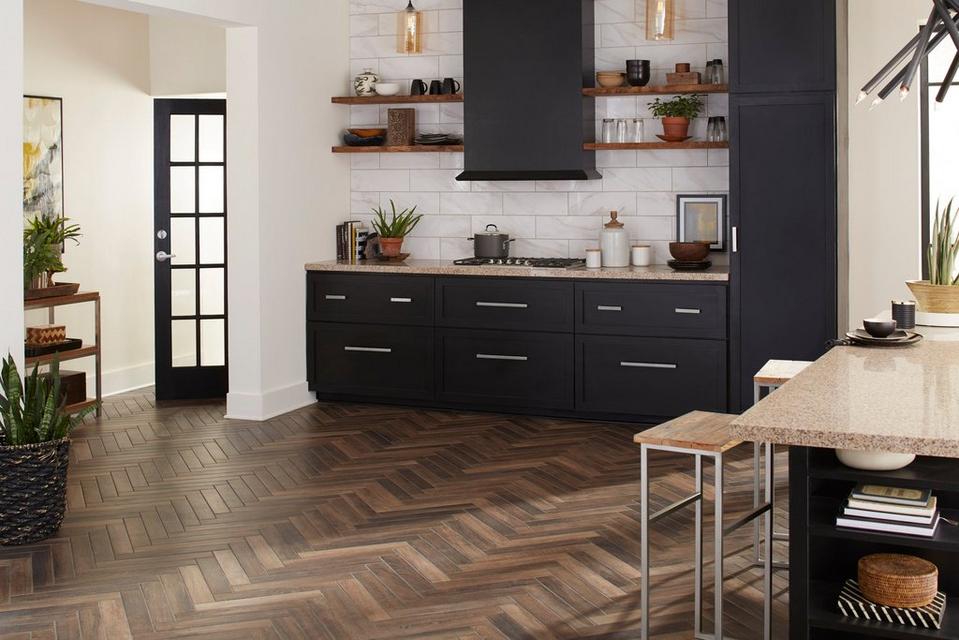 Pictured: Carson Ridge Brown Wood Plank Porcelain Tile, Prestige Calacatta Polished Ceramic Tile, Giallo Fantasia Granite Slab
Floating shelves are as trendy as they are functional. They add a rustic touch to your kitchen while elevating your dishes and artwork to an equal level of beauty. Compared to the cost of cabinets, floating shelves are also a huge money saver.
A good rule of thumb is this: keep plates, bowls, mugs, cooking dishes, and other stylish items visible on floating shelves. Keep canned food, Tupperware, dried food, spices, and similar items behind a cabinet or pantry door.
4. Paint Instead of Replacing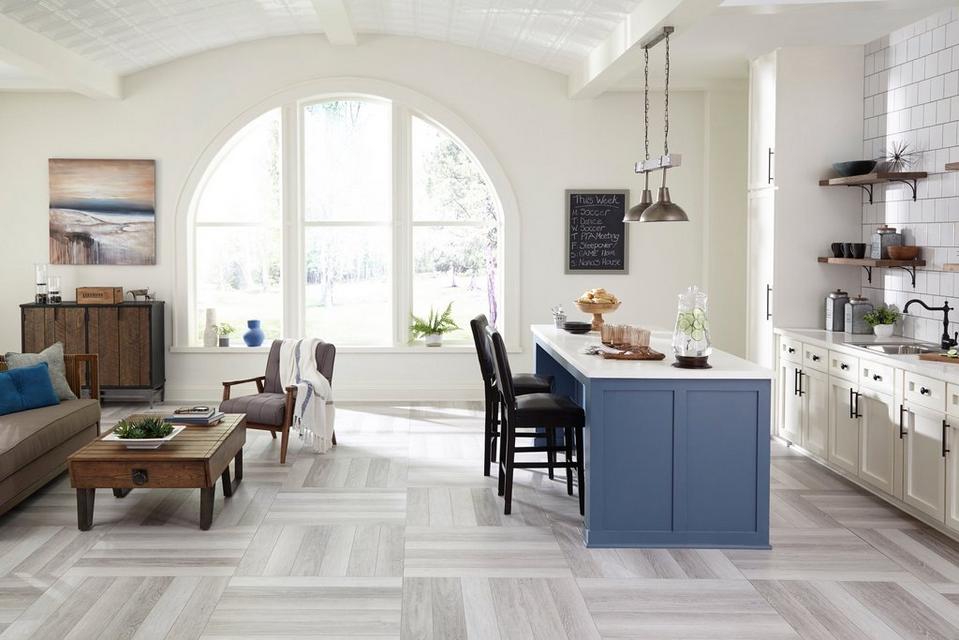 Pictured: River Rush Herringbone Water-Resistant Laminate, Bright White Ice Ceramic Wall Tile
Do your cabinets, walls, and ceiling look shabby and dated? Throw on a new coat of paint and marvel at the difference. Yellows, blues, whites, and grays are perfect for re-imagining the vibe of your kitchen.
On cabinets, you can also replace the hardware (handles and knobs) and tighten up hinges. For a cozy cottage look, paint your cabinets and sand the corners lightly.
5. Replace Your Backsplash

Pictured: La Belle Air Polished Ceramic Tile
A new backsplash can completely change the feel of a kitchen. Whether you're rethinking your color scheme or simply updating a current backsplash, new material will liven up the space with crisp, clean lines. A popular and affordable choice is a subway wall tile, which evokes turn-of-the-century elegance for a great price.
I6. D-I-Wisely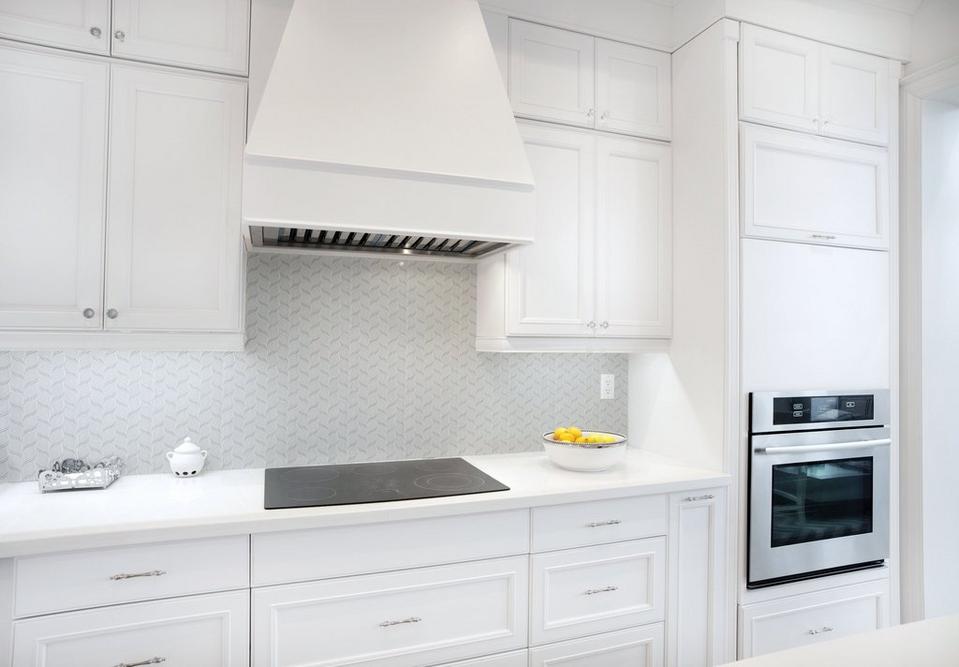 Pictured: Winter Cloud Leaf Polished Glass Mosaic
It's important to know your limits with DIY projects. You may be comfortable with sizing up shelves or painting cabinets, but perhaps that new countertop is best left to a professional. Choosing to bring in an expert can save you a tremendous amount of time, frustration, and money. To expand your skill set and identify which projects you can handle, try one of our DIY weekend classes.
If you're thinking about renovating your kitchen, let us help you with our expert design services. Schedule a free design appointment or visit our inspiration center for more ideas on how to upgrade your kitchen on your financial terms.