How to Coordinate Your Backsplash and Countertop
Your backsplash and countertop have a substantial impact on the visual effects of your kitchen. Here are some tips on how to get them to work together:
1. The Countertop Comes First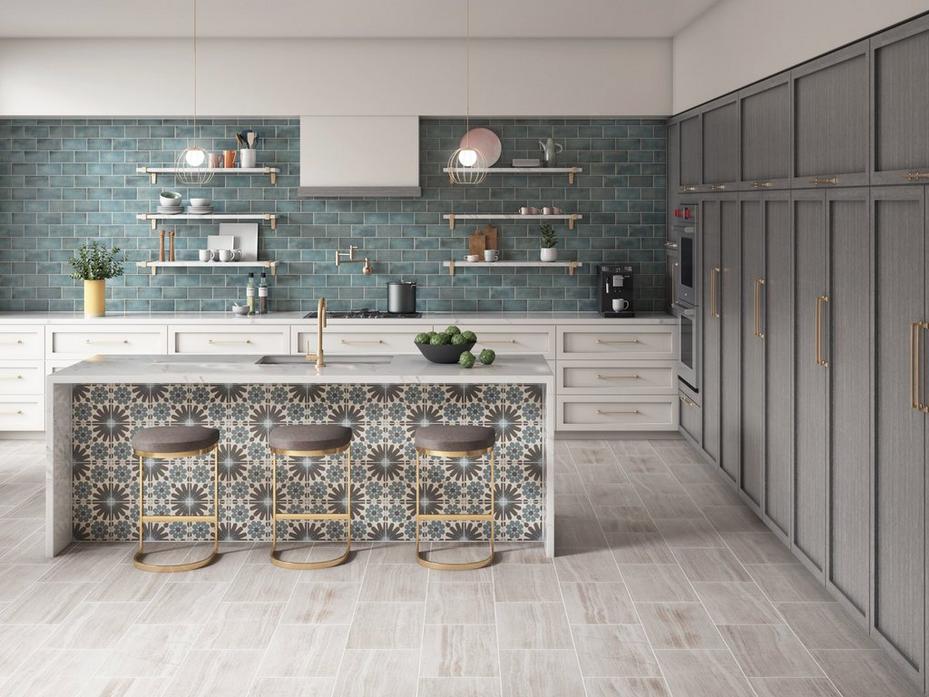 Pictured: Be in Greensea Ceramic Tile, Cloud River Quartz, Valentino White Marble Tile, Fiorella Matte Ceramic Tile
You're going to be logging far more hours with your countertop than with your backsplash, so choose the kitchen countertop you want first. Another practical reason for doing this is that the countertop gets installed before the backsplash.
2. Decide on a Budget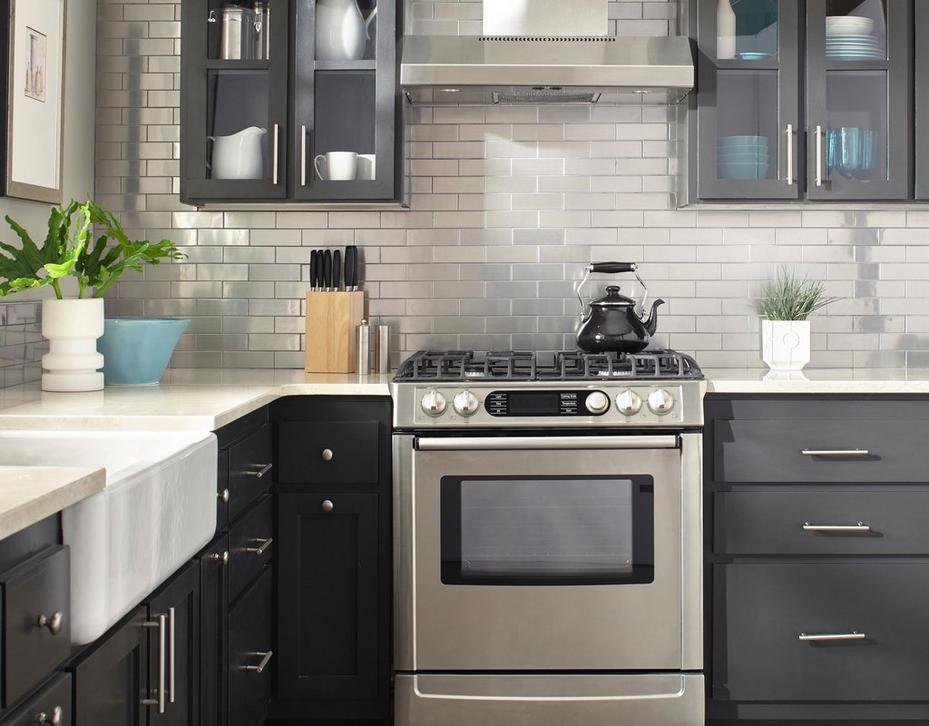 Pictured: Stainless Steel Brick Mosaic
If you're on a tight budget, decide exactly how much you can spend on your countertop and backsplash. This will help you narrow down options when it comes time to make a decision.
Square footage and sturdier materials can correlate with higher costs. You can always compromise between options — for example, you may choose a slightly lower-cost tile to afford the countertop you want, or vice versa.
Pro tip: never skimp on grout. Low-quality grout is often the weak link in the chain, and even the highest-quality tiles can't save you from cracked grout.
3. Backsplashes Come in Multiple Sizes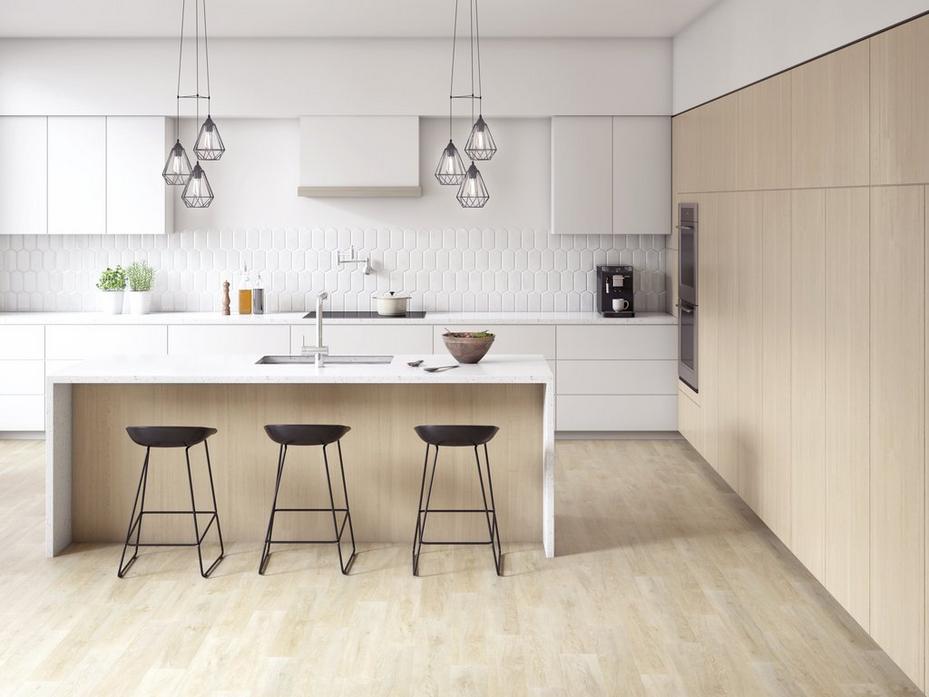 Pictured: Dolomite Premium Polished Marble Mosaic, Ice White Quartz, Crystal Creek Rigid Core Luxury Vinyl
Backsplashes can rise to the top of your wall or be 4" high. This flexibility is convenient for budget restraints.
4. You Don't Always Have to Match Your Backsplash with Your Countertop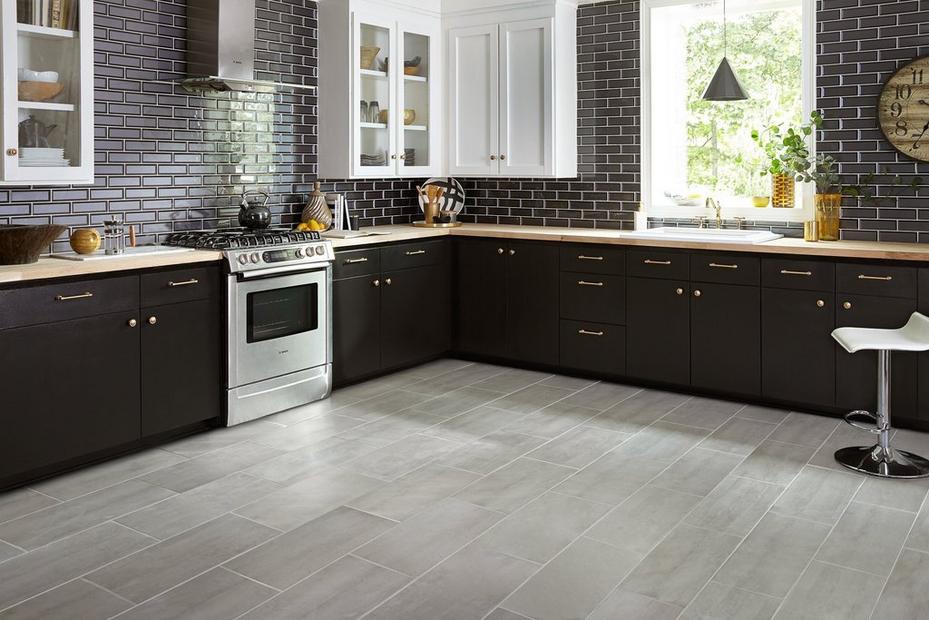 Pictured: Frosted Lilac Glass Tile, White Oak Butcher Block, Concrete Gray Ceramic Tile
If you want to match your countertop and backsplash, congratulations — you're done! But this blog is about coordinating your backsplash and countertop — and that doesn't always mean matching them. In fact, some contrast between the two can liven up your kitchen and add energy, particularly if you've got a countertop that isn't a neutral color or if you aren't going for an all-white kitchen.
A contrasting backsplash highlights the countertop. If your countertop is a distinct color or visually busy, contrast this with a more neutral backsplash. Contrasting a black or dark countertop with a white backsplash can also create a fun visual effect.
5. Mix Materials Between Your Countertop and Backsplash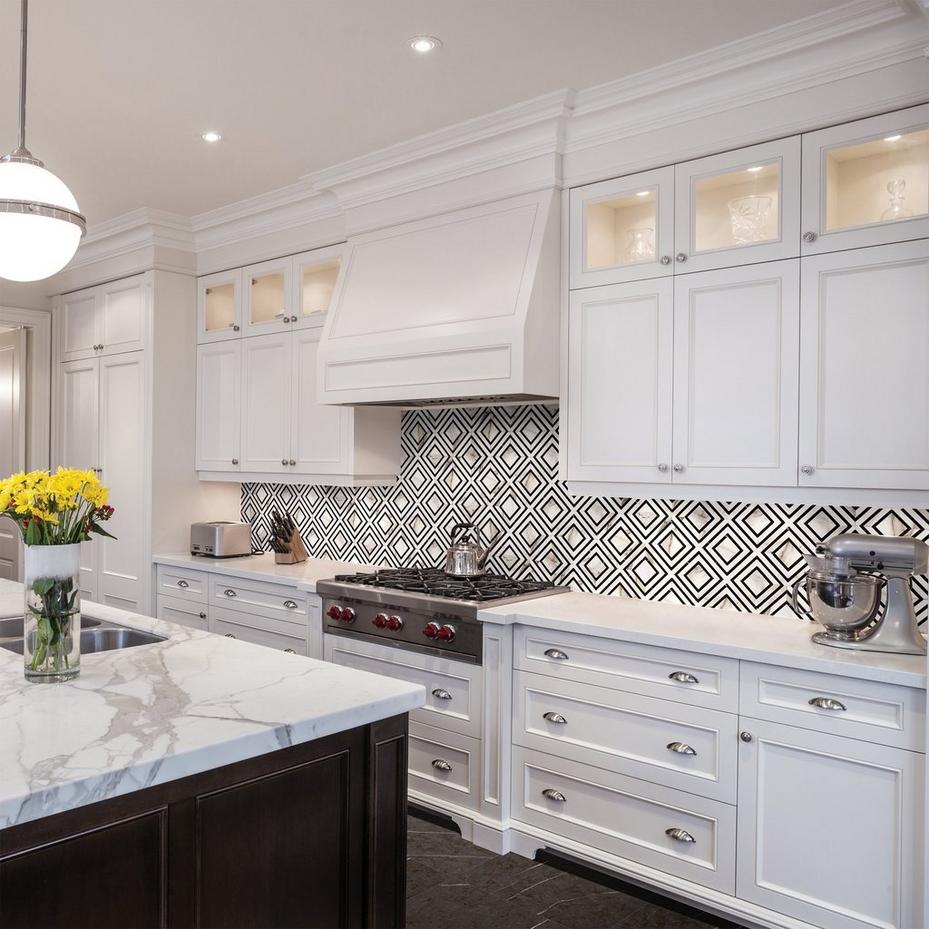 Pictured: Calacatta Labrinto Porcelain Mosaic
Subway tiles, glass, stone, mosaics — there are plenty of options to mix things up with your backsplash. You can really get creative with shapes, patterns, and colors here. Mosaics, in particular, allow you to accent pops of color that coordinate with other parts of your kitchen. Add shapes to create a one-of-a-kind look.
6. Sample!
You're going to be looking at your kitchen a lot, so grab samples and hold them up — don't leave it to guesswork! We offer samples both in-store and online on most our products at Floor & Decor.