INKJET FLOORING –HIGH TECHNOLOGY, HIGH DEFINITION, HIGH STYLE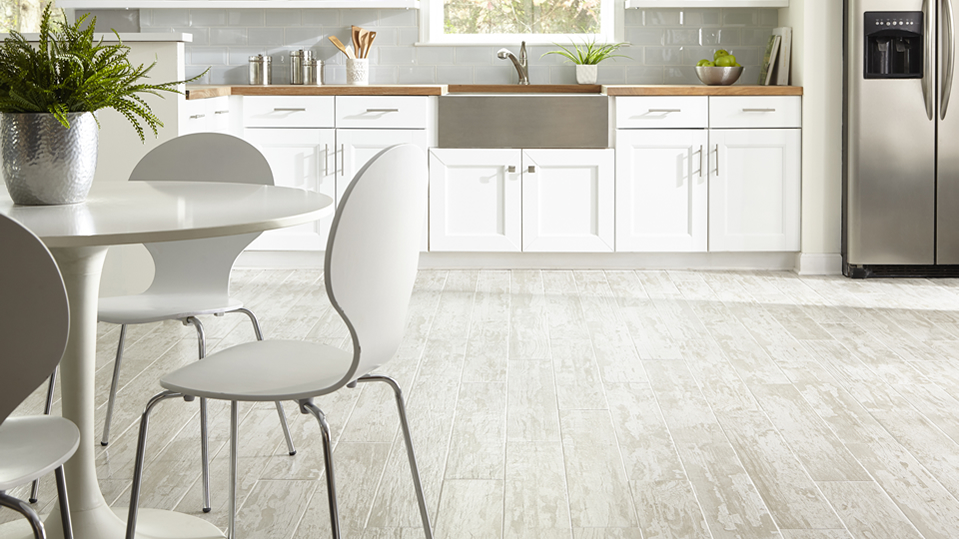 Have you ever wondered how porcelain or ceramic tiles can look just like real wood or stone? Inkjet printing technology is the answer, and it has revolutionized the appearance of floor and wall tiles.
This high definition technology delivers the ultimate level of authenticity with crisp, bold patterns and colors that are nearly indistinguishable from the natural materials they simulate. Put the pieces side by side, and you'll be hard pressed to tell the difference.
Like a high definition television, inkjet tiles offer an exceptionally realistic appearance that is unmatched by earlier printing techniques such as screen printing and roto-color processes. This advanced technology brings fabulous detail, contrast, and variation in design that is applied edge-to-edge to fully cover each tile. And, instead of just a handful of different patterns, you can install as much as 100 square feet of tile without seeing the same pattern twice.
Just like HDTV, inkjet printing is a digital technology – and it offers much crisper detail than conventional "analog" processes. Think of the digital printers that you find in your home or office and imagine them on a larger scale. Controlled by a computer, these printers jet four colors of ink onto the tile surface to precisely duplicate any photograph, such as images of natural stone or wood. The machine automatically adjusts to create beautiful designs on smooth, rough, and even highly textured surfaces.
VARIED SIZES, SHAPES, TEXTURES, AND STYLES
Wood-look inkjet tiles are a very popular choice today, and the powerful inkjet technology can replicate any type of hardwood – whether it's distressed, contemporary, or more traditional. The look of real wood is copied onto tile in high definition so authentic that you won't believe it isn't actually wood. You'll find exceptional detail in the knots and graining patterns, and a variety of plank sizes and styles, including spectacular wide-plank tiles and lengths that range from 24 to 48 inches. The big graphic area of these larger tiles really showcases the exceptional detail and real natural beauty they offer.
If you prefer the beauty of real stone, you will love the excellent color range and sharp details delivered with inkjet technology. Replicating the beauty of natural stone, these tiles give you an authentic look, and your guests will never know the difference!
Ceramic and porcelain tiles are cost-effective, exceptionally durable and nearly maintenance free. They are perfect for use in high-traffic areas and an excellent choice if you have pets. Plus, you can use tiles in any room of your home without worrying about the possibility of moisture damage. That makes these stunningly realistic inkjet tiles ideal for kitchens, bathrooms, laundry rooms, mudrooms, or any area that transitions from the outside to the inside of your home.
Available in a variety of sizes, including large format tiles of 24 inches or more, these incredibly durable tiles can last for many years with little maintenance. Whether your application is for floors, walls, or both, you are sure to find the perfect style to enhance any room in your home.
---