10 Gray Kitchen Ideas That Are Anything but Bland
When it comes to interior design, a gray kitchen is anything but bland. It's a neutral way to add a stylish and welcoming touch to your home design. Whether you want to go bold or keep the rest of your kitchen look subdued, gray is the perfect color to balance out any great look. Check out these gray kitchen ideas for some inspiration.
View as Article
1. White and Gray Kitchen
A white and gray kitchen is a timeless look. The classic color combination blends together and creates a bright and airy atmosphere.  The [all-white backsplash](https://www.flooranddecor.com/explore-backsplashes?prefn1=color&prefv1=White&tab=icon-filter-tabs-1) and gray kitchen cabinets paired with light-colored floors and open shelves give the illusion of space in even the smallest kitchen.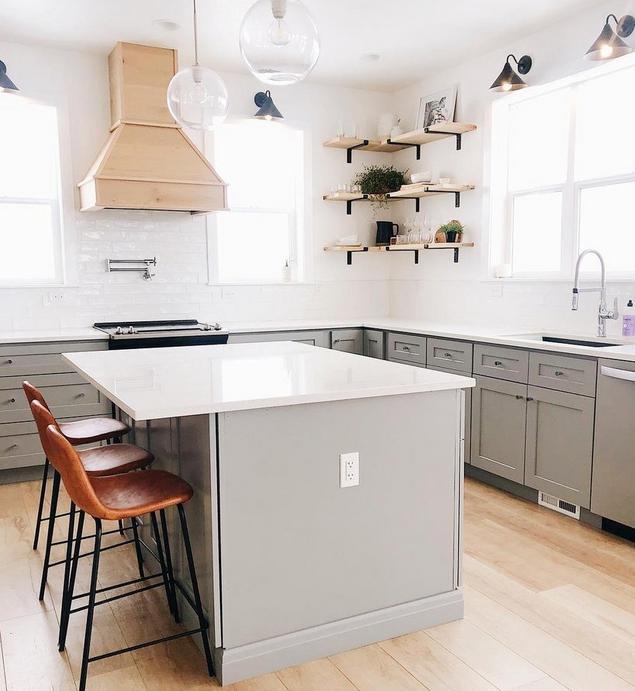 2. Black and Gray Kitchen
Go for a sophisticated style with a [black and gray kitchen](https://www.flooranddecor.com/tile?prefn1=color&prefv1=Black%7CGray). The gray cabinets provide a subtle contrast to the black backsplash tile, while the open shelving keeps the room from feeling too dark and heavy. If you're looking for an elevated yet cozy style, a black and gray color combination is the best option.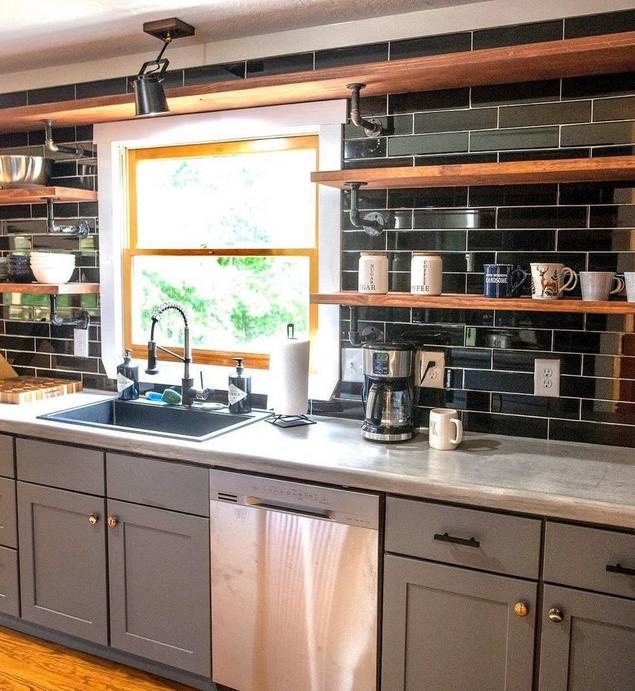 3. Gray Kitchen Backsplash
A [gray backsplash](https://www.flooranddecor.com/tile?prefn1=color&prefv1=Gray) is the perfect backdrop for any kitchen design. Whether you want a monochromatic look or a bold design, a gray backsplash sets the stage for the rest of your room. Not all grays are the same. Consider blue and black undertones that change the shade. This kitchen achieves a contrasted look with the mix of light and dark cabinets paired with the neutral blue-gray backsplash.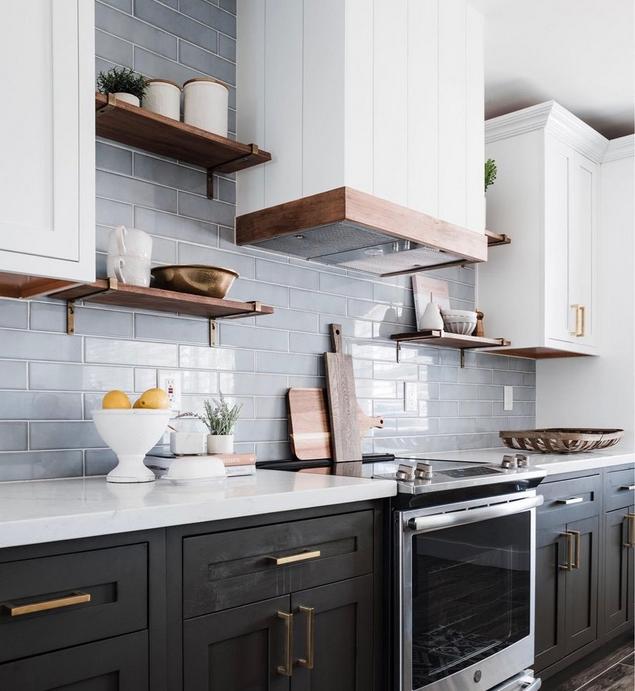 4. High-Variation Gray Kitchen
Keep your color palette interesting by choosing products with [high variation](https://www.flooranddecor.com/tile?prefn1=color&prefv1=Multi%20Color&start=0&sz=48). The contrast of grays in the backsplash paired with the dark gray cabinets achieves a monochromatic kitchen without looking muted.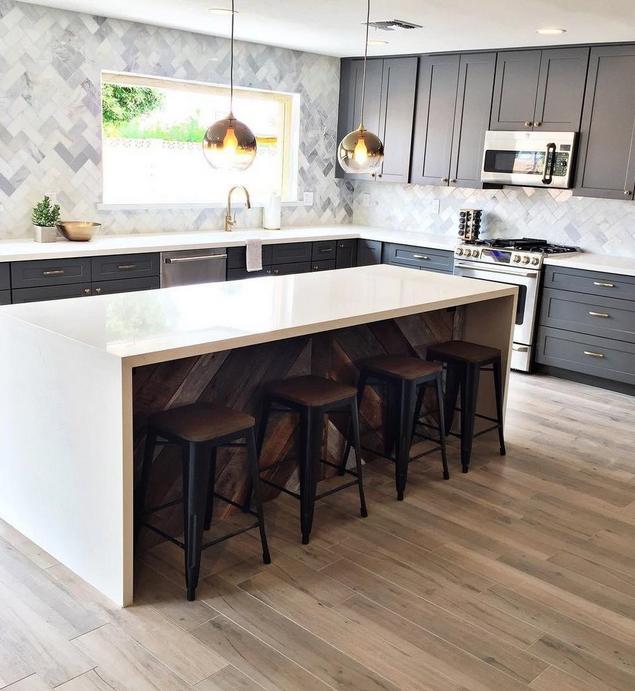 5. Monochromatic Gray Kitchen
Modernize your kitchen with a monochromatic color palette. A light gray kitchen creates a clean space that will look on trend for years to come. This simple kitchen design achieves a stylish and modern look without feeling basic or boring. Sometimes, simplicity is best when it comes to great style.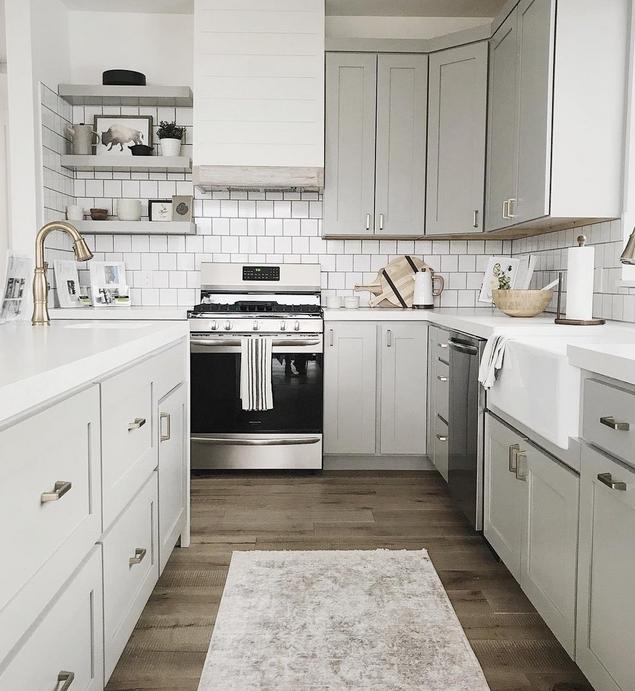 6. Gray Kitchen with Gold Accents
Get a high-class look by adding gold accents to your kitchen. The gold hardware makes the gray cabinets pop and brings out the intricate design of the marble backsplash. If you're looking for elegance and sophistication, incorporate small gold touches into your kitchen style.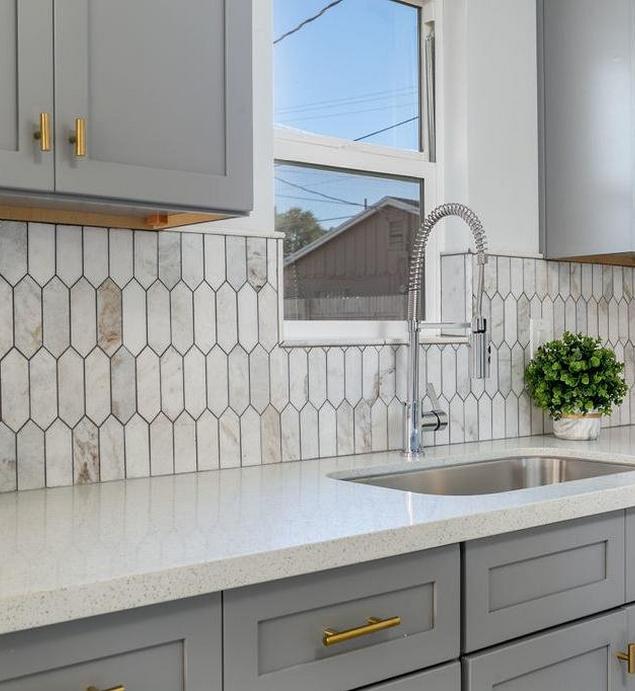 7. Matching Gray Kitchen and Mudroom
Matching your kitchen to other rooms in your house is the perfect way to make your home design cohesive. This home added a pop of elegance with a [waterjet backsplash](https://www.flooranddecor.com/waterjet-decoratives) in their kitchen while incorporating natural wood tones in the mudroom for functionality.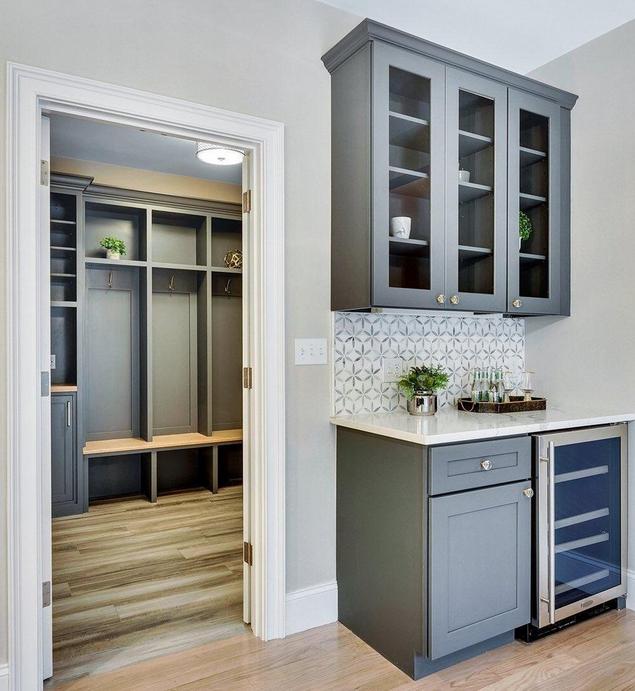 8. Cozy Gray Kitchen
This café style kitchen incorporates several elements of design for a warm and inviting atmosphere. The gray and white cabinets paired with the warm wood flooring instantly makes the room feel like the heart of the home. The other design touches, like the farmhouse sink, chalkboard wall and library ladder, add to the homey personality of the room.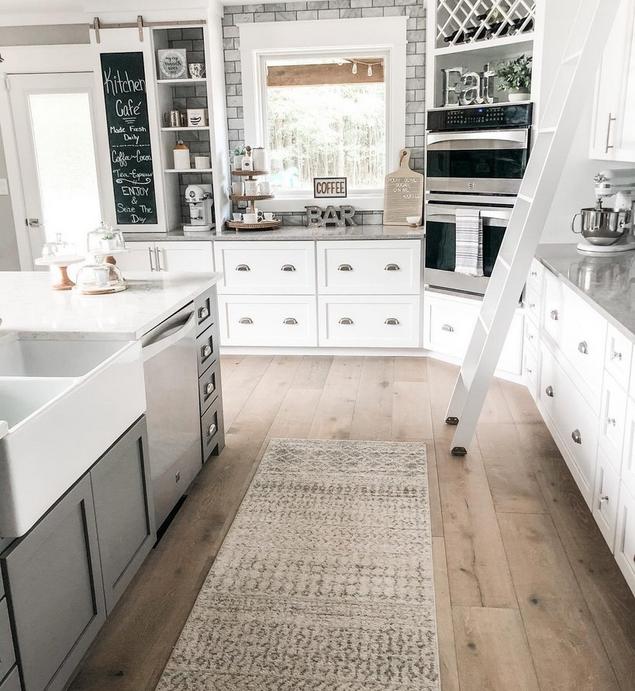 9. Elegant Gray Kitchen
A gray kitchen sets the stage for elegance. Gray cabinets paired with a [marble or waterjet backsplash](https://www.flooranddecor.com/marble-stone) is the perfect high-class design combo. The effortless yet polished look provides a luxurious ambiance to any room.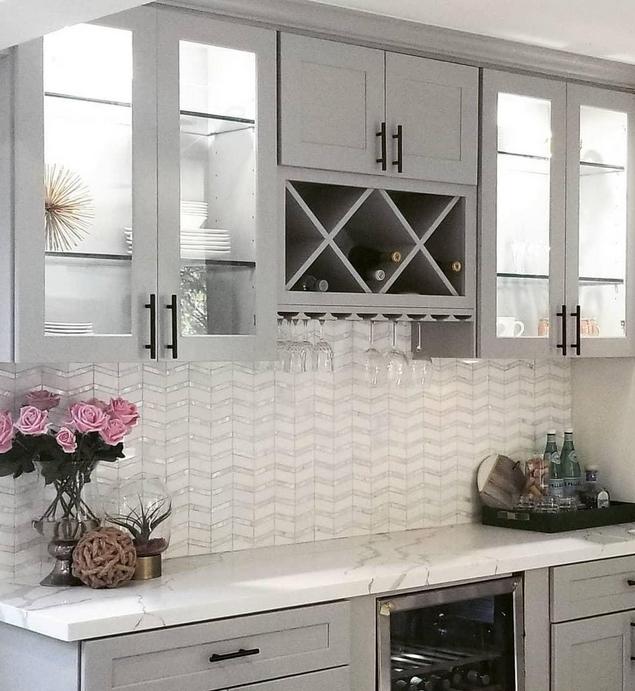 10. Classic Gray Kitchen
Get a look that lasts a lifetime by pairing dark gray cabinets with a [white subway tile](https://www.flooranddecor.com/subway-decoratives?prefn1=color&prefv1=White) backsplash and butcher block countertop. The backsplash is easy to clean and maintain while the cabinets are a rich color that will stay on trend for years to come. This functional and affordable look will never go out of fashion.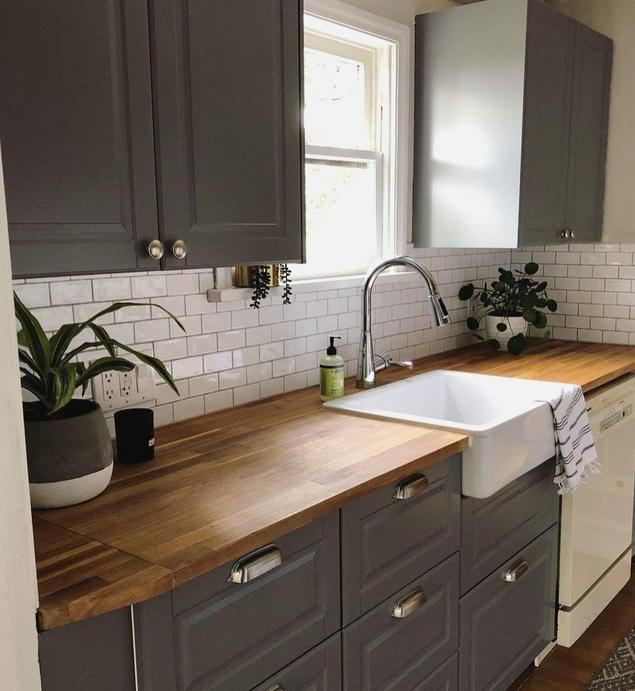 The versatility of a gray kitchen can't beat. Whether you want a classic look, a bold style or an elegant feel, a gray kitchen is the perfect choice.  Hopefully, these kitchen design ideas have inspired you to start your kitchen design journey.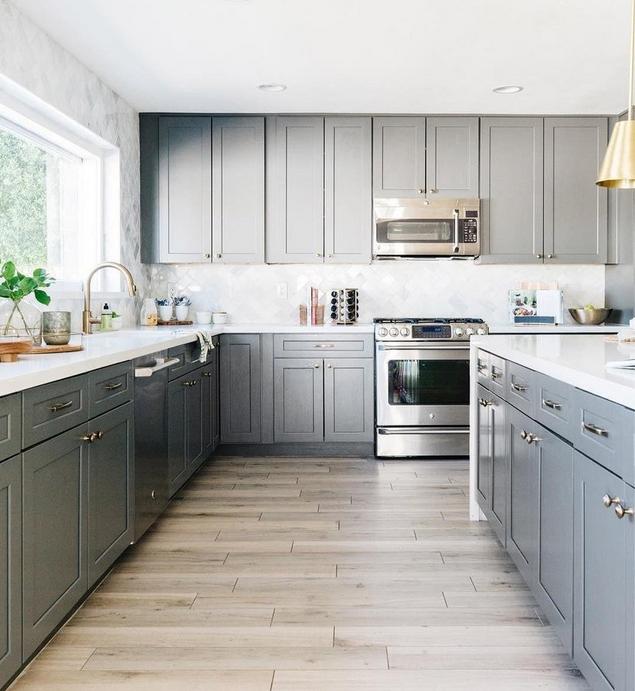 View as Gallery