Tile Transformations: Studio 818 Bathroom Remodels
The Studio 818, a full-service design and build management firm in South Florida, transformed two outdated bathrooms into trend-forward spaces with Floor & Decor tile. These eye-catching bathroom redesigns are sure to inspire everyone looking for a refresh.
"Out with the old and in with the new is always an exciting endeavor, but what I like about today's transformations is the sheer ability to think outside the box. In the '80s and '90s, the remodel rules were so rigid. In current times, we have a much wider variety of styles and sizes to choose from. The sky is the limit," says Janie Micek, Founder & Creative Director of Studio 818.
This small bathroom was begging for an upgrade, with dingy fixtures and wallpaper. Studio 818 saw potential in this narrow space and made the most of it with floor-to-ceiling picket tile, which elongates the room and creates the perfect backdrop for matte black accents.
View Before
Pro Tip!
"Floor-to-ceiling backsplashes make the ceiling feel taller. When you stop tile short of the ceiling, it visually stops the eye and makes the ceiling feel lower," says Janie, Founder & Creative Director of Studio 818.
Picket Ceramic Mosaic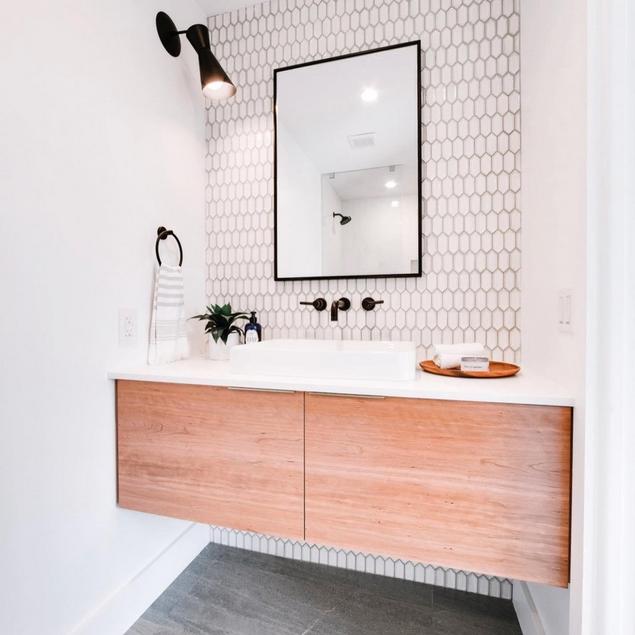 This dated builder-grade master bath needed a modern overhaul. Studio 818 achieved this fresh yet timeless design using a combination of black basalt on the feature wall and marble picket tile throughout the floor.
View Before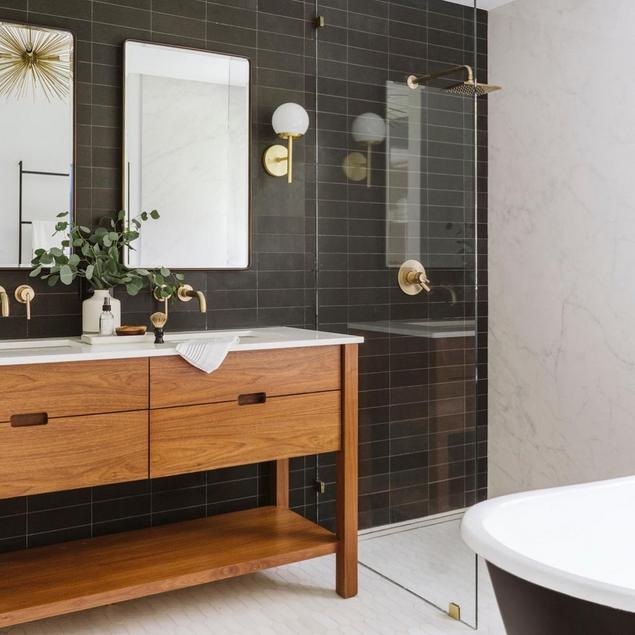 "Floor and Decor has very affordable options that, if used in a design correctly, can feel like luxury finishes for a fraction of the cost.  We were able to give this client the high-end bathroom she dreamed up without breaking the budget," said Janie.
In true Studio 818 fashion, they opted for a modern installation pattern. Instead of a traditional offset installation pattern, stacking the black basalt limestone tiles floor-to-ceiling to amplifies the room's mid-century feel. The stark contrast of black and white tile creates depth, and brass fixtures complete the design.
Basalt Limestone Tile
Picket Marble Mosaic
No matter the size of your space, tile can transform your bathroom. Take a cue from Studio 818 and think outside the box to create a unique space you love. Discover more bathroom tile combinations and get everything you need to complete your project at Floor & Decor, like vanities, hardware, shower doors and more.
Explore Bathrooms