Get Inspired With 15 Shower Design Ideas
With the right tile and accents, you can transform any bathroom. Whether you want to add spa-like touches or keep up with the latest trends in home décor, tiling your walls and floors will give your bathroom and shower an updated look you'll love. Get inspired by these shower design ideas for your bathroom renovation or installation.
View as Article
Floored & Fabulous
Create a cohesive design by matching the shower and bathroom floor. This idea works particularly well with monochromatic designs, creating a seamless transition between the two areas and making the space appear larger.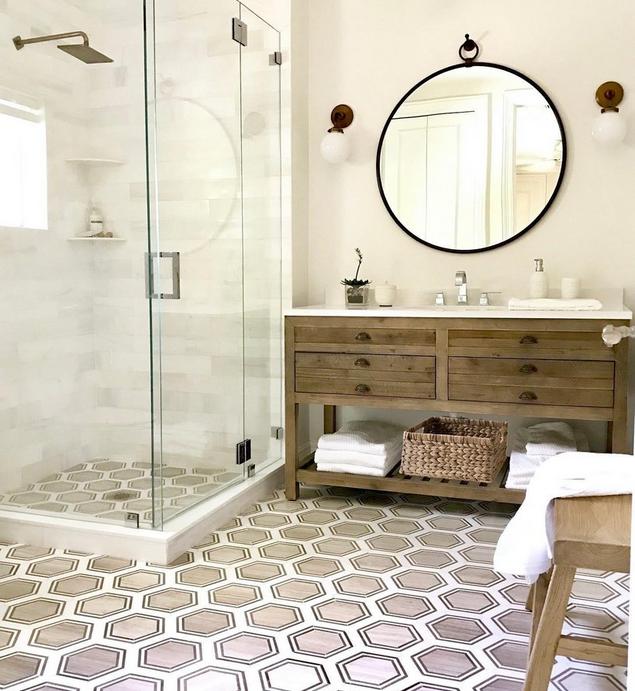 Whimsical Waterjet
A [waterjet](https://www.flooranddecor.com/waterjet-decoratives) shower is the ultimate luxury. Craftmanship and precise marble details create a spa-like experience. Show off your marble masterpiece with a glass shower door.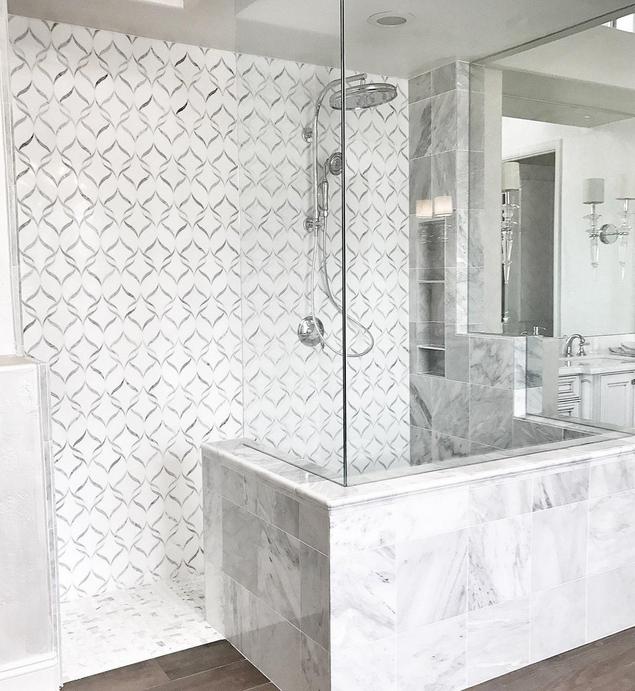 Mix & Match
Mix and match tile and stone accents to elevate the space. Create a unique look tailored to your style with bold colors, patterns or luxurious mosaic accents. For an exceptional look, pair two contrasting prints for a confident statement piece.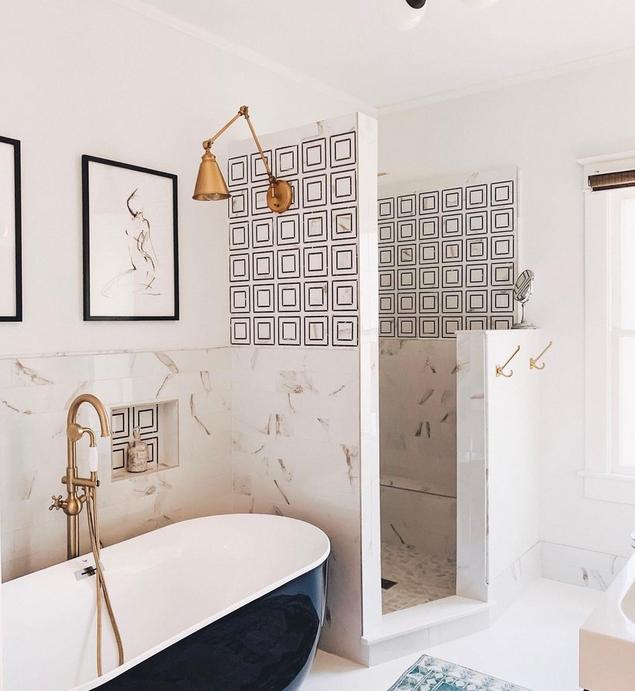 Lavish Luxury
Choose [marble ](https://www.flooranddecor.com/marble-stone)or [marble-look](https://www.flooranddecor.com/marble-look-tile) tiles and gold accents to surround yourself with style. Incorporate niches, benches, and other customizable shower features for a comfortable, glamorous bathing experience.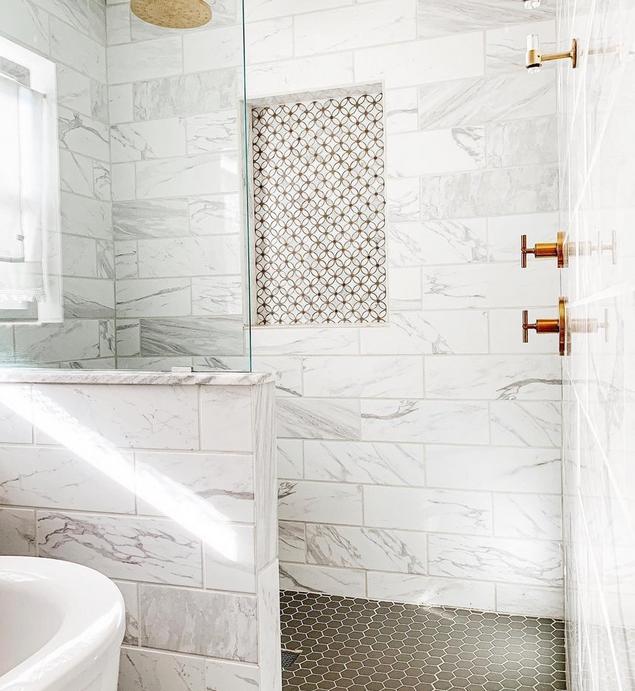 Modern Mosaic
[Mosaic](https://www.flooranddecor.com/mosaic-decoratives) tile adds beauty and function to any bathroom space. The texture makes it an ideal floor tile to aid against slipping. It's also available in a variety of colors, textures, and patterns from classics like herringbone to novel geometric shapes.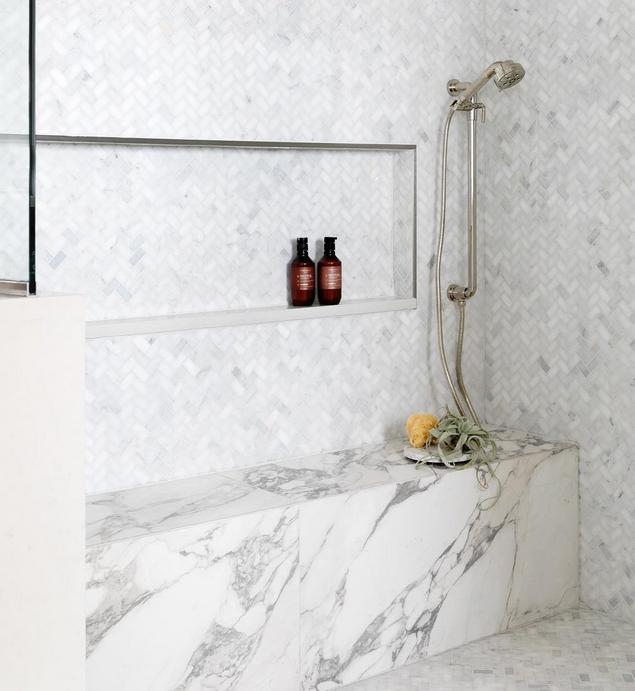 Bold & Beautiful
The stark contrast of black and white walls is an inspiring way to add drama and sophistication to your bathroom. Dark colors create depth within a small space while also adding elegance.
Light & Airy
[Subway tile](https://www.flooranddecor.com/subway-decoratives) is a timeless classic that works well for contemporary and traditional designs, adding a clean look to any room. White keeps the atmosphere bright and open yet visually appealing. To maintain its pristine appearance, simply refresh the grout periodically.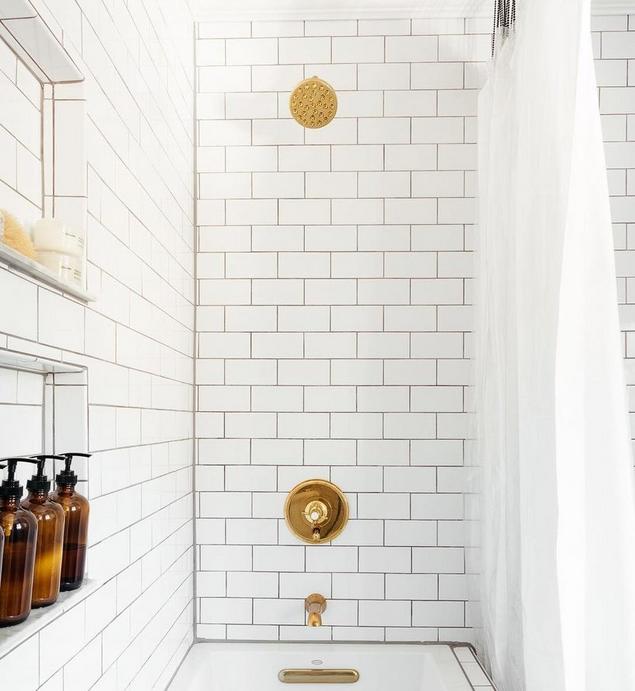 Natural Neutrals
Create an inviting space that exudes relaxation and comfort by using subtle, neutral colors and minimalistic design elements. With simple touches, such as light wood accents and natural stone tile, your bathroom will be the perfect place to retreat from life's stresses.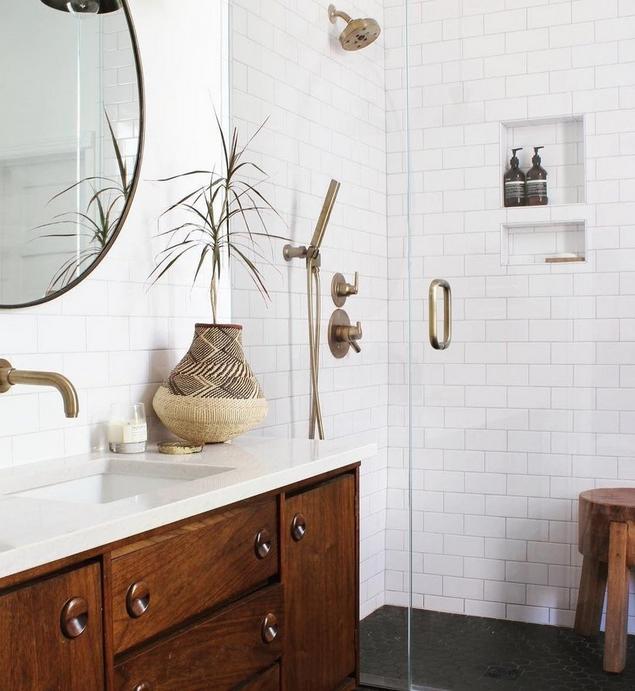 Classic Contrast
Add dimension and character to your bathroom by twisting classic style with contrasting colors, textures, patterns, or all three. Apply contrasting tile colors to stand out from the ordinary. If you're feeling adventurous, take it a step further by incorporating patterns into your design. Modern geometric shapes and timeless classics like herringbone will give your space an unforgettable look.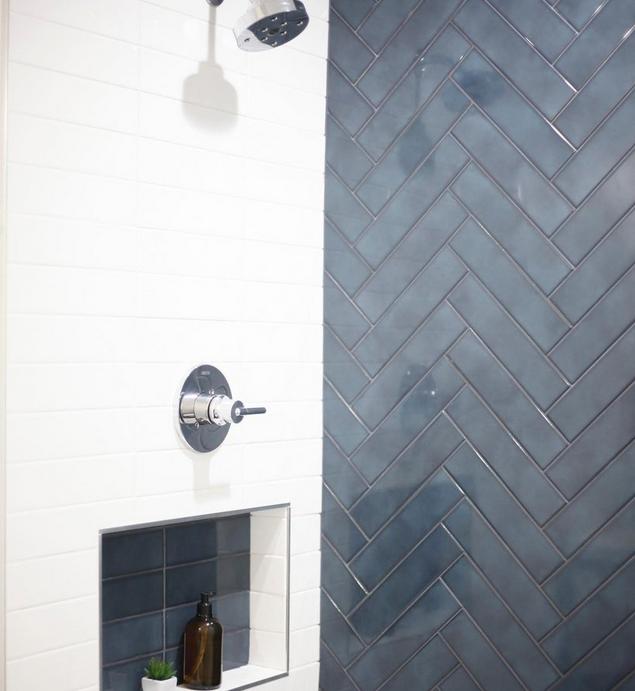 Pop of Pattern
Designers know that the right [patterned shower tile](https://www.flooranddecor.com/patterned-floors) can take a bathroom from ordinary to extraordinary. Whether you're looking for a subtle wow factor, an artistic design statement or something more graphic, patterned tiles can help keep your space interesting and on-trend.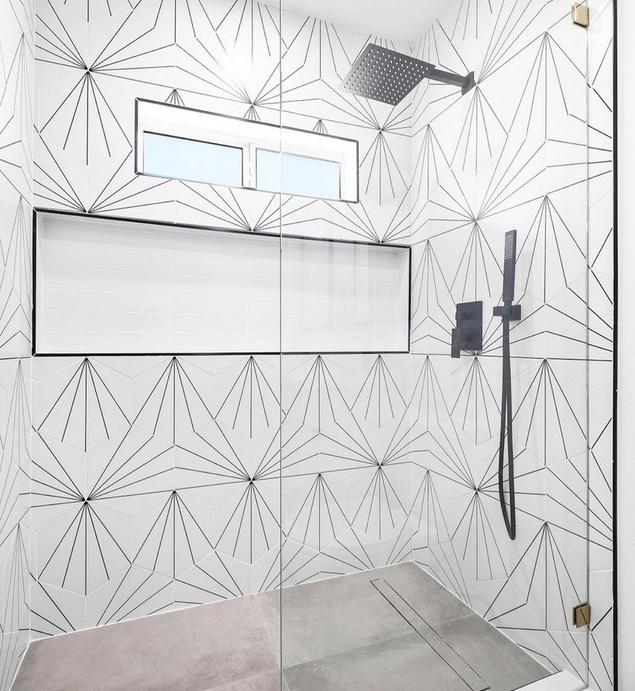 Creative Colors
A monochromatic bathroom can be chic and modern, but adding a pop of color in the shower can show off your fun, creative side. Make your shower the main attraction with colorful shower tile.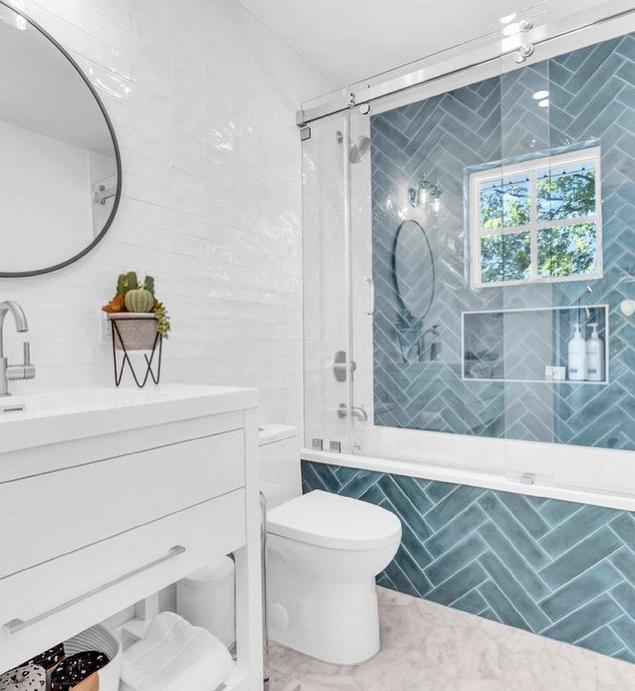 Tasteful Textures
Using [textured shower tile](https://www.flooranddecor.com/dimensional-tile) is an innovative way to add dimension and movement. Amp up flat walls with subtle designs that are easy to clean.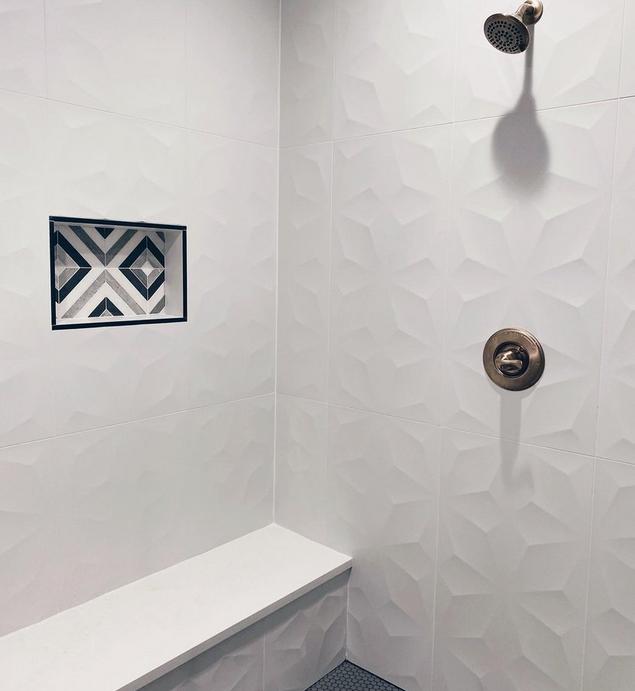 Brilliant Budget
Subway tile is a cost-effective staple for the shower. Not only does subway tile provide a timeless style that works with almost any decor, but it's also easy to clean and maintain. Different installation patterns, like herringbone and stacked, personalize the look.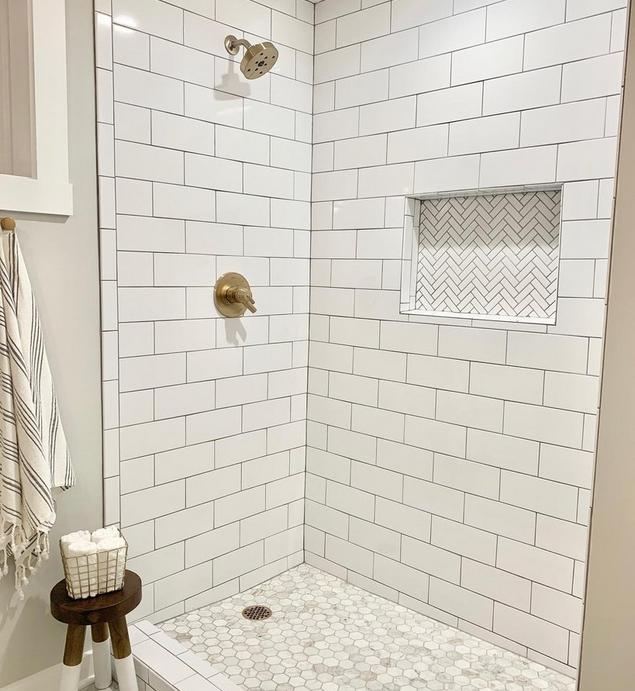 Redefine Relaxation
Invest in your shower design to create a personalized space unique to your tastes and needs. Consider luxury options like dual shower heads, [spa faucets](https://www.flooranddecor.com/faucets), [benches](https://www.flooranddecor.com/shower-accessories?prefn1=productSubtype&prefv1=Shower%20Bench), and [frameless glass doors](https://www.flooranddecor.com/shower-doors?prefn1=frameType&prefv1=Frameless).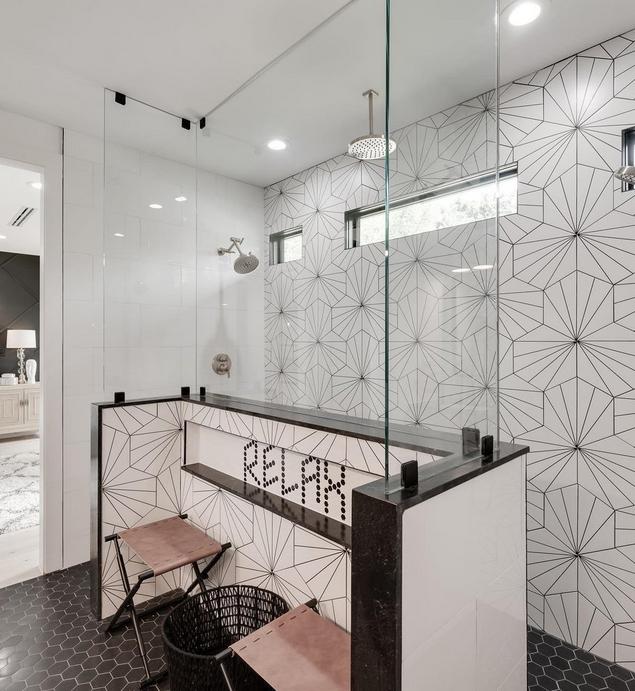 Picture Perfect
Select a [shower door](https://www.flooranddecor.com/shower-doors) option that showcases your tile. Frameless shower doors let intricate tile patterns shine, while framed doors can add more to the overall design. Explore other choices, including pivot, swing doors and sliding options, for the feature that best frames your tasteful tile selections. No matter your style, budget, or bathroom size, you have options for creating a unique shower design that fits with the look and feel of your home. Schedule a[ free design services](https://www.flooranddecor.com/contact-a-designer) appointment today to see how great your shower can look.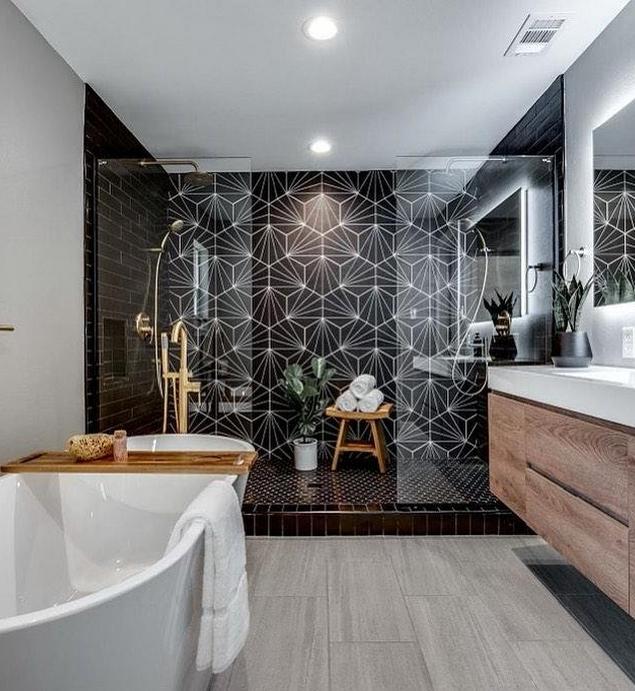 View as Gallery