Top 5 Kitchen Trends
The kitchen is the heart of the home. Keep it fresh for years to come with new yet timeless styles. Whether your kitchen needs a complete remodel or a few simple upgrades, consider one of these five kitchen trends.
View as Article
1. Wide Plank Flooring
[Engineered hardwood](https://www.flooranddecor.com/wide-width-wood) and wood-look laminate, [vinyl ](https://www.flooranddecor.com/extra-wide-vinyl)and tile are not only durable but also boast wider and longer planks. With options over nine inches wide, they create a high-end look that lasts.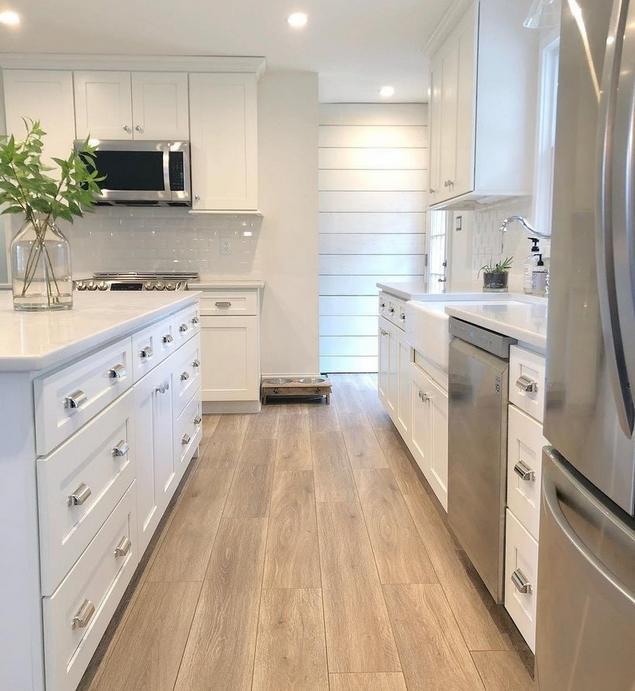 2. Herringbone Patterns
Shake up traditional and install classic [subway tile](https://www.flooranddecor.com/subway-decoratives) and wood planks in a herringbone pattern. The installation pattern makes all the difference in creating a custom kitchen beyond builder grade.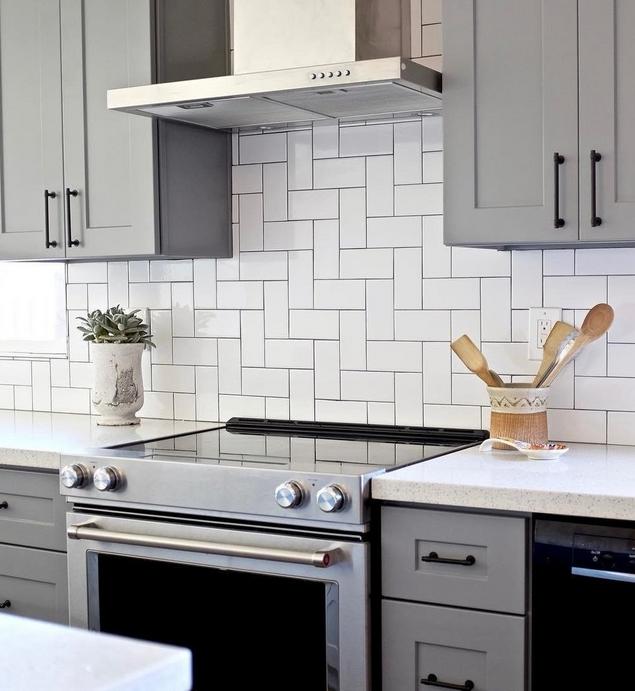 3. Pops of Color
Add zest to your kitchen with a [pop of color](https://www.flooranddecor.com/tile). Deep hues offset neutral materials for high-end combinations, like hunter green with honeyed oak or navy with Carrara marble. Create dimension with bold and colorful backsplash tiles.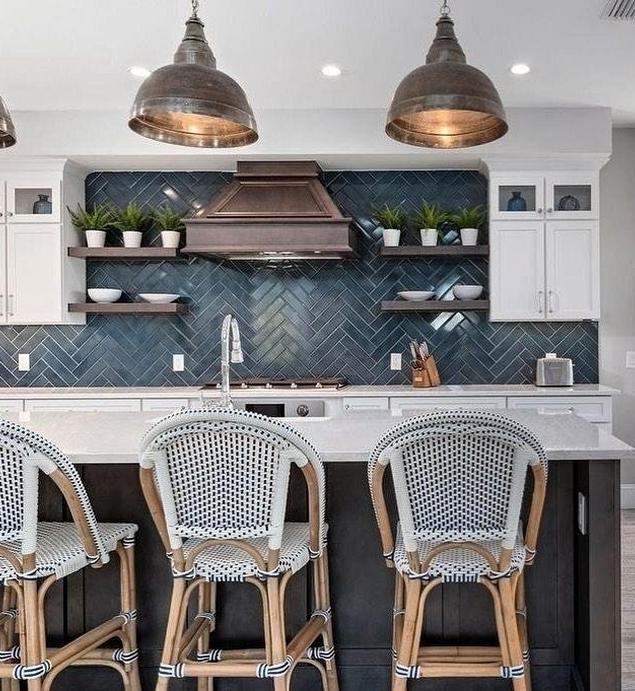 4. Butcher Block Shelving
Open shelving makes even the smallest kitchens feel more spacious. Install open shelving over the backsplash to create depth and dimension and showcase fresh tile. [Butcher block](https://www.flooranddecor.com/wood-butcher-block-countertops) is the most popular material for this project, adding a natural element to the space with the warmth of wood.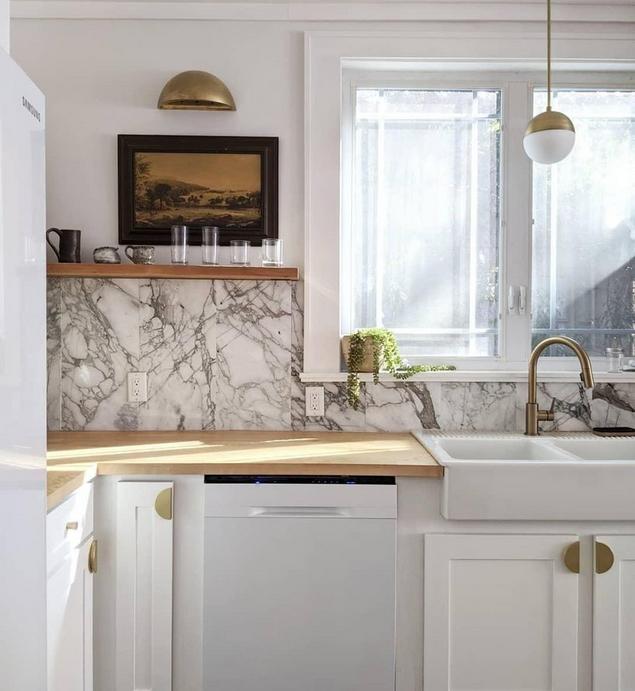 5. Marble Backsplashes
Make your kitchen gourmet with a marble backsplash. The material is a timeless luxury that's also versatile for changing styles. Check out [waterjet motifs](https://www.flooranddecor.com/waterjet-decoratives) or create a seamless look from countertop to backsplash with large [marble tiles](https://www.flooranddecor.com/marble-stone).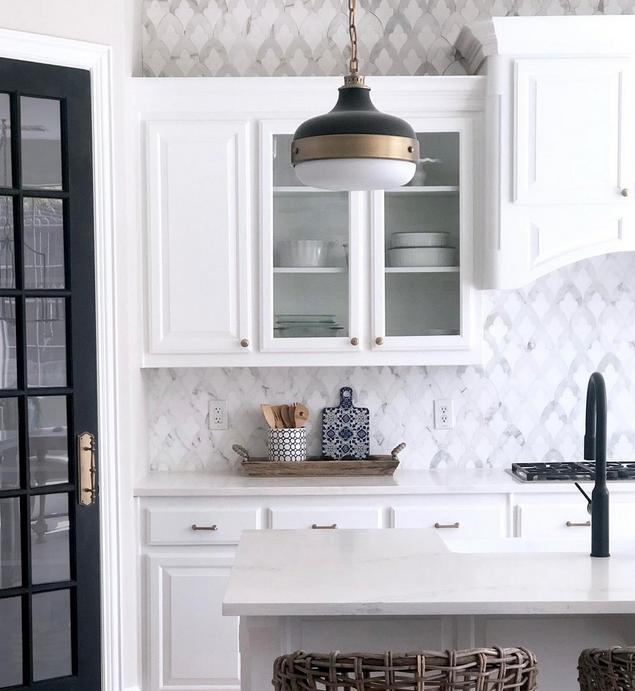 Free Design Services
Get your kitchen remodel started with one of these top trends. Remember, the best trends are the ones that suit your space. [Turn to our experts](https://www.flooranddecor.com/contact-a-designer) to help personalize your design and achieve the cutting-edge kitchen of your dreams.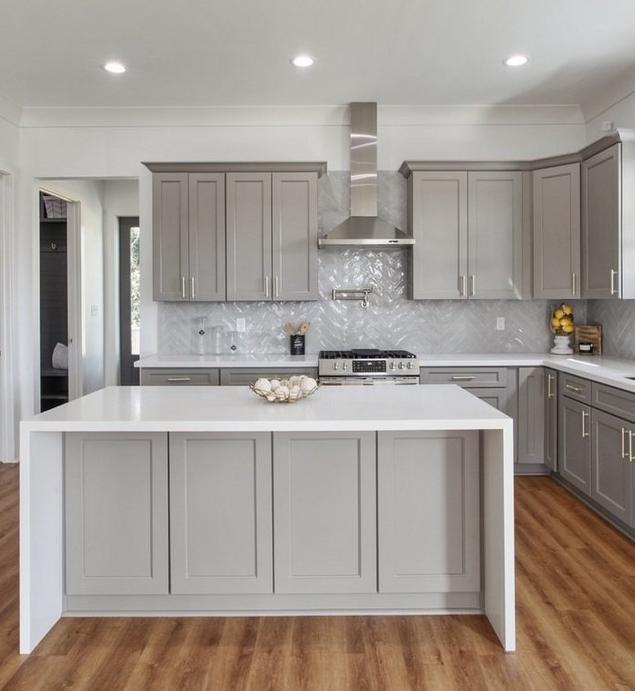 View as Gallery