4 Steps for Selecting Custom Countertops
When it comes to customization, the design details are up to you. Floor & Decor offers options to suit different styles and price points, and we're outlining the Custom Countertops selection process step-by-step. From the material to the finishing touches, the look is personalized.
Step 1: Choose Your Material
Custom countertops are available in five material options. Quartz, quartzite, granite, marble and solid surface offer their own set of advantages and distinct looks in the kitchen. Decide which is right for you based on their highlights below and visit the online Custom Countertops page for a more in-depth look at the features.
Quartzite & Quartz
What's the difference? Quartzite is a natural stone with many of the qualities and benefits of granite. It's even more durable, but it does come with a higher price tag. It's counterpart, quartz, is a man-made material that combines natural quartzite with resin and glass. Although its heat resistance is lower, quartz is the most popular material for modern renovations.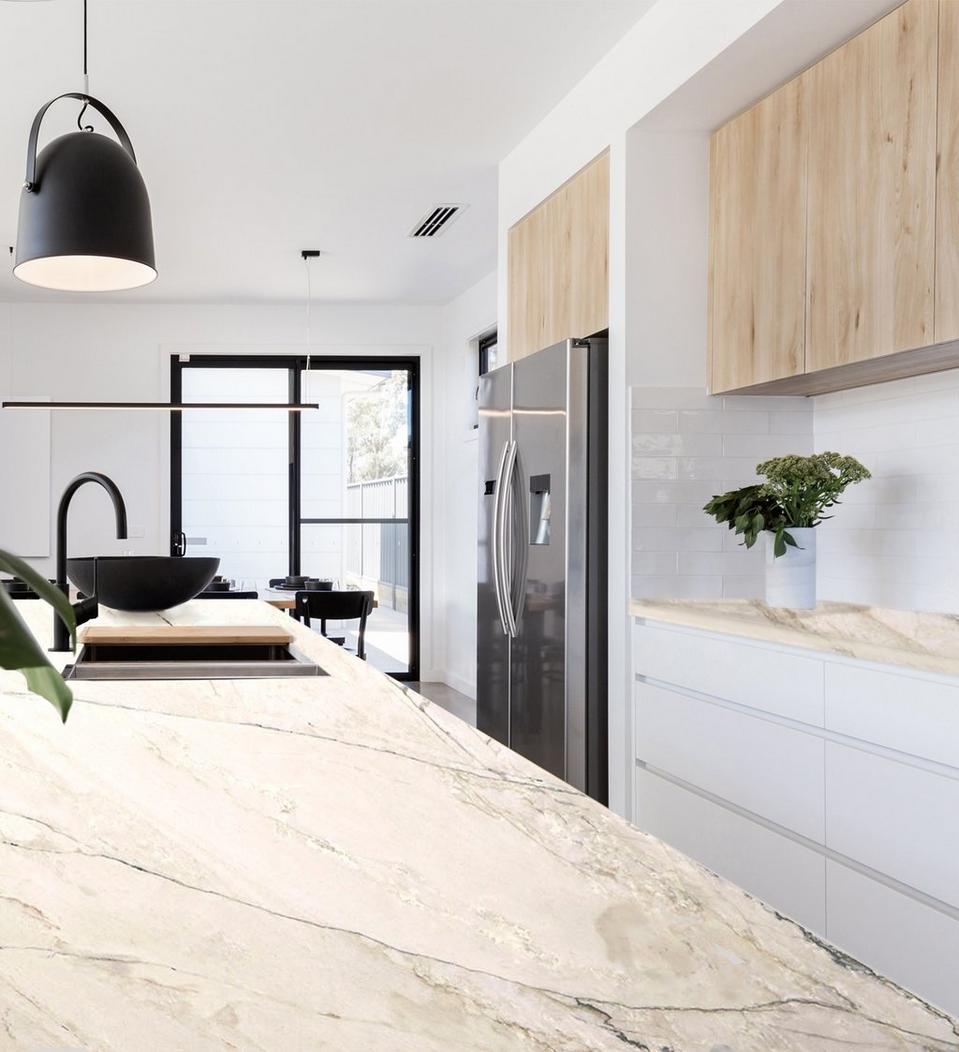 Manor House Calcatta Quartzite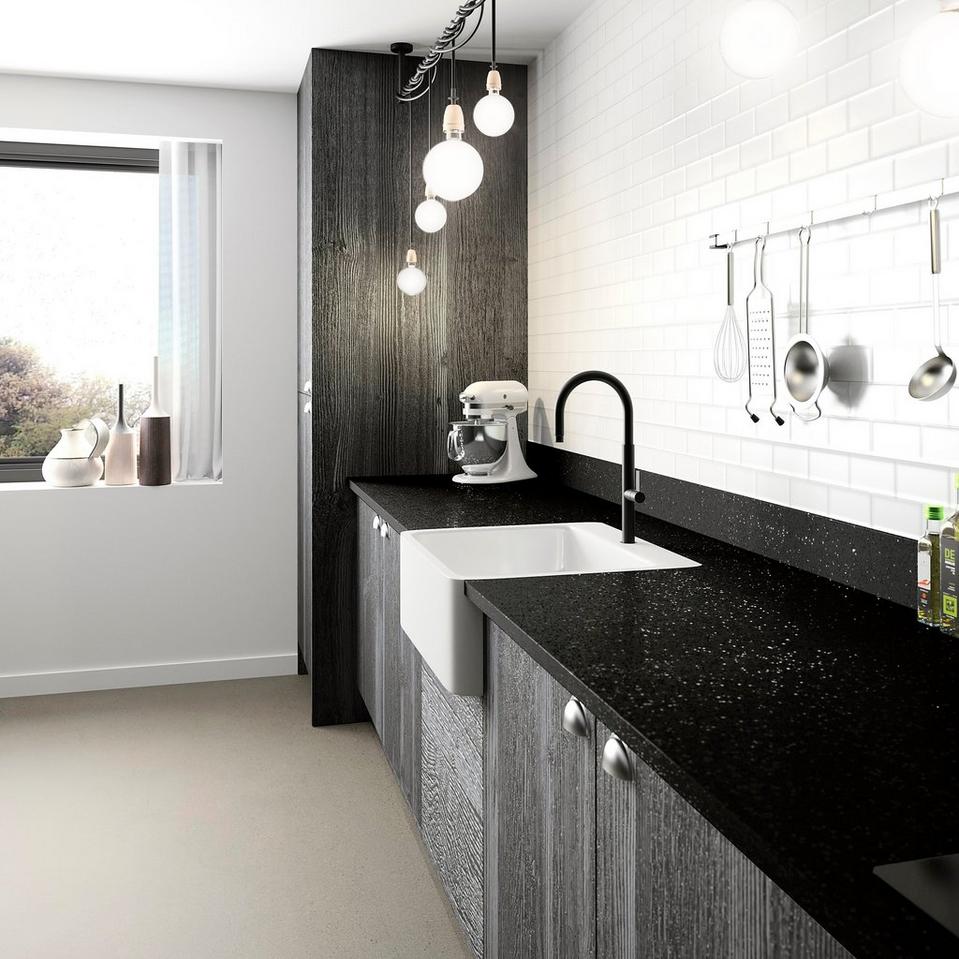 Granite
Granite comes professionally sealed, so maintenance is easy. F&D Manor House Granite even comes with a lifetime limited sealant warranty. It resists daily wear and tear like scratches, heat and stains while showcasing natural gradients. Granite comes in new trend-forward styles that will keep your kitchen looking fresh.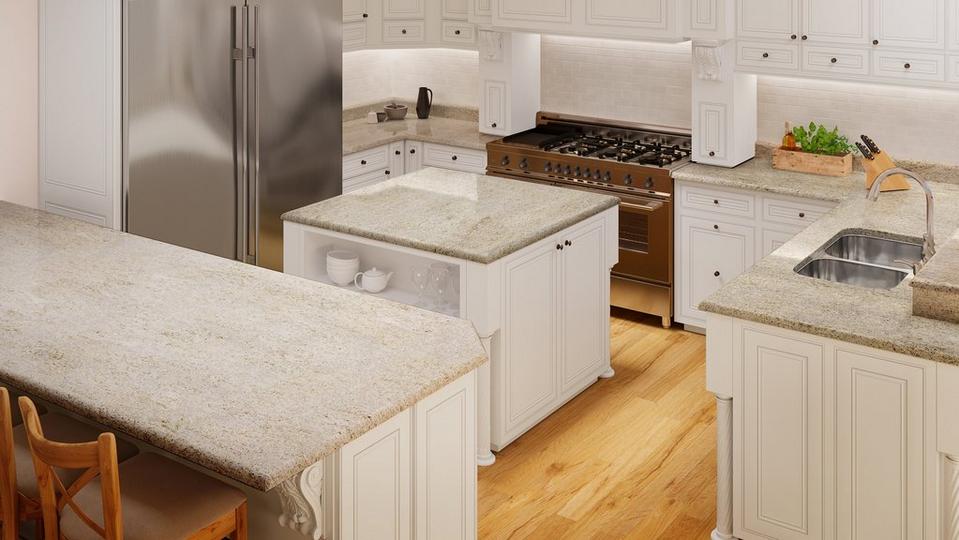 Manor House Giallo Ornamental Granite
Marble
Marble is popular for a high-end look, but it can also be more high-maintenance. Routine care is worth the dedication for exquisite, timeless elegance. Be cautious of heat, acidic juices and stains. But don't fear, we have tips for How to Clean Marble because life happens.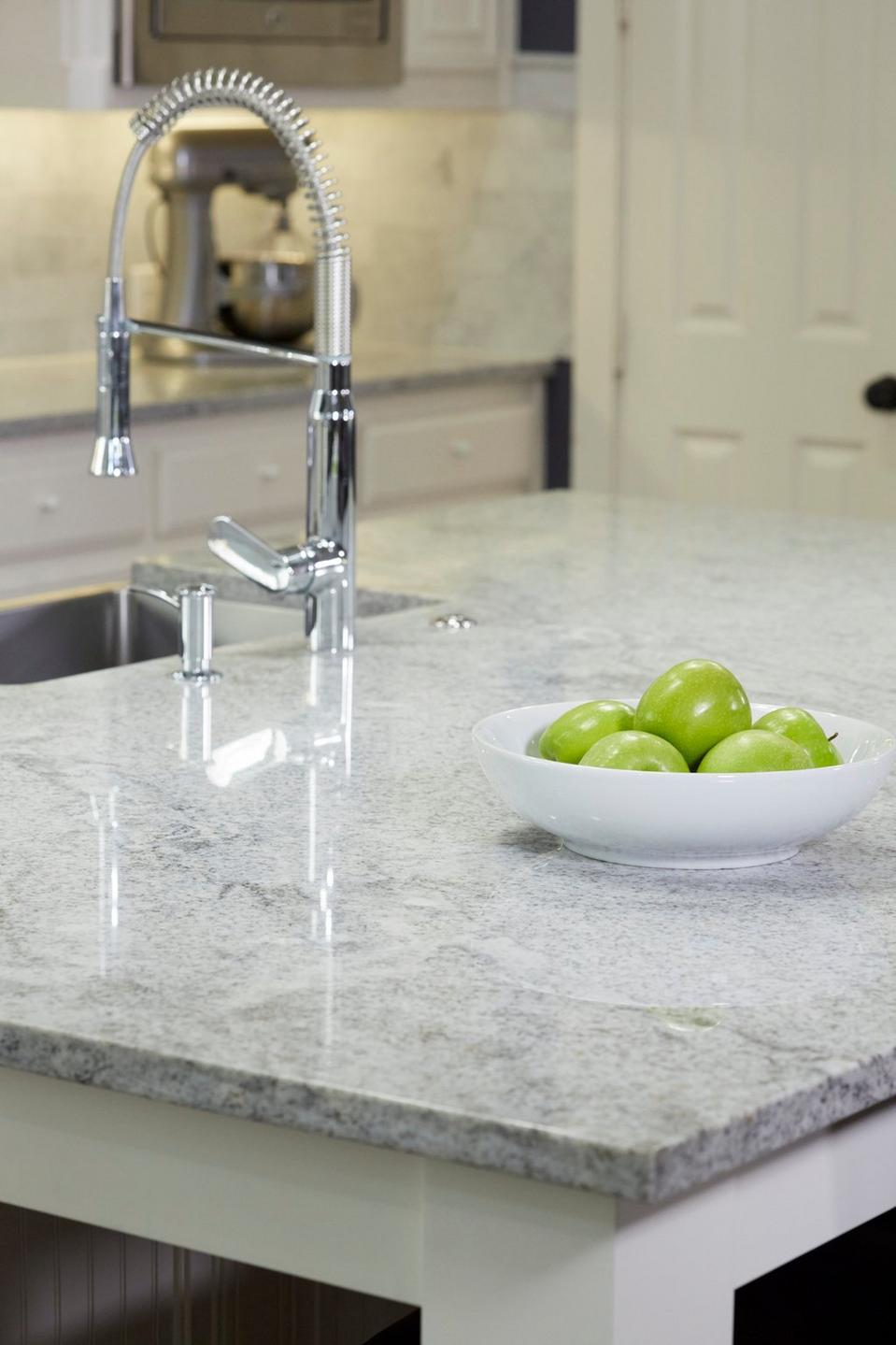 Manor House Bianco Carrara Marble
Solid Surface
Solid surface is manmade with mineral fragments and resin. It's non-porous and keeps mold and mildew from getting below the surface. The finish is ultra-smooth which makes it easy to clean and gives it a seamless appearance. Although durable and repairable, be cautious with high temperature cookware.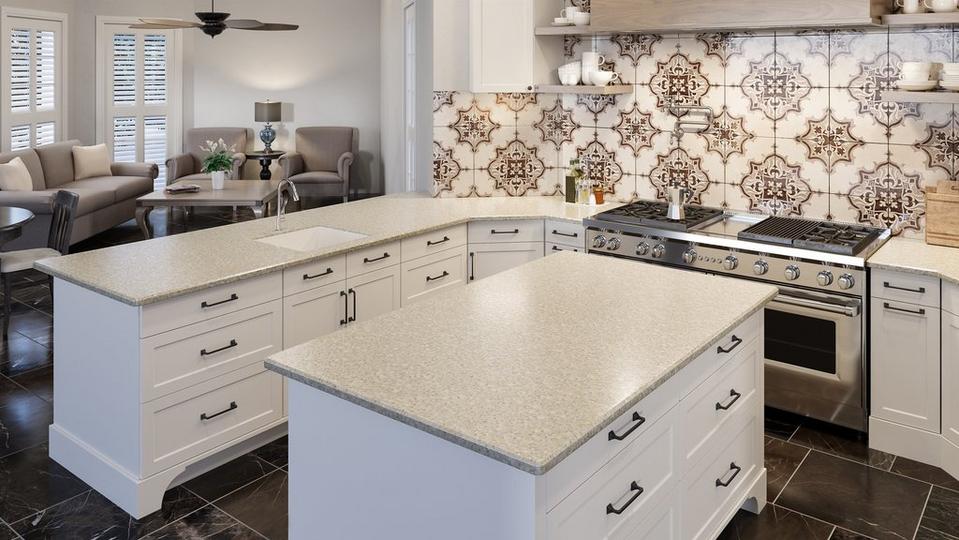 Manor House Gobi Solid Surface
Step 2: Select Your Sink Type
Floor & Decor accommodates two of the most popular sink installation types, undermounted and top mounted. An undermounted sink is affixed underneath the countertop, so there is no ridge resting on the countertop edge. A top mounted sink is secured by dropping the sink into place. The sink type is important to note because undermounted sinks require a countertop with a polished edge since it will be visible.
If you'd like to purchase your sink from Floor & Decor, we have under mount stainless steel options in a variety of shapes. If you supply your own sink, indicate this on the selection form.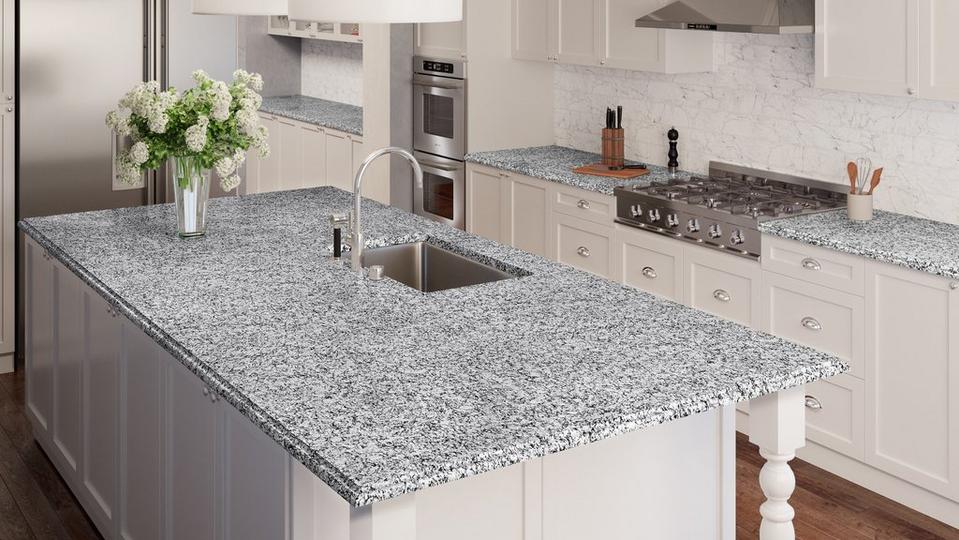 Manor House Luna Angelico Granite
Step 3: Choose Your Edge Type
The edge of your custom countertop is a stylistic choice, rather than functional. Eased edges are included in all custom countertop orders, but if you'd like something more stylized consider other profiles. We can even accommodate trend-forward waterfall edges that extend the countertop to the floor.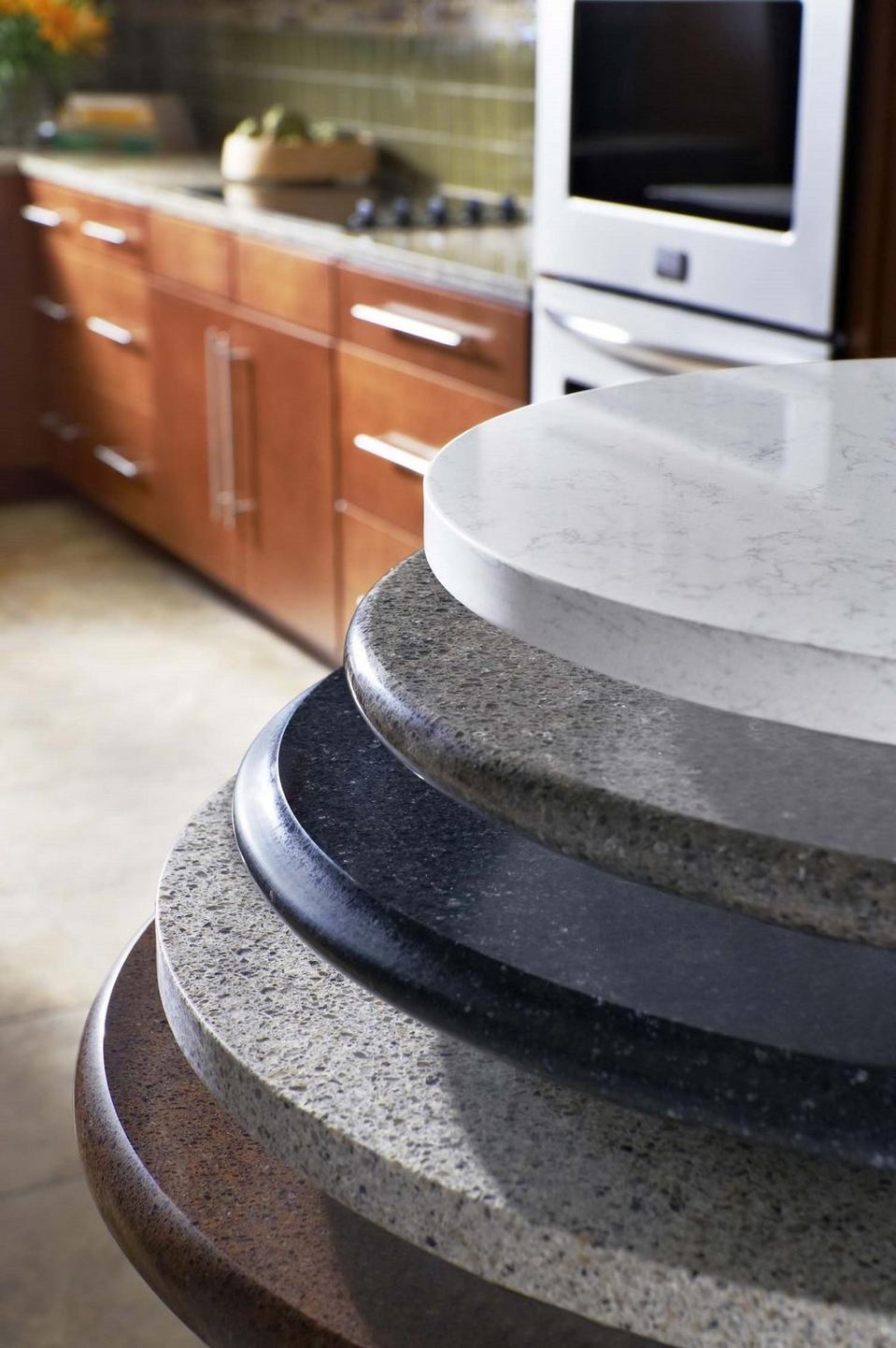 Step 4: Request a Quote
Last but not least, send your material, sink and edge type selections to our F&D custom countertop experts. Include your zip code for up-to-date pricing and availability. Your countertops will be professionally measured and templated by our certified fabricator installers for a $75 fee that will be credited back to your total countertop purchase. Include your own estimated measurements with your inquiry to receive an accurate initial estimate. To begin your order, contact our custom countertop experts customcountertops@flooranddecor.com. For additional questions, give us a call at 1-833-363-2284.
Now, you're four steps closer to mastering your kitchen upgrade! To learn more about what's next in the custom countertops process, visit the Custom Countertops page. As always, Floor & Decor designers are here to help make the selection process easy. Schedule a free virtual or in-store Design Services appointment for expert advice on color pairing and product details.