How To Clean Marble Countertops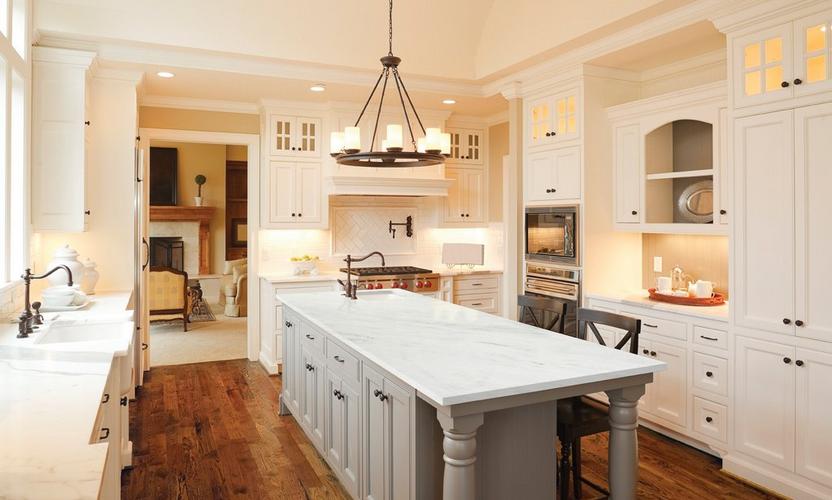 Marble countertops and floors are a beautiful home upgrade, but they have a reputation for being high-maintenance. Don't compromise on your dreams of luxury natural marble just yet. Instead, follow our simple steps for the best way to clean and care for marble countertops and floors.
Prevent Stains With Sealer
A proper [marble sealant](https://www.flooranddecor.com/tile-sealers-and-cleaners-installation-materials) application helps preserve the look and feel of natural stone from the start. Floor & Decor experts recommend [Laticrete Stonetech Heavy Duty Sealer](https://www.flooranddecor.com/search?q=LATICRETE+STONETECH+Heavy+Duty+Sealer&search-button=&lang=default&tab=search-tabs-products). It's water-based for the health of your home, so you don't have to worry about chemicals in your cooking areas. Follow-up periodically with the [Laticrete Stonetech Revitalizer Cleaner and Protector](https://www.flooranddecor.com/search?q=LATICRETE+STONETECH+Revitalizer+Cleaner+%26+Protector&search-button=&lang=default&tab=search-tabs-products) to give a boost to your marble's luster.
Avoid Acidic Liquids
Acidic liquids cause etching, a change in the marble's texture and finish due to acidic erosion. Steer clear of vinegar, lemon juice and acidic cleaners. Even though vinegar and lemon are natural, their properties are powerful enough to damage your countertop.
Wipe Spills Right Away
Time is of the essence when it comes to marble. Wipe up a spill as soon as it happens, and always clean countertops after cooking.
Clean Gently
For a daily solution, a tablespoon of gentle dish soap (non-citrus scented) combined with a spray bottle of warm water does the trick. Wipe the soap residue with a hot, wet dishcloth, then buff dry with an absorbent and soft towel. Remember to use sponges and towels that are soft and nonabrasive to preserve your countertop's finish and sealer. We love the [Goldblatt Microfiber Polishing Sponge](https://www.flooranddecor.com/goldblatt-installation-materials/goldblatt-microfiber-polishing-sponge-100410695.html) because of its absorbency and softness.
Remove Water Rings & Stains
For peskier stains and water rings, the popular hack is a simple and surprising combination of flour and water. Create a paste of flour and soapy water, then paint it onto the marble's surface. Cover with cellophane wrap overnight. In the morning, remove the paste with a wet sponge — easy as pie but not quite as tasty.
Create a Stain Barrier With Accessories
Ideally, the best way to take good care of marble is to prevent stains before they happen. While you're moving through the messes of daily life, let a few accessories do the heavy lifting. Area rugs placed strategically in front of the stove and sink are a barrier to grease, food and water. Prevent etching by using a cutting board when handling acidic foods like citrus and other fruits.
Pro tip!
Order an extra square foot of marble when you purchase your custom countertops. Apply rubber adhesive pads on each corner of the unfinished side. Now, you have a cutting board that matches your marble countertop. It's a seamless look meant for some wear and tear.
Preserve Marble for Years to Come
Use these tips through the years to preserve the beauty of your home's marble. Watch our video [How to Clean and Care for Marble Countertops](https://www.flooranddecor.com/videos/v/how-to-clean-care-for-marble-countertops/225142328) to see the steps in action. Remember, marble is a timeless and durable material with stylish benefits and complements many decorative tile backsplashes. Learn more about [stone countertops](https://www.flooranddecor.com/countertops-stone-custom) custom and prefabricated options. Shop our wide selection of marble tile for flooring and accents to complete other areas of the home.