Easy Installation Patterns
Searching for flooring with a twist, but could really do without the extra cost for installation? Patterns that typically take more work and time to install now come pre-made so you can achieve an unforgettable look without that extra effort! Here are some of our most popular, pre-made flooring and wall options to use for your next project.
Floor Medallions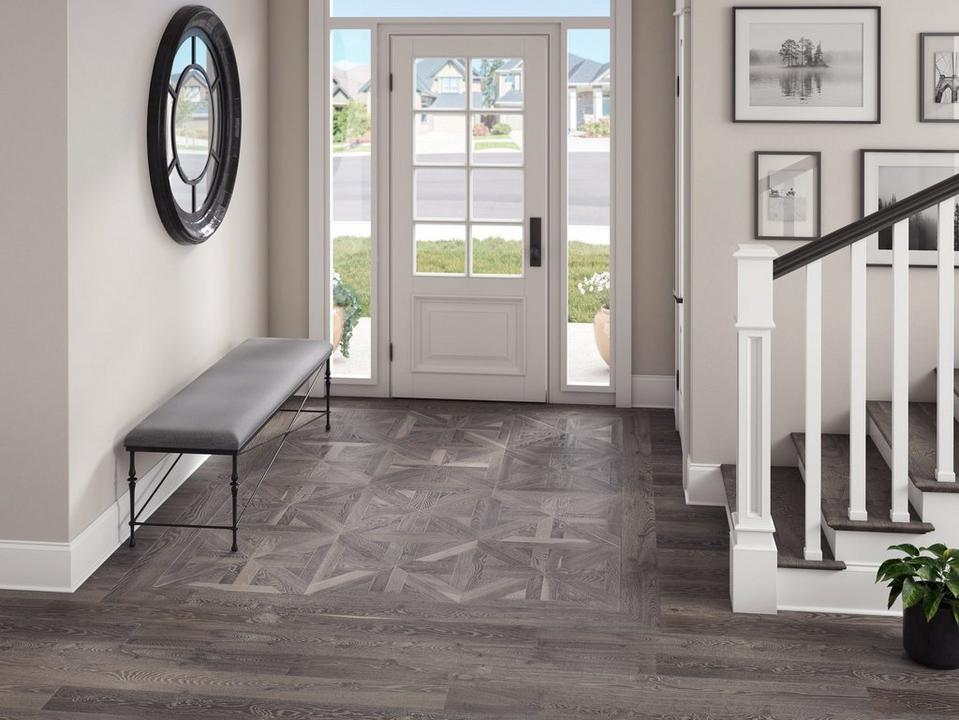 Medallions have been around for years and are great accents for rooms like the entryway. While we typically see medallions in old-world stone styles, what we love about this new, hardwood medallion is the simplicity of the design. It blends nicely with the coordinating plank, yet still catches your eye. Plus, it's a fun way to add some personality into your home from the moment you step through the door.
Chevron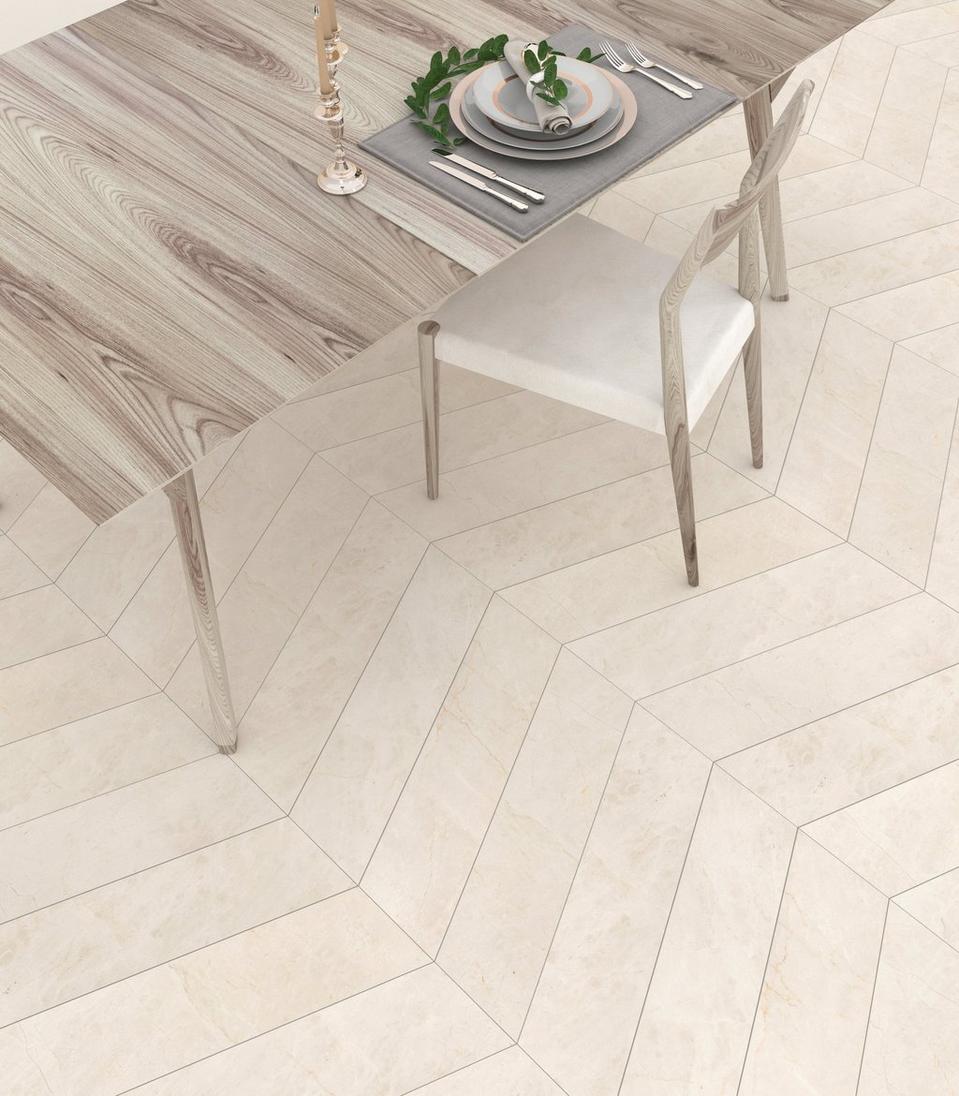 Chevron is a pattern we've been seeing for years in clothing, bedding, wallpaper, and now flooring! This dining area features a pre-made chevron polished marble tile in a soft beige. Because of the neutral color, the distinct pattern catches your eye but doesn't overwhelm the space.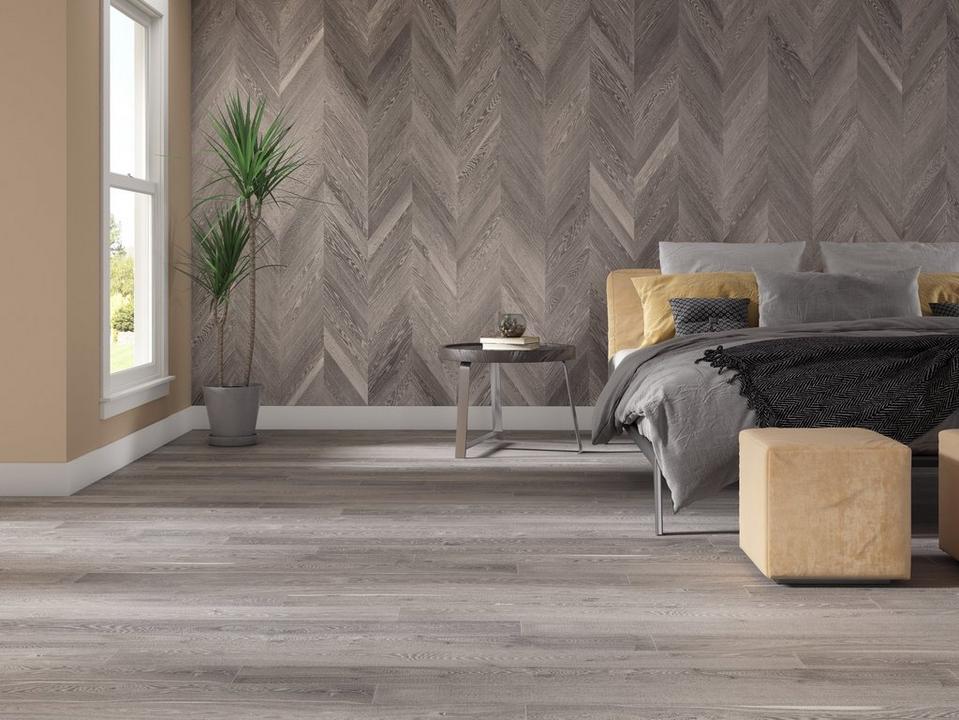 Instead of using wallpaper or paint, you could update your walls with a chevron hardwood. It's a great way to add texture and design to your room. The patterned wall in this bedroom takes center stage, but the pops of yellow decor help to balance out the striking wall nicely.
Herringbone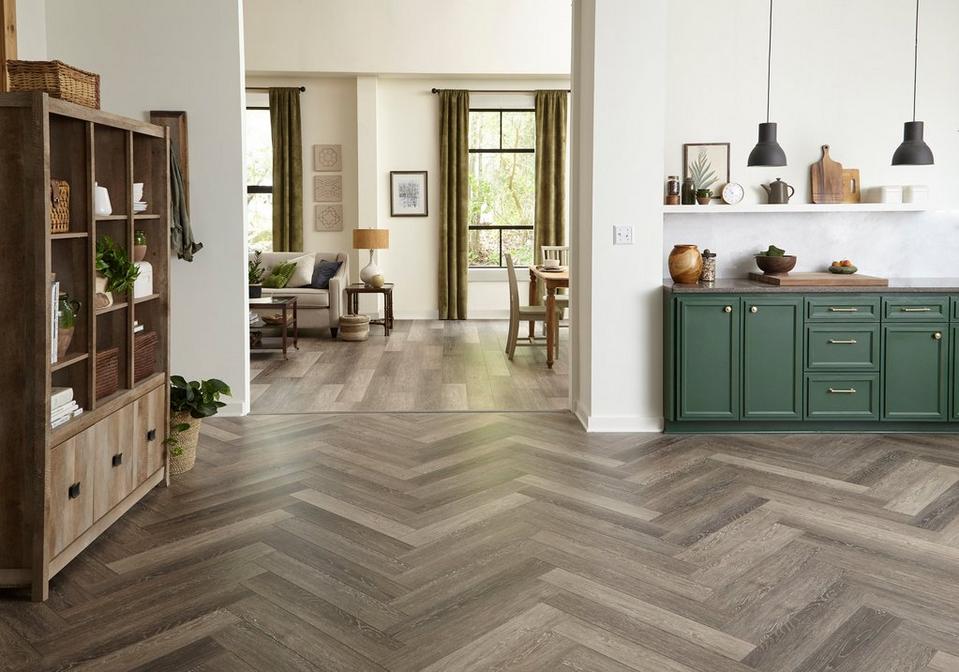 Herringbone is a trend we've seen for a while on HGTV – it's a unique twist on your standard wood and laminate floors. This mid-century modern kitchen features an AquaGuard Herringbone Water-Resistant Laminate with slight color variation (another big trend!) The herringbone pattern gives the kitchen a new, unexpected dynamic, and by using a coordinating plank in the adjacent room the flooring maintains a cohesive look.
Design Tip:
It's easy to confuse chevron and herringbone patterns since they're very similar in style. If you're trying to figure out the difference between the two, look at where the planks meet. With chevron, each plank meets seamlessly at a point creating a distinct V. In a herringbone, the end of one plank meets the side of another making a slightly staggered look.
Double Block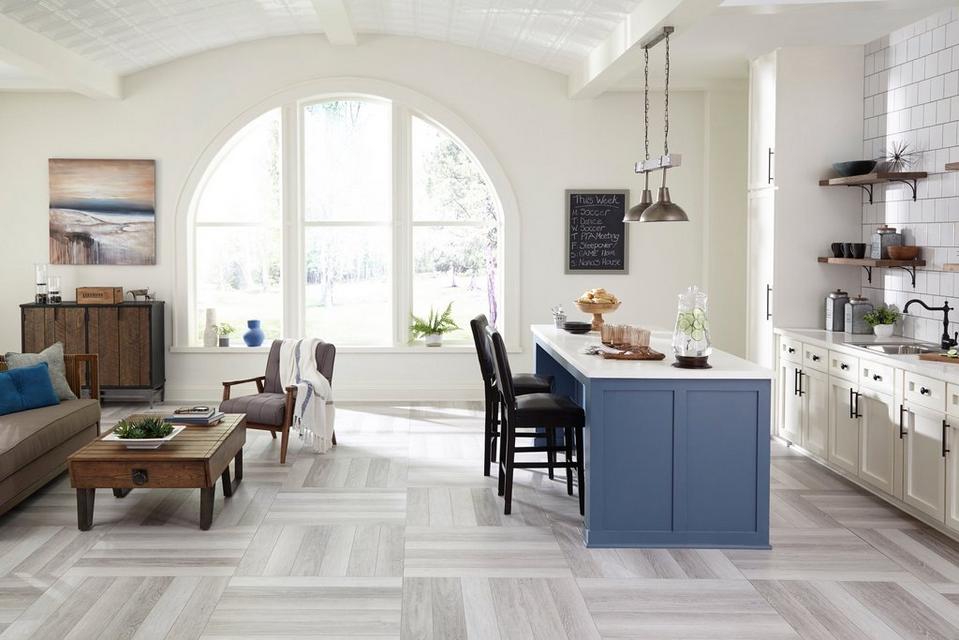 For a really unique look, try a double block pattern. This new trend creates a checkerboard-like pattern that brings a geometric feel to your space. This room features a light gray AquaGuard Water-Resistant Laminate in a double block pattern on the floor. The pattern is distinct, but the color of the flooring is subtle creating a nice balance. The blue accents used throughout the room help to break up the monochromatic atmosphere.
Whether you're searching for simple or eccentric flooring, we have the perfect, pre-made pattern options so you can update your floors with style and ease.
Stay up-to-date on the latest styles with our Fall Inspiration Catalog! Take a sneak peek at the top design trends or order a FREE catalog right to your home today!