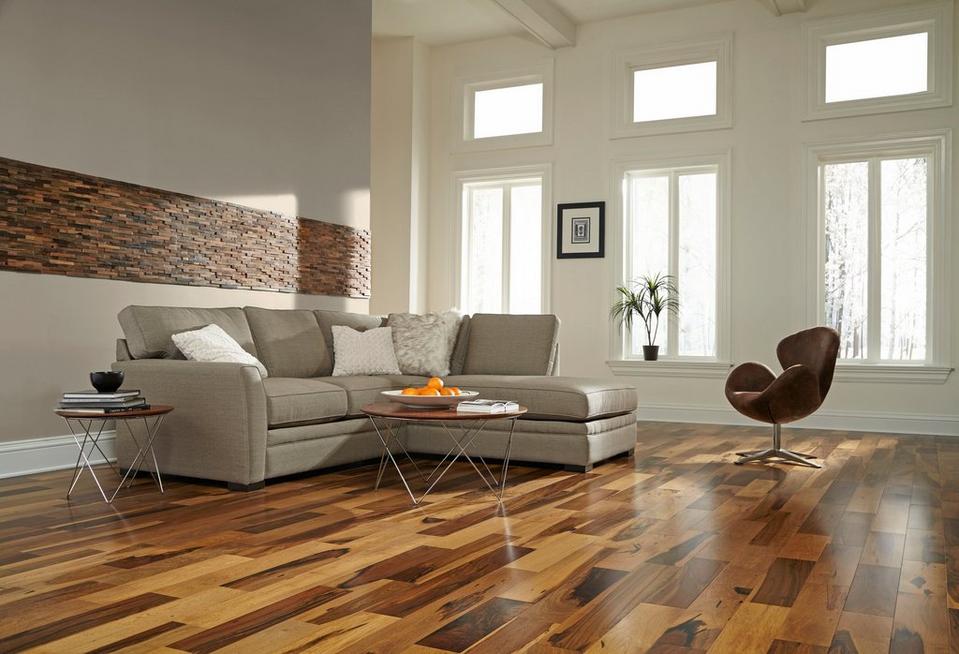 Buying Guide: How To Shop For Hardwood
Natural hardwood floors are one of the most popular flooring choices, and come in a variety of beautiful colors, surface textures, and species. Different surface textures suit different styles so no matter what kind of style you prefer, the natural beauty of hardwood floors is always appealing.
Here are the most important factors to consider when you visit us to choose your hardwoods:
What's the Difference between Solid & Engineered Hardwood?
Engineered hardwood is made of a layer of real hardwood that is then adhered to multiple layers of plywood or high-density fiberboard. Engineered hardwood floors can be manufactured with wider widths and longer lengths, and, unlike solid hardwood, they can be installed in basements.
The entire composition of solid hardwood is hardwood from top to bottom, so there's only one type of wood in one plank. It can be sanded and re-finished several times, which can help increase the resale value of any property.
Hardwood Finishes
Hardwood floors come in several different surface textures to fit the style of your home. The artisan-like craftsmanship of hand-scraped and wire-brushed finishes enhance the wood's natural characteristics. A distressed style makes the wood look aged beyond its years, while a smooth finish has a traditional feel and creates a classic and clean look.
Installing Hardwood
For each type of hardwood, there's a different type of installation method.
Tongue & groove installation is done with engineered floorboards that have a plywood core, and locking engineered floors normally have a high-density fiberboard core. Engineered can be nailed down, floated, or glued, and it can also be installed on, above, or below grade-level.
Solid hardwood is almost always installed with a tongue & groove installation method. Solid hardwood is normally adhered by using a nail-down technique, and it can be glued down in some cases. Solid hardwood can be installed on or above grade-level, but should not be used below grade-level.
Durability & Maintenance of Hardwood
Solid and engineered hardwood floors are extremely durable and can last in your home for years to come. When it comes to hardwood floors, we recommend cleaning regularly to prevent the buildup of dirt and debris. Floor & Decor has a wide selection of reliable hardwood cleaning products, and each store has knowledgeable associates who can help you find the cleaning products that are right for your floors.
Hardwood is one of the best choices when looking for flooring that can add value to your home. Shop a wide selection of hardwood floors at your local Floor & Decor or browse our selection online. You can also get free Design Services with one of our design experts. Design experts can use your vision to help you create your perfect space with the tools and materials you need.