Top 6 Water Resistant and Waterproof Flooring Options
You can get lifestyle-friendly flooring without sacrificing the stylish look of wood. Water-resistant flooring options at Floor & Decor now come in different materials (including real wood!) and styles that can suit any lifestyle, look, or budget.
Water-resistant floors are a great idea when looking for floors that will suit a kid-friendly or pet-friendly space, but there's important information about what makes a floor water-resistant and the different materials available.
Here are some key things you need to know about water resistance and the types of water-resistant flooring available at Floor & Decor.
What Makes Floors Water Resistant?
When water typically makes contact with, and is left to pool on, wood or non-water-resistant flooring, moisture will seep into the board and to the core of the plank, which will then expand and warp. When floorboards become water damaged, then the floor is irreversibly damaged and can begin to mildew.
When floors are water-resistant, it means that there's an added barrier that prevents moisture from seeping into the core for a certain amount of time. Water-resistance means that immediate contact with water will not result in damage, but the water will have to be wiped away eventually before it can get past the barrier.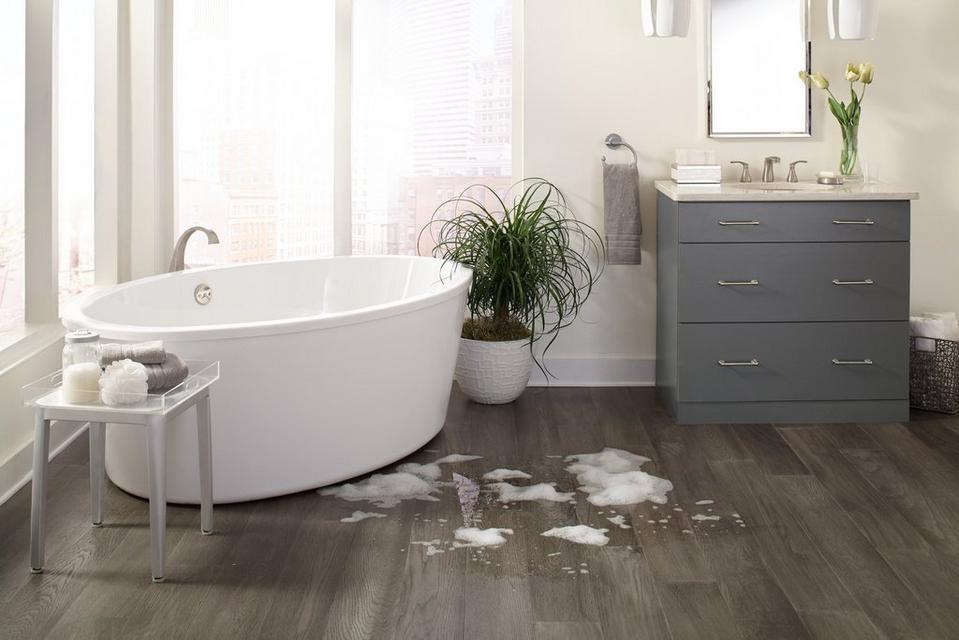 AquaGuard® Engineered Hardwood
NEW and exclusive to Floor & Decor, AquaGuard® Wood is real water resistant hardwood. Offering exclusive technology that allows you to have real hardwood floors in any room of your home and it can be installed in a flash! AquaGuard® Wood offers 24 hours of protection against absorption and comes with UV-cured coating that's reinforced with quartz for even more durability.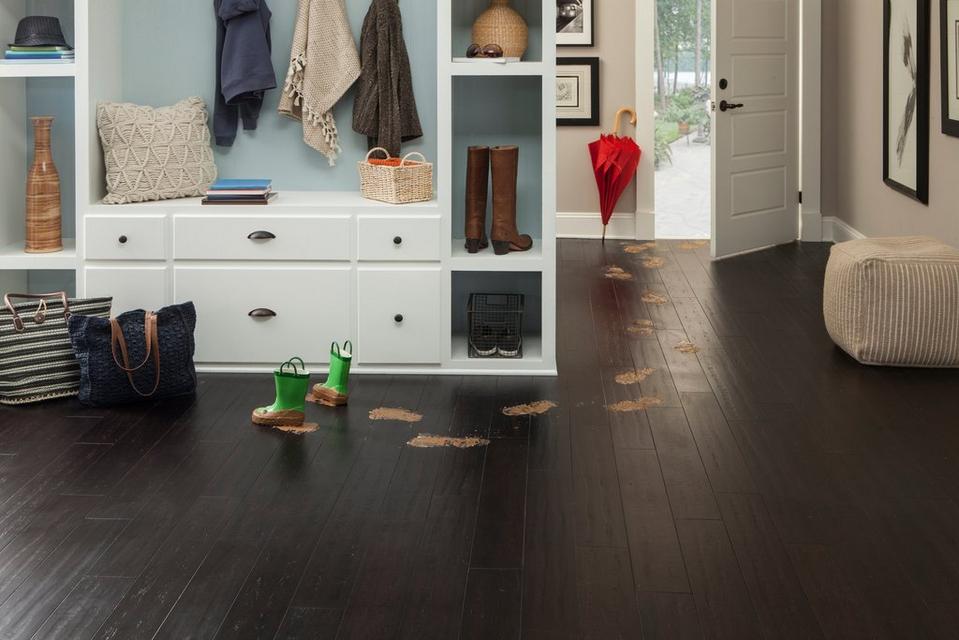 AquaGuard® Bamboo
Exclusive to Floor & Decor, revolutionary AquaGuard® Bamboo is three times harder than American Red Oak and it's water-resistant for up to 30 hours. AquaGuard® Bamboo can be installed for up to 1600 sq. ft. without the need for transition molding.
AquaGuard® Bamboo planks are made from stranded bamboo fibers that are then pressed to create durable floors. Plus, they come in several styles from hand-scraped to wire-brushed. Its durability and the fact that it's water resistant for up to 30 hours makes it suitable for full bathrooms, kitchens, and mudrooms.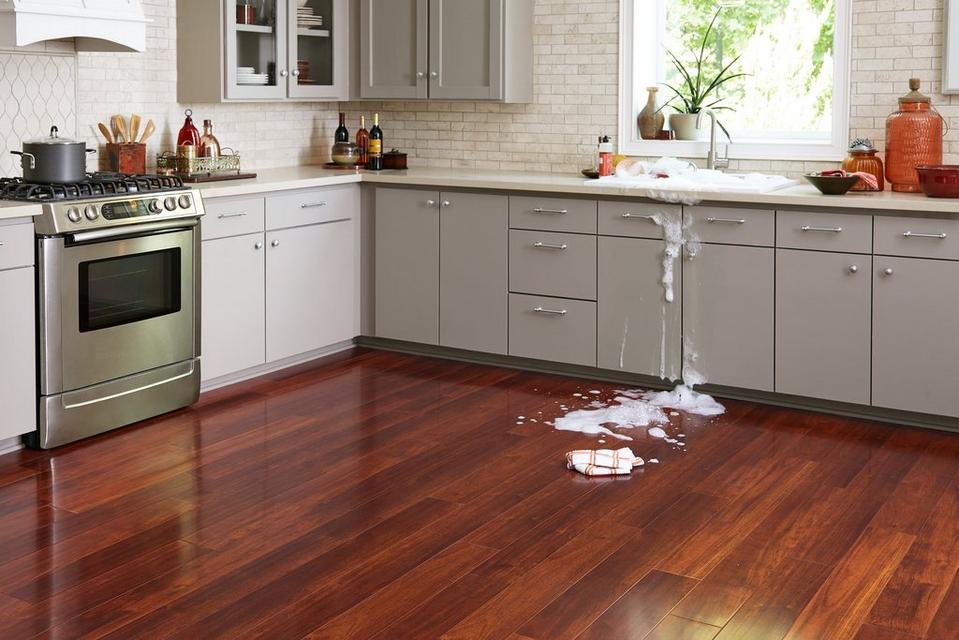 NuCore® Waterproof Flooring
Found exclusively at Floor & Decor NuCore ® looks and feels like wood and tile, but can be installed where real wood cannot. 100% waterproof allowing installation in virtually any room in the home. With zero acclimation time and an easy locking installation, you can have beautiful, natural looking waterproof flooring in no time!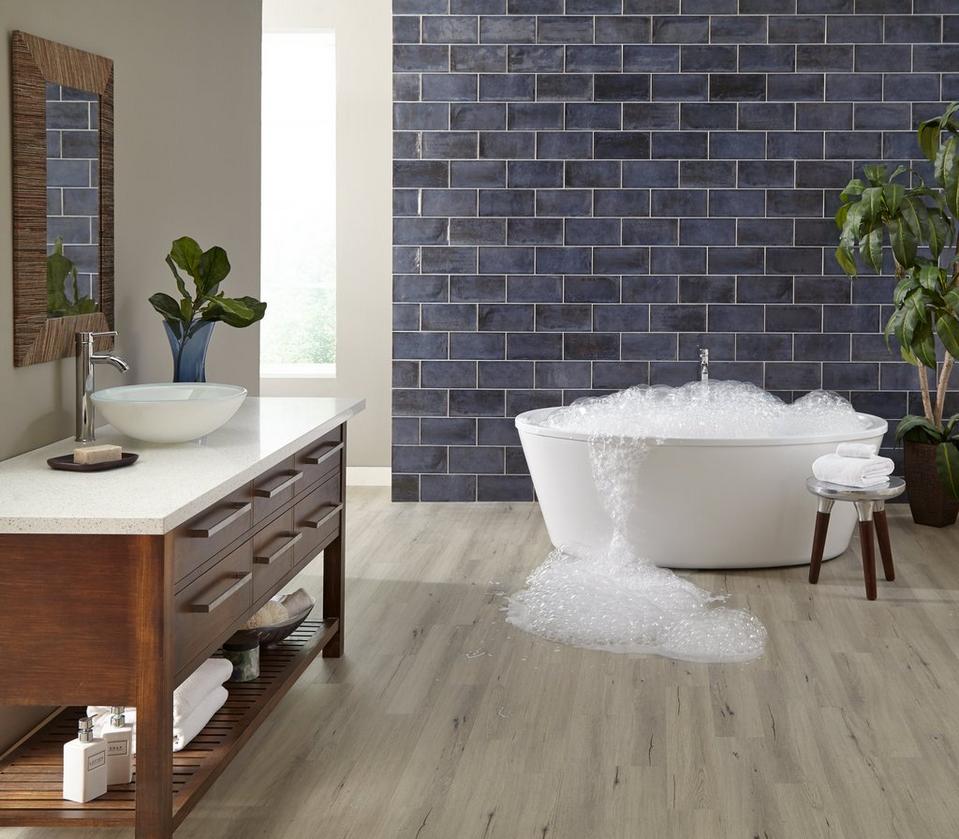 DuraLux® Waterproof Luxury Vinyl
Durability meets luxury in DuraLux® Performance Luxury Vinyl. With a rigid stone-based core, your floor is not only 100% waterproof but scratch and dent-resistant. 5mm DuraLux® Performance Plank with built-in foam backing is a great flooring choice that is quick and easy to install!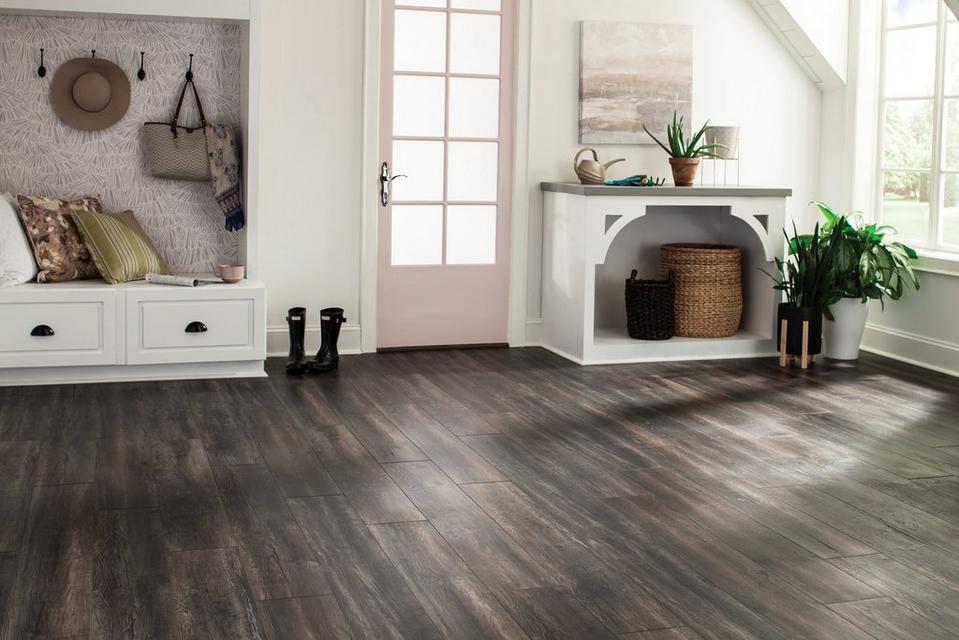 HydroShield®
HydroShield® is the water-resistant flooring option for busy homes on a budget. With its 100% flexible silicone sealant, it's water-resistant for up to 24 hours! Plus, it's resistant to dents, scratches, and stains, so it holds up in areas with lots of traffic and moisture, like kitchens, mudrooms, and even full bathrooms.
Water-resistant flooring is great for any home or lifestyle. Shop a wide water-resistant selection of looks at your local Floor & Decor store, or browse our selection on our online store. Plus, you can book a free Design Consultation at your Floor & Decor and work with a design expert that can help you find flooring that's right for you.