Perfectly Paired Floor & Wall Looks
Wood Floors & Walls

Hardwood has been a mainstay through the decades. Now, you can install this classic in rooms where they've never gone before. Wood-look porcelain tile makes it easy to use in high-temperature areas like this fireplace back wall with Ashford Navarro Wood Plank Tile and high-humidity areas like bathrooms.
You can even put a twist on the old wood wall (say goodbye to disco-era paneling) by using wood-look tile in an unexpected shape, like the Hasley Manor Wood Mosaic that matches the finish of Hasley Manor Wood Plank Porcelain Tile.
Floor to Ceiling Stone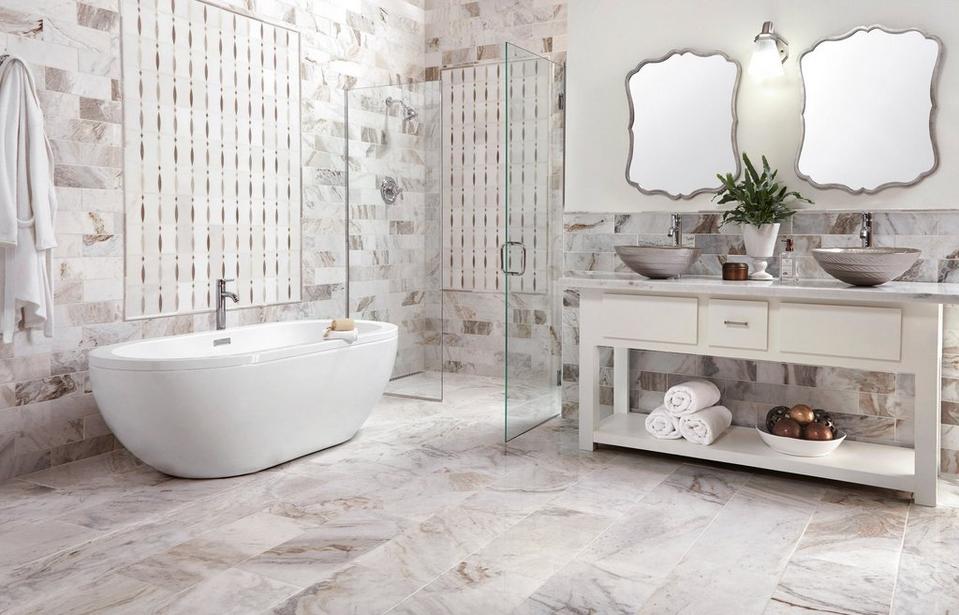 Pictured: Bianco Orion Polished Marble Tile, Avillano Biano Orion Marble Tile, Triton Waterjet Cut Marble Mosaic
Speaking of floor and wall combos, try stone up and down the space. Stone is a timeless material that can be used in nearly every style from classic to contemporary. It comes in many eye-catching shapes so you can design with stone alone.
Geometry, Geometry Everywhere

Pictured: Cabrio Marengo Wood Plank Porcelain Tile, Carrara Marble Bianco Carrara Honed Marble Tile with Gold Dimension Decorative Liner, Adessi Opal Black Hexagon Porcelain Tile.
When it comes to geometric designs, don't feel like you have to choose one small spot for display. Install them just about anywhere, even mix and match. You can maintain a balance between patterns with tone-on-tone grout and unembellished styling, like with clean white dining room walls and cabinetry.
Pattern Perfect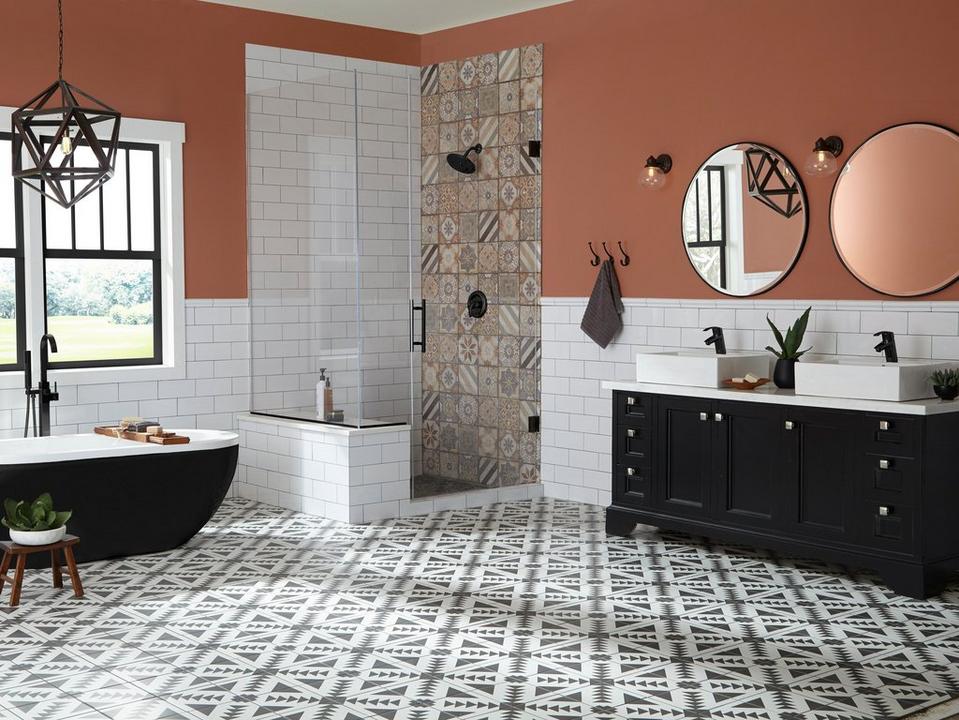 Pictured: Festival Bright White Ice Ceramic Wall Tile, Apache Black and White Matte Porcelain Tile, San Juan Decorative Porcelain Tile.
Who says you have to pick just one pattern? Create an eclectic feel by choosing two of your favorites and finding complementary elements that tie them together in harmony. As you see here, the grout lines between white subway tie in the same angular designs of patterned tiled floor and on the shower wall. Attention to detail means precision at every angle.
Want to find a new way to coordinate your floor and wall? Ask a Floor & Decor designer for help! You can book a consultation for FREE design services at your local Floor & Decor.